Just when you thought Glenn Beck couldn't get any weirder, more apocalyptic, delusional and monomaniacal, his "rally" yesterday in Jerusalem upped the ante on all his favorite personality traits.
Beck, who was canned from FoxNews when his ratings fell off a cliff after he started ranting about messages from God and such, held a much-ballyhooed "Restoring Courage" rally at the Temple Mount in Jerusalem. And what a rally it was: hundreds — hundreds! — of people (in a country of 7.7 million) gathered for the rally which, as we all know, was of critical, crucial, monumental importance for the fate of freedom and the whole world. Beck's site said the event was sold out (talk about diminished expectations — hundreds of people = a sellout?) although some attendees posted photos of blocs of empty seats. And yes, Beck got choked up and teary near the end — probably to make sure the Americans who paid $5,000 each for Beck's people to book their trips felt they'd gotten their money's worth.
Although public opinion had turned against Beck's rally in Israel, with several leading rabbis refusing to participate and the choir of the Great Synagogue in Jerusalem canceling a scheduled performance, the King Daddy of Narcissists walked onstage to the blowing of a Shofar, a ram's horn traditionally used in Jewish religious ceremonies (although lots of wacked-out Christian cable shows like to use them, too). Three different prayers — Jewish, Christian and Muslim — were intoned, along with a weird background track that combined Shofar blasts, some Islamic chants and Jewish funeral prayers. Beck, in his best fake-theatrical tones, majestically declared, "This is the throne of the Lord!" Surprisingly, no cripples dropped their crutches and walked to the stage at that point.
The whole point of the rally, other than stroking Beck's limitless sense of importance, was that it takes courage to support Israel; Beck intoned that his all-important rally (hundreds of people!) was the beginning of a worldwide movement to support Israel against its evil Muslim opponents. Which is needed, of course, since, as Beck explained, criticism of Israel is part of a growing tsunami of evil menacing the globe.
Beck worked up to his usual paranoid, apocalyptic climax, saying, "Evil is counting on us to do nothing. Evil is counting on us to be afraid. But evil has misjudged us. ... The threats are mounting and evil is growing. Darkness is falling," etc., etc., blah blah blah, the usual insanity. He cranked up the waterworks as he built to a big, Supremes-like climax, blubbering out, "One day, your children and your grandchildren will come to you and ask you: 'What did you do when the world was on fire?'" But if you attended his rally (like hundreds of others), "I promise you this: You will be able to look them in the eye and say 'I had courage.'" For a final surreal effect, he then left the stage, to a rendition of "Sabbath Prayer," from Fiddler On The Roof.
Remind me again why some people fall for this kind of sad, goofy crap?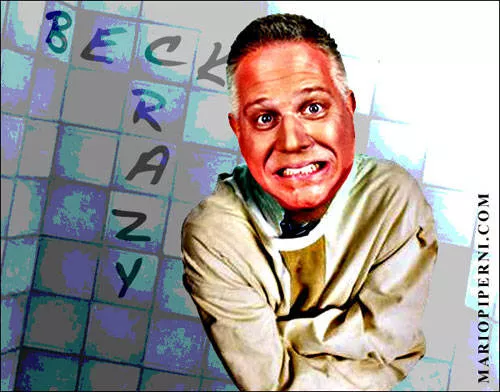 Image by mariopiperni.com