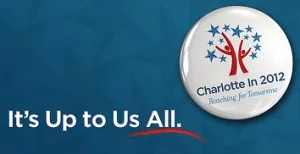 I'm going to be shouting about this through the end of the Democratic National Committee's big party, double pinkie swear:
Don't forget that the 2012 DNC's is branding itself as "The People's Convention."
From Qcitymetro.com:

The Carolina Regional Minority Partnership Coalition, a Charlotte group formed to push for minority business participation in contracts awarded for the 2012 Democratic National Convention, has launched a new website.
...
Ferguson said the coalition would like to see the DNC adopt minority participation goals, which so far has not occurred.

Read the rest of this article, by Glenn Burkins, here.
Visit the Carolina Regional Minority Partnership Coalition's website to learn more about what they're up to here.