While some decry comic creators eager to sell movie rights, Mark Millar has created an express lane between his works and the screen. It started with Wanted, his 2003 series about an unlikely assassin-in-training, which was loosely adapted by Timur Bekmambetov. His cinematic pacing and big ideas translate to films with ease, something he continues to take advantage of as he scripts bold ideas and packages them under the Millarworld moniker.
His collaborations with director Matthew Vaughn began with Kick-Ass, the (originally) realistic take on what happens when a teen wants to turn himself into a superhero. Vaughn helmed the first of the successful Kick-Ass films and produced the second, but with October's release of The Secret Service, we see him back in the director's chair.
Adaptations of Superior and Real Heroes are being tossed around, but with this Comic Afterthoughts post, let's take a look at The Secret Service and what will make this comic yet another hit with filmgoers. The tale sees a world-class, 50-something spy pluck his nephew out of poverty and into his own line of work. The two end up working together to battle the sort of evil genius you find often in comics: a bad guy who claims he's doing a good thing. That's the basic plot. But here are three other things you should know about the upcoming film adaption of this comic.
1. This isn't your father's spy movie.
Sure, The Secret Service boasts many of the tropes found in Bond films. Gadgets, seductions and fancy suits are all there, but you've never seen a spy tale so brutal. The dirty work of the fictional James Bonds and his villains may have gotten grittier with the Daniel Craig movies, but in the comic, [SPOILER ALERT] an entire wedding party is mysteriously compelled to murder each other, rendered expertly by artist Dave Gibbons.
Also something novel: Themes of classism are explored with Millar's narrative. The protagonist's spy school enrollment comes with teasing from his peers in the upper crust, and even the budget of secret organization feels cutbacks.
2. It has real star power, and real firepower.
The mysterious Uncle Jack's real job is unknown to even his immediate family. To his nephew, protagonist Gary, he's just a "computer guy for the fraud squad," not an international spy. For the role, you need a Brit capable of portraying both sides with ease. Enter Colin Firth. It's perfect casting, as Firth is the kind of guy that compels with or without a gun in his hand. The Oscar-winning thespian will surely bring a sense of urgency and gravitas to the role, essential for a tale that could easily go goober.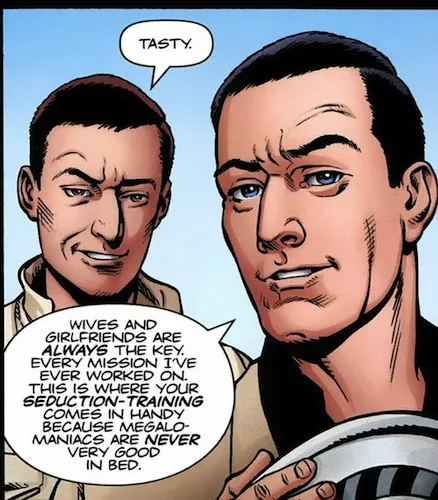 According to the film's IMDB page, actors Michael Caine and Samuel L. Jackson will also play parts (as Jackson isn't in enough comic book films already). Also "rumored," according to the page: Lady Gaga, Adele and Elton John. Fans of the comic's opening scene, rejoice: Mark Hamill is rumored, too.
3. It'll be faithful.
After all, Vaughn was around before the comic itself was even released.
According to one Millar interview, the idea for the series stems from a 2008 conversation between Millar and Vaughn in a pub. While they may mess with some of the side characters' genders, ages and even key scenes of the comic, the essence is guaranteed to be held intact. Millar's close working relationship with the director ensures this.
After all, the main appeal of Millar is his ability to conceptualize, whether it's a new spin on a classic genre or something new entirely. And whether or not you agree comics should be adapted, you have to respect a guy who knows how to get it done so quickly. The first graphic novel for the series was released months ago, and in October, we'll see it cross mediums.