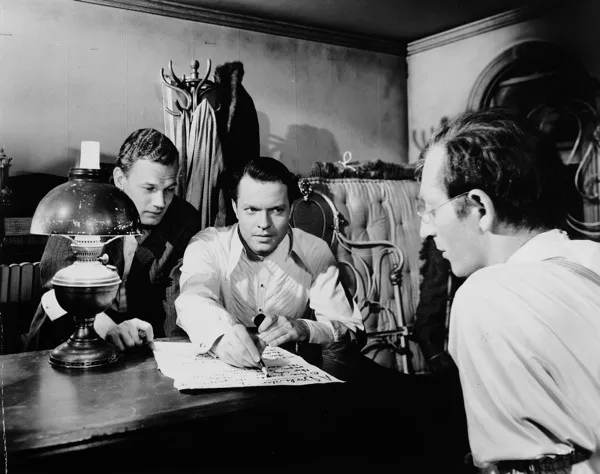 Joseph Cotten, Orson Welles and Everett Sloane in Citizen Kane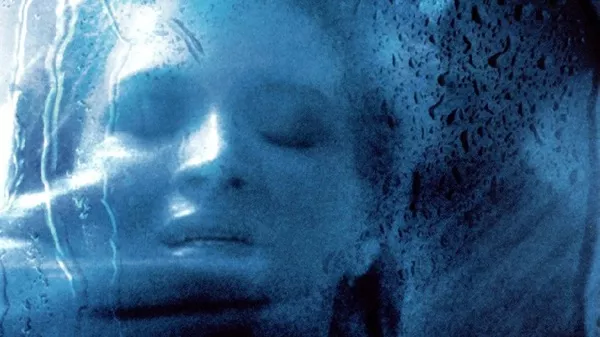 MGM & Fox
Angie Dickinson in Dressed to Kill
By Matt Brunson
CITIZEN KANE (1941)
****
DIRECTED BY Orson Welles
STARS Orson Welles, Joseph Cotten

DRESSED TO KILL (1980)
****
DIRECTED BY Brian De Palma
STARS Michael Caine, Angie Dickinson
Orson Welles' Citizen Kane has been cited as the greatest film ever made from so many different quarters — the American Film Institute, the long-running Sight and Sound survey, even Creative Loafing's own poll way back in 1998 — it's a wonder that a Congressional law hasn't been passed making it required viewing for anyone who claims they like movies. With his first picture, writer-director-producer-star Welles introduced and/or perfected a slew of innovative cinematic techniques, as well as related a damn good mystery ("Rosebud") and an even better character study.
Welles and Dorothy Comingore
But those aren't the only reasons this film about the rise and fall of newspaper magnate and empire-builder Charles Foster Kane (largely based on William Randolph Hearst) endures; what really provides it with its emotional hook is how perfectly Welles captures the feelings of loneliness, alienation and despair that often all but define human existence. The sequence in which Kane, who has everything except what's most important to him, finally cracks and destroys the room around him in an almost robotic manner is one of the most haunting ever committed to celluloid — yet it's merely just one more great scene in a movie packed with 'em.
Citizen Kane earned nine Academy Award nominations (including Best Picture), but the controversy, the surrounding politics and the organization's own frequent inability to recognize masterpieces led to it winning a single Oscar: Best Original Screenplay for Welles and co-scripter Herman J. Mankiewicz.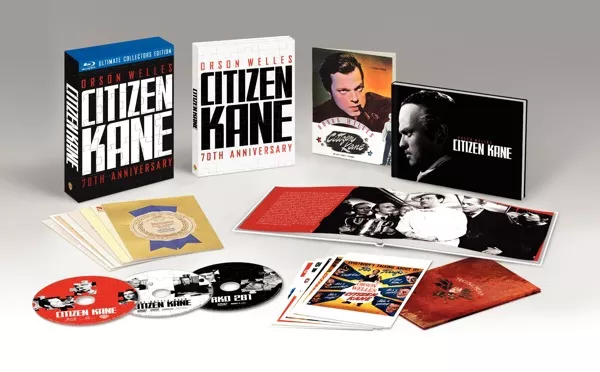 The 3-Disc Ultimate Collector's Edition on Blu-ray includes a wealth of supplemental material, including a 48-page book with photos and facts; a 20-page 1941 souvenir program reproduction; five poster and lobby card reproductions; and 10 reproductions of studio memos and correspondence. Extras on the Blu-ray itself include audio commentary by film critic Roger Ebert; separate audio commentary by filmmaker and Welles biographer/friend Peter Bogdanovich; interviews (from the mid-1990s) with Ruth Warrick (who played Emily Kane) and The Sound of Music director Robert Wise (whose early career as an editor included his Oscar-nominated work on Kane); a photo gallery with commentary by Ebert; photos and correspondence regarding a deleted brothel scene; and storyboards. The other two discs are standard DVDs containing the 1995 Best Documentary Feature Oscar nominee The Battle Over Citizen Kane and the award-winning 1995 HBO movie RKO 281, starring Liev Schreiber as Welles, James Cromwell as Hearst and John Malkovich as Mankiewicz.
In major related news, Welles' second movie, 1942's The Magnificent Ambersons, is finally making its DVD debut; unfortunately, it's only available when purchased with this set, and only available as an Amazon Exclusive. Boo.


Nancy Allen in Dressed to Kill
BRIAN DE PALMA'S career has been idling for quite some time now — his last two films, 2006's The Black Dahlia and 2007's Redacted, were savaged by critics and ignored by audiences (Redacted even made my own year-end 10 Worst list) — so we should thank various studios' home entertainment arms for the recent releases of some of his earlier, better works. On the heels of Criterion's Blow Out, Warner/Columbia's Obsession and Universal's Scarface comes Fox/MGM's Blu-ray edition of what arguably might be his most controversial movie (and that's saying a lot).
Dressed to Kill remains a prime example of how De Palma is able to marry his awesome technical prowess to the material, using his dazzling feats of cinematic derring-do to propel his stories rather than bury their weaknesses. It uses Alfred Hitchcock's Psycho as a starting point before veering off in its own deliciously twisted direction, centering on a sexually frustrated housewife (Angie Dickinson), her patient therapist (Michael Caine), an imperiled prostitute (a wonderful Nancy Allen) and a razor-wielding psychopath.
Perhaps the first movie that, as a teen, made me aware of the art of filmmaking and, by extension, the necessity of film criticism, this compelling thriller still floors me after all these years. Pino Donaggio's music score, alternately dreamy and frenzied, is simply wonderful; ditto Gerald Greenberg's editing and Ralf Bode's camerawork (the silent cat-and-mouse sequence set inside a museum is a remarkable set-piece).
Blu-ray extras include an informative 44-minute making-of featurette; a superficial 10-minute piece about De Palma's battles with both the ratings board and the social critics who condemned the film as misogynistic; an amusing comparison between the unrated, R-rated and TV network versions of the film; and a 6-minute discussion of the film by Keith Gordon (who played Dickinson's teenage son).
For more reviews of new Blu-ray and DVD titles, check out View From The Couch on this website.