For all its flimflam about the evils of a small-town Iowa pool hall and for all its mumbo-jumbo about learning to play band instruments through a "Think Method," Meredith Willson's The Music Man, like The Rainmaker before it, boils down to a classic confrontation between a spellbinding conman and a skeptical wallflower. That essence is what Theatre Charlotte captures best in its current revival.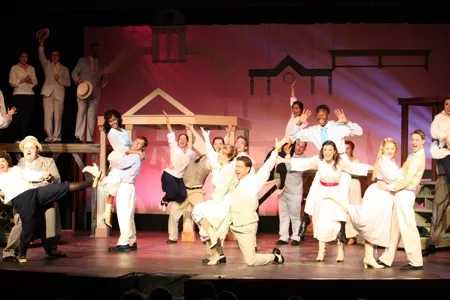 Harold Hill has hoodwinked credulous bumpkins across the prairie with his band instrument scam, dazzling a multitude of damsels along the way. But something rather magical happens when Hill tests his skills against the pure contrariness of River City and meets town librarian — and part-time piano teacher — Marian Paroo. After years of bilking the bumpkins out of their hard-earned money, Hill discovers that he actually has something valuable to give.
We notice it as readily as Marian the librarian. Four contentious city elders have been transformed into a harmonious barbershop quartet. The mayor's hoity-toity wife, Eulalie Mackecknie Shinn, has organized the burg's first ballet society. The town's teen troublemaker, Tommy Djilis, has been somewhat civilized as Hill's drum-major lieutenant. Most importantly, Marian's younger brother Winthrop, even more withdrawn than she because of his lisp, is brought out of his shell by the prospect of playing a cornet.
So when Mayor Shinn warms up the tar, gathers the feathers, and takes Hill into custody, all may not go according to hizzoner's plan. For Marian has found that her successful probe of the flimflammer's credentials yields but a dim pleasure compared to the new light that Hill has spread all over town.
The explosion of these discoveries in the pivotal scene at the footbridge, where Marian has never met a beau before, is where the heart of Music Man measures up to all of the comedy Willson aimed at the rubes. Samantha Lasch brings an extraordinary voice to Marian in her Charlotte debut, but "Goodnight My Someone" and "Gary, Indiana" aren't the ideal vehicles for showcasing its emotional tug. The full impact Harold has made finally gushes forth in "Till There Was You," and it only helps that Bobby Mauney as the spellbinder in his Theatre Charlotte debut hasn't given us an inkling, until now, that he has a romantic or domestic bone in his body.
I wouldn't say they're always the perfect pair. Lasch could use more moment-to-moment fluidity along the way, and Mauney ought to be more confident and less importunate in his wooing. But under Ron Law's direction — with an extra nudge from Trista Rothe Bremer's intimate lighting — the chemistry clicks when we need it most.
Law also has a strong supporting cast, a golden commodity in a production clocking in at 130 minutes plus intermission. Stuart Spencer is a marvelously pompous foil as Mayor Shinn, allowing Chase Law to ladle on extra dollops of vanity as a complementary Eulalie. Noah Carroll, already a career Tiny Tim at Children's Theatre of Charlotte and Theatre Charlotte before he completes 5th grade, is predictably adorable as Winthrop, while wily veteran Jim Yost brings unusual forcefulness to that debunking anvil salesman, Charlie Cowell. The chirping old "Pick a Little, Talk a Little" biddies of River City are as spirited and winsome as its newborn barbershop quartet. And if the budget looks a wee bit strapped in Rebecca Primm's scenery, it sure doesn't show in Jamey Varnadore's 40+ costume designs.