Local artist Scott Partridge is known around town for his surreal works, which move nomadic-like from gallery to gallery. He's also left permanent marks at venues where he's been commissioned for artwork, such as The Sanctuary (bar mural), American Beauty Garden Center (indoor/outdoor murals) and The Cowfish (paintings, graphic designs and three-dimensional sculptures).
Though Partridge always tries to keep track of his creations' locations, over the years, certain pieces have disappeared. In his musings about where they might have ended up, he came up with the idea for his latest show, Lost x Found. The exhibit at Espada Bicycles features eight new paintings based off of older ones (from 1999-2008), in addition to five newbies. Creative Loafing spoke to Partridge about the upcoming exhibit.
Creative Loafing: Tell me more about the concept for the Lost x Found exhibit. Are the works in the showcase based off of photos or is your memory that good?
Scott Partridge: Yeah, I used pictures of the pieces. So when I say I found them, I didn't really find them. I rediscovered them through recreating them. I've lost a lot of artwork and some of the time it was my fault, because I didn't keep track of where I had them. Now I keep track of everything and know where it is. In other cases I knew where it was, but whoever was in charge of it didn't keep track of it and it just got lost.
That's really how I came up with it. I thought, 'Well, I painted them. I could just paint them again and have them'. So I looked through all the stuff that I lost and picked out ones that I thought were worth doing again. I ended up choosing eight and went to work on them. I did some of them pretty much the same way as the first time and some of them I modified. I think I improved most of them, because I saw things that I would have done differently and I did them differently. I think the pieces that I have now are actually stronger than the ones that I lost.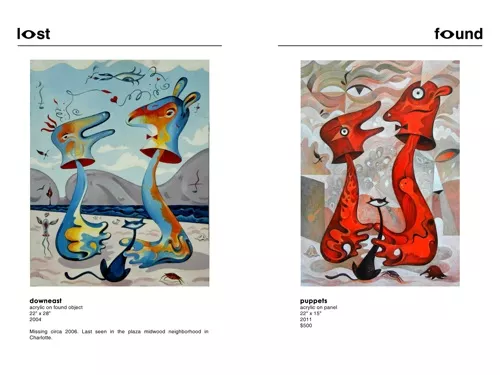 What inspired down "Downeast"/"Puppets"?
Those puppets are inspired by the duck or rabbit figure, where it could either be a duck or rabbit, depending on how you look at it. I like that, because I like things that could be ambiguous - depending on who is looking at it, it could be one thing or another thing. And I think a lot of things are like that. There's two sides to them. So both those puppets are based off that figure, but one is more of a rabbit and one is more of a duck.
When you deal with anything in life, you have to kind of put on a costume. That's kind of what people do. Even if you're really trying to just be true to yourself in some sense, you're playing a role all the time. Aside from the themes, these are a chance for me to explore imagery that I have an interest in. I pull things in from trips and stuff I've seen and want to explore.
The opening reception for the Lost x Found exhibit is on Oct. 7, from 6 p.m.-9 p.m. Exhibit continues through Oct. 31. Espada Bicycles is located at 3206 N. Davidson St., Suite R in NoDa.