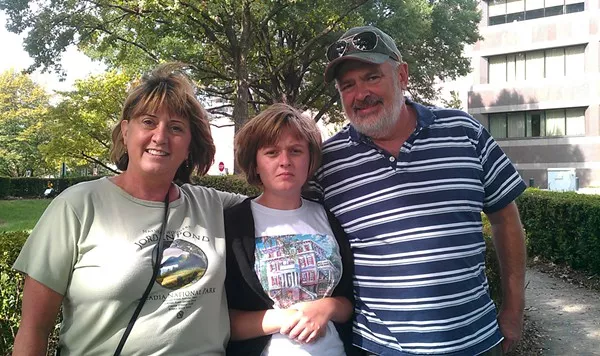 Jennifer, Rachel (19), and Steve Warren
As promised in
an earlier post
,
CL
will be bringing you over the next couple of weeks voices from the occupation of Charlotte — individual participants, in their own words, talking about why they joined the local Occupy movement.
Today, listen to Jennifer and Steve Warren, of Mooresville. They stopped by the occupation briefly on Oct. 9 with daughter Rachel. The family brought water to the occupiers and sat with them on the lawn of the Old City Hall during the first of the twice-daily Occupation Assemblies. The Warrens just came to listen, they said, but it wasn't long before they were offering advice, encouraging the occupiers to study and learn from past civil rights movements.
Before they left, I asked them three questions: Who are you? Where are you from? Why are you here?
"It's always been my belief that silence is consent, and for too long, people in this country have not spoken up," Steven Warren told me.
Listen to Steve, in his own words:
Jennifer Warren offered a different perspective: "I'm the parent of a special needs daughter who's 19, and I feel that individuals with disabilities voices are simply not being heard."
Listen to Jennifer, in her own words:
Further reading:
24 Hours with Occupy Charlotte
Occupy Charlotte: Working Out the Glitches
CMPD holds Occupy Charlotte press conference
Listen to voices from Wednesday's #OccupyUNCC
Who are the 99 percent?
Oct. 1: The birth of Occupy Charlotte