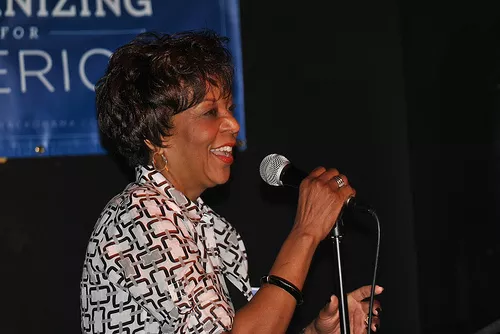 Maryland Democratic Party chair (and Charlotte native) Yvette Lewis
To most visiting state representatives, it was a tour of meeting rooms and suites (though not the ones with the nice Jacuzzis), a chance to sit on beds, peer at views of ponds and paddle boats and ask about the location of the nearest drug store. For Yvette Lewis, it was a chance to show off her hometown, and it was "emotional," she said. "It's a good day," Lewis said on Monday after a walk through the Hilton Charlotte University Place.
Lewis is chair of the Maryland Democratic Party and a super delegate. She's in Charlotte Oct. 9 through 11 to scout 2012 convention accommodations for her state's 112-member delegation. In that task, she was much like her fellow three dozen representatives from 14 states, entertaining visions of 2012 breakfast meetings and receptions. But Lewis is also a Charlotte native — a self-described "kid who grew up on Lasalle" — a graduate of Charlotte Catholic High School, and a frequent visitor. Her parents, sister, brother and other family members live here, and Lewis — an opera singer — has brought her opera immersion program for children to elementary schools such as Eastover and Dilworth.
"I always thought that Charlotte was great; now everybody else gets to see why," she told me. It was nice, she said, to hear her executive director say, "Your hometown is very cool."
The University-area stop came the day after a visit to the U.S. National Whitewater Center; an event at the Speedway was to come. They had toured Time Warner Cable Arena and heard from Mayor Anthony Foxx and former Mayor Harvey Gantt. Up to 6,500 delegates will be a part of the Democratic National Convention in Charlotte in September 2012. While the convention committee secures the hotel space, delegates and state parties pay.
This first scouting trip was also scheduled to take visitors to SouthPark, Uptown and Concord, with I-77/airport hotels put on hold for another time. During the convention, shuttle buses will transport attendees to Time Warner Cable Arena, the site of the convention. Veterans of other conventions viewed prospective 15-minute bus rides as fairly painless; businesses are happy to be sharing the revenue. After states rank their top three hotel zones and indicate a preference for premium, moderate or economy accommodations, the DNCC will make the match.
David Glass, general manager of the Hilton, was flanked by representatives of other area hotels, and he extolled the virtues of a setting "out of the security check points and street closings." Party politics don't matter to him. If "the money is green," he told me, "people are welcome."
Lewis, who will be attending her third national convention, didn't mind talking politics in between test squeezes on a hotel room pillow. "Obama's chances are great in 2012." Republicans are fighting every one of the president's proposals, not because they are afraid they won't work, she said, but because "they are afraid they will."
Debi Hartmann, executive director of the party in Hawaii, said the president "is now where he's needed to be for a long time," confronting and answering questions. "He's not going to settle for anything less." She said voters "need to continue to hear the successes of his administration," and listed health care for older children as an issue that's not Democratic or Republican. She said watching GOP "infighting" is "kind of fun."
It will be the first convention for John Murakami of Honolulu, who as state convention director must accommodate 37 delegates. He last visited Charlotte 15 years ago, and said he was "pleasantly surprised" by the city's growth, from the EpiCentre to the light rail that will take delegates from the arena to the convention center.
Because Hawaii has no majority race or ethnicity, Murakami said the delegation is focusing its diversity effort on the "weird, interesting concept" of, as Hartmann put it, making the convention experience "hip enough yet comfortable enough" for its younger and older members. In Hawaii's spirit of giving back, they said, representatives will come with gifts of Kona coffee, shortbread chocolate cookies and macadamia nuts.
Sounds like visitors Charlotteans can warm up to.
Mary C. Curtis, an award-winning Charlotte, N.C.-based journalist, is a contributor to The Root, NPR, Creative Loafing and the Nieman Watchdog blog. Her "Keeping It Positive" segment airs Wednesdays at 7:10 on TV's Fox News Rising Charlotte, and she was national correspondent for Politics Daily. Follow her on Twitter.