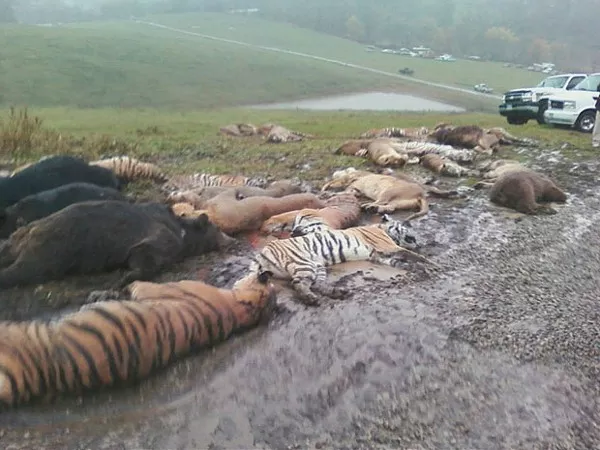 Courtesy of the Columbus Dispatch
Killed animals awaiting burial yesterday in Ohio
It was a sickening scene yesterday in Ohio, where the owner of a "wild-animal preserve" killed himself after letting his animals loose. Police were forced to kill dozens of the animals, including 18 rare Bengal tigers. Even animal-rights advocates agreed that police had little choice but to kill the potentially lethal animals once they started roaming the countryside, but several officers were reported to be distraught over the slaughter.
What's even more sickening in the long run is that this was a tragedy that would not have happened if Ohio had decent regulations regarding so-called wildlife sanctuaries. The Humane Society of the United States laid into Ohio Gov. John "Tea Party" Kasich, who had allowed a statewide ban on buying and selling exotic pets to expire in April. Wayne Pacelle, head of the Humane Society, summed up the situation this way: "Owners of large, exotic animals are a menace to society, and it's time for the delaying on the rule-making to end."
The same can be said for North Carolina, which has no permit or license requirements for anyone desiring to keep any "exotic" animals other than poisonous snakes. N.C. doesn't even keep track of potentially dangerous wild animals, nor where they're being kept. What's more, as reported by WRAL in Raleigh, it is legal to sell endangered species like tigers in N.C., although the animals cannot be sold across state lines. Some counties, including Mecklenburg, ban dangerous wildlife, although most counties in the western part of the state have no restrictions at all.
One sanctuary, Tiger World, in Rowan County, sits on property that used to contain The Charlotte Zoo, later named Metrolina Wildlife Park. That facility was closed in 2008, after owner Steve Macaluso ran into numerous legal problems, including citations for inadequate animal care and insufficient protection for visitors. Tiger World is more educational in focus and is seemingly under more careful, knowledgeable management. Nonetheless, it is still a private attraction (read: under-supervised and under-inspected) where wild, predatory beasts are just a chainlink wall away from tearing your head off in the event of something unusual, such as a violent storm or accident.
My view is that other than satisfying human curiosity, there is no good reason for private ownership of the likes of tigers and lions. N.C. state government should move quickly to outlaw it — for all parties' sakes, including humans and the sad animals we love to gawk at.