We are surrounded by fully-professional theater companies here in Charlotte — all we need to do is drive about 100 miles or so to see 'em. That's what I did last weekend, driving up to Winston-Salem last Saturday evening for a preview performance of the Festival Stage production of The Exact Center of the Universe. My wife Sue and I stayed overnight, visited some close relatives, and caught the Sunday matinee of Ibsen's A Doll House, presented in Greensboro by Triad Stage.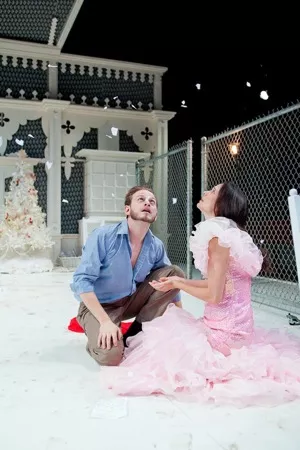 VanderVeen Photography
Luke Robertson and Krista Hoeppner in A Doll House
Homegrown professional theater productions, acted and stage-managed by members of the Actors' Equity Association, are a fine idea, even in cities that don't aspire to hosting a national political convention. They could work here, I'm absolutely sure.
If you're interested in seeing two extraordinary performances by actresses in peak form, I'd recommend getting onto I-85 and following in my wake this weekend.
Homing in on their tenth anniversary, Triad has already produced two Ibsen classics, Hedda Gabler and Ghosts. Preston Lane obviously has an affinity for the Norwegian father of modern drama, for once again, the Triad artistic director has newly adapted the work he's bringing to the Pyrle Theater stage.
If anything, Lane's direction is bolder than his adaptation. We start off in a pristine white set, designed by Anya Klepikov, with floor, doors, furniture, and even the Christmas tree all the selfsame ivory hue. There's coldness to this Nordic purity that chimes well with the perfection of Nora Helmer's life: beautiful children, beautiful home, and an industrious husband who has just earned a promotion.
It is a dollhouse in its unsullied simplicity, so when Nora's past begins to undermine the frosty idyll, the house shows the spoilage first. When Nils Krogstad arrives, Nora's merciless creditor, he tracks mud all over that perfectly white floor. The floor gets muddier as things unravel further. A segment of chain-link fence appears at one side of the thrust stage, then another, then another — until three of the four walls of the Hellmer home are completely fenced-in when Nora makes her famed exit.
The dollhouse has become a birdcage, largely because of Krista Hoeppner's sprightly portrayal of Torvald Helmer's little skylark. If the set is frosty compared with the 1973 movie, Hoeppner is best Nora that I've seen — yes, better than Claire Bloom — precisely because of the fey energy she brings to the scrabbly squirrel and the fluttery lark of the household. Likewise, Luke Robertson is a far more hot-blooded Torvald than the eminently proper Anthony Hopkins, sexier but equally clueless.
In their roles as Krogstad and his former love Kristine, Lee Spencer and Amy da Luz battle bravely enough against Ibsen's overly involuted plotting, subtly deferring to Nora's energy and her dilemma, easing the melodrama. All in all, a boldly executed, shrewdly judged invigoration of a drama that still touches the core issues of modern life — our ambitions, our identities, and our sexuality.
Charlotte Rep partisans who saw the Exact Center production in 2000 will likely feel they've earned a pass on seeing the current Festival Stage effort, since Steve Umberger — remember him? — directed them both. Winning CL's awards for Best Comedy and Best Actress, Umberger's first pass at Joan Vail Thorne's elegant take on the New South rising out of the Old wasn't exactly chopped liver. Vada Love Powell remains a battleship of respectability, propriety, vanity, and authority as the apple of her eye, son Appleton Powell, has the audacity to marry without her consent.
But here we have Umberger's missus, Rebecca Koon, as that battleship instead of Mary Lucy Bivins. I'd have to say that Mary Lucy was faultless partly because Vada's tartness fit her so well. For Koon, such starchiness is somewhat against the grain, a reason why her award-winning performance as Vivian Bearing in Wit was so fascinating. In Exact Center, Koon's natural warmth, empathy, and motherliness drip out of Vada in such exquisitely small portions that the woman had me in tears — though her crusty eccentricity is often uproariously funny.
The other roles are rather plummy as well. Both the renegade son and the interloping daughter-in-law double as their own kin. In Apple's case, Michael Huie doubles as his own father, the widow Powell's dearly departed husband, who mystically powwows with Vada as she struggles to adjust her son's earth-shattering effrontery. I found myself believing Huie's gallantry — and his accent — more readily than Rep's Mike Collins, perhaps because I've never seen or heard him before.
Kate Russell is both the new bride, Mary Ann, and her twin sister, Mary Lou, a circumstance that yields high umbrage from Vada in the opening scene. The two sisters are sufficiently different for set and costume designer Bob Croghan — does that name ring a bell? — to offer varied costuming for Russell's two incarnations. Croghan also does well with the dramatic scene change midway through Act 1, as we adjourn from Vada's parlor, where Mrs. Powell had schemed to ambush Mary Ann at afternoon tea, to a lush treehouse where Vada and her two closest friends, Enid and Marybell, play their weekly hands of canasta and commiserate over Apple's elopement.
Marybell is the softy among the two, harboring a terrible secret, and is more perfect in the role than when she did it 11 years ago with the Rep. As for the childless Enid, who fancies herself as Apple's surrogate mother in Act 1 and drifts deliciously into senility in Act 2, I will diplomatically declare that Sarah Peterson is the equal of the actress who doddered in 2000. Yep, it was Koon.
Of course, Rep partisans may feel extra incentive to see Exact Center again after all these years, knowing that the once-ubiquitous Umberger is involved. On the other hand, the fact that Umberger is a resident director up in Winston-Salem and not in Charlotte just might haunt your drive home.