11:11, the title of local artist Erich J. Moffitt's exhibit at Custom/Espada Bicycles in NoDa is simple enough. It's November and the year is 2011. The whimsical illustrations in the solo showcase are a whole 'nother story. Multifaceted in appearance, the works are derived from Moffitt's ideas for future children's books.
"The concept was basically that I was going to take a show and create images that have each individually been floating around my subconscious for a better part of the year," Moffitt says. "Each of them is effectively like a story starter for a children's book. Each of them has its own narrative implied and each could be elaborated and turned into a larger project."
Moffitt was born in the U.S., but moved to Austria with his family when he was a wee 3 years old. He spent 13 years there before coming back to the states in 1998. By 2007 he received his Bachelor of Fine Arts degree from UNC Charlotte and since then he's put his education to good use by filling canvasses with a wonderland of colorful acrylics. His art has displayed at McColl Center for Visual Art, Baku Gallery, Genome, Neighborhood Theatre and Dharma Lounge, among other galleries and venues around town.
Moffitt currently works as a freelance illustrator. "A lot of the stuff I do has a little bit of a story behind it," Moffitt says. "I encourage people to interpret my work in that way and sort of make up their own stories about the characters, the paintings and what they see in life."
Check out three of Moffitt's paintings (below) with commentary on the meanings behind them.
"Treasures in Heaven" — "It's about a giant chandelier-city floating in the sky, protected by flying paper cranes. It was inspired by one of the chandeliers in Amelie's French Bakery."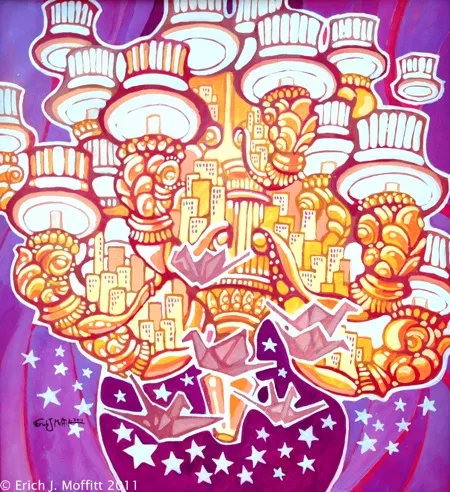 "Nightlight" — "It's about a lighthouse beacon and a fleet of airborne paper ships."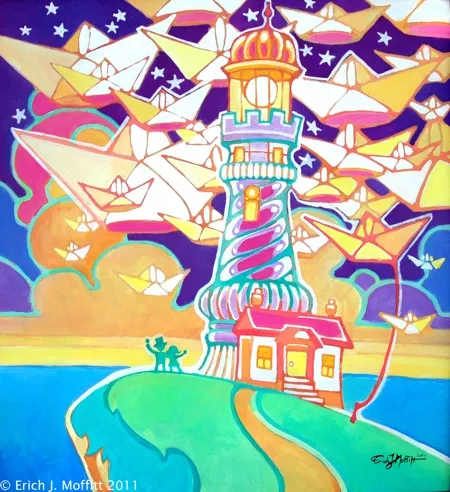 "Beyond the Sea" - "This one was adapted from the song by Bobby Darin."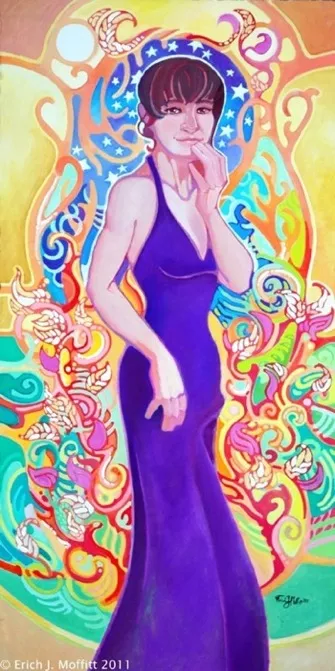 For more information on Erich J. Moffitt, visit www.erichjmoffitt.com. Don't miss his 11:11 exhibit, which continues through Dec. 30. Custom/Espada Bicycles, 3206 N. Davidson St., Charlotte.