Shailene Woodley and George Clooney in The Descendants
The Southeastern Film Critics Association (SEFCA) yesterday named The Descendants the Best Picture of 2011 in its 20th annual voting. Director Alexander Payne's seriocomic look at the difficulties faced by a Hawaiian family earned a total of three awards, with its other victories coming in the categories of Best Actor (George Clooney) and Best Adapted Screenplay (Payne, Nat Faxon and Jim Rash, adapting Kaui Hart Hemmings' novel). The movie also was the runner-up in the categories of Best Supporting Actress (Shailene Woodley) and Best Ensemble.
Besides Clooney, the other victorious performers were Best Actress Meryl Streep as British Prime Minister Margaret Thatcher in The Iron Lady, Best Supporting Actor Christopher Plummer as an elderly widow who finally comes out of the closet in Beginners, and Best Supporting Actress Janet McTeer as a woman who disguises herself as a man in order to find gainful employment in Janet McTeer.
Two veteran filmmakers earned major honors for works steeped in the past. Martin Scorsese won Best Director for his ode to cinema, Hugo, while Woody Allen took Best Original Screenplay for his nostalgic romance, Midnight in Paris.
Besides The Descendants, the only other film to win more than one award was the box office smash The Help, which took the prize for Best Ensemble and also received the Wyatt Award, given annually to the "film that best evokes the spirit of the South."
The remaining awards went to the Iranian drama A Separation for Best Foreign Language Film, Project Nim for Best Documentary, Rango for Best Animated Film, and The Tree of Life for Best Cinematography.
The Southeastern Film Critics Association is comprised of film journalists from nine states representing the Southeastern section of the United States. This year, 47 members participated in the voting, including Charlotte reviewers Matt Brunson, Sean O'Connell, Lawrence Toppman and Harvey Burgess.
In addition to naming its Best Picture, SEFCA also releases its Top 10 for the year. The complete list of all winners and runners-up is below.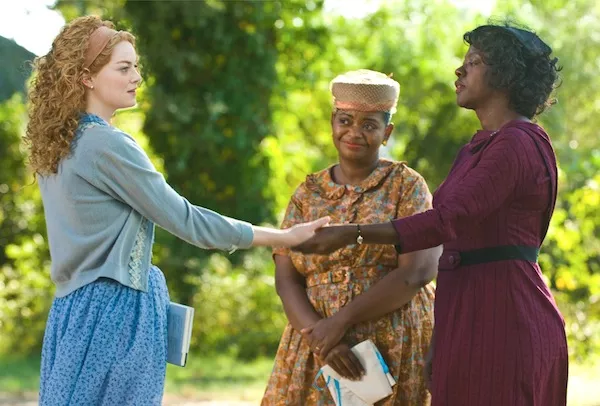 Emma Stone, Octavia Spencer and Viola Davis in The Help
BEST PICTURE
1. The Descendants
2. The Artist
3. Hugo
4. Moneyball
5. The Tree of Life
6. Drive
7. Midnight in Paris
8. Win Win
9. War Horse
10. The Help
BEST ACTOR
Winner — George Clooney, The Descendants
* Runner-up — Michael Fassbender, Shame
BEST ACTRESS
Winner — Meryl Streep, The Iron Lady
* Runner-up — Tilda Swinton, We Need to Talk About Kevin
BEST SUPPORTING ACTOR
Winner — Christopher Plummer, Beginners
* Runner-up — Albert Brooks, Drive
BEST SUPPORTING ACTRESS
Winner — Janet McTeer, Albert Nobbs
* Runner-up — Shailene Woodley, The Descendants
BEST DIRECTOR
Winner — Martin Scorsese, Hugo
* Runner-up — Michel Hazanavicius, The Artist
BEST ORIGINAL SCREENPLAY
Winner — Midnight in Paris
* Runner-up — The Artist
BEST ADAPTED SCREENPLAY
Winner — The Descendants
* Runner-up — Moneyball
BEST ENSEMBLE
Winner — The Help
* Runner-up — The Descendants
BEST DOCUMENTARY
Winner — Project Nim
* Runner-up — Tabloid
BEST FOREIGN-LANGUAGE FILM
Winner — A Separation
* Runner-up — The Skin I Live In
BEST ANIMATED FILM
Winner — Rango
* Runner-up — The Adventures of Tintin
BEST CINEMATOGRAPHY
Winner — The Tree of Life
* Runner-up — Hugo
WYATT AWARD
Winner — The Help
* Runner-up — Undefeated