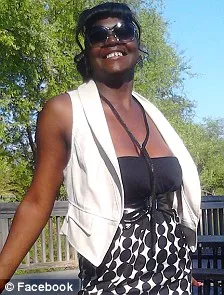 At the beginning of a year that will find Charlotte thrust into the international spotlight with the arrival of the Democratic National Convention in September, the city already is getting some notice from foreign papers — only, the news making its way across the pond today isn't exactly the image city boosters would like to portray.
The U.K. Daily Mail has been following developments in the case of Tanisha Williams, the 18-year-old girl who reportedly tried to strangle herself with a police cruiser seat belt after she was arrested last month on charges of stealing a $14 T-shirt.
The incident occurred while police had Williams in custody outside the Citi Trends store on Freedom Drive. The teenager remains in a coma.
Here's how the Mail described the events to its U.K. readers:
Charlotte-Mecklenburg Police Department showed the brutal footage from the night of December 5 to reporters and the teenager's attorney.

Her grandmother is expected to view it today, reports the Charlotte Observer.

Tanisha was arrested outside CitiTrends clothing store accused of stealing a $14 T-shirt.

Officers said she was violent and uncooperative so she was handcuffed and placed in the back of the parked patrol car screaming hysterically.

The video shows her in the moments after the arresting officer went back into the store to finish paperwork while two other officers stood next to the cruiser, reports WSOCTV.com.

'I didn't do anything, I did not steal no shirt.' she can be heard screaming, reports the Observer.

She then bangs her head repeatedly on the Plexiglas divider in the car with enough force for a small crack to appear, which grows larger each time she strikes her head against it, shaking the camera.

Police major Andy Leonard told reporters that officers determined that they needed to restrain Tanisha, so they went to another officer's car to get a restraining device, reports the Observer.

In this time Tanisha turns and, using her head, wraps a seat-belt around her neck three times.

She can be heard choking before she slumps into the seat.

Read the full story here.
Local media outlets have been abuzz since police announced earlier this week that they had the videotape of the girl injuring herself.
Tangi Davis, a Charlotte entertainment publicist, told CL this morning that the family's attorney, William Harding, is looking into why police allowed the teenager to hurt herself so badly while in their custody. CL will be following developments in the case and talking to Harding and others later today to get more insight for a larger analysis of the CMPD's handling of Williams.
Meanwhile, Harding told The Charlotte Observer that police should never have left the panicking teenager alone in the car. "They should have restrained her or kept an eye on her," the attorney said. "They're responsible for her well-being, even if she's a danger to herself."