Soon-to-be graduates - Erin Abarbanell, Matt Andrews, Corrie Bates, Chris Coleman, Beth Anna Graham, Tori McLean, Jennifer Moran, Jacob Reeves, Jillian Sanford, Jade South, Laurel Welch, and Leigh Yost - of Winthrop University's graphic design and illustration program are showcasing their latest works in the Deer Professionals Senior Show at Johnson & Wales on Friday, April 20.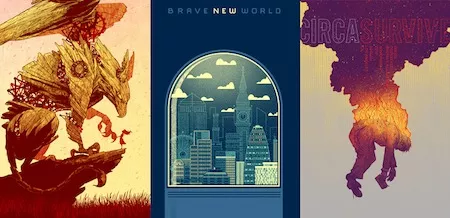 Los Angeles-based illustrator Kevin Tong is scheduled to speak at the event. Tong's lengthy list of works include special assignments for clients like LA Weekly, Hard Rock Cafe, Playboy Magazine, Chuck Palahniuk and more. He's also done some pretty darn impressive prints for bands (The Black Keys, Beck, Wilco, The Shins, to name a few), films and TV shows (Star Wars, and Lost, among others). How's that for a kick ass portfolio?
For more information on the Deer Professionals Senior Show, visit www.deerdesigners.com. Also check out the funny clip from Tommy Boy below.