Mecklenburg County Commissioners voted 5-4 to support a resolution that opposes Amendment One.
If it passes on Tuesday, the amendment would constitutionally define marriage as a union between a man and a woman and make that the only domestic legal union the state can recognize.
Chairman Harold Cogdell and commissioners George Dunlap, Jennifer Roberts, Dumont Clark and Vilma Leake voted for the resolution, according to Q-Notes. Jim Pendergraph, Neil Cooksey, Bill James and Karen Bentley voted against it.
Nineteen people, including residents and religious and business leaders, spoke mostly in favor of the amendment. Q-Notes wrote:
Several people, quoting from the Bible, said their reasons for supporting traditional marriage were based on God.

Charlotte resident Karla Lowman, who has been married for 28 years, said she stood against the resolution and for traditional marriage.

"I am encouraging those that I pray with to stand for biblical values. God wants us to honor marriage," Lowman said. "Please don't put this before our city."
Perhaps the most eloquent voice of reason was the Rev. Stephen Shoemaker of Myers Park Baptist Church. He opposes Amendment One because "builds discrimination into the foundational legal document of our state."
"You could frame this debate as between one moral good, the support of traditional marriage and family, and another moral good, the extending of dignity, rights and equal protection under the law to all people," Shoemaker said. "... The tension in the American soul is still with us: between those who would like to establish the United States as a 'Christian nation' operating under the rules of a dominant religious majority, and those who want our nation to be a nation 'of the people, by the people, and for the people... ' "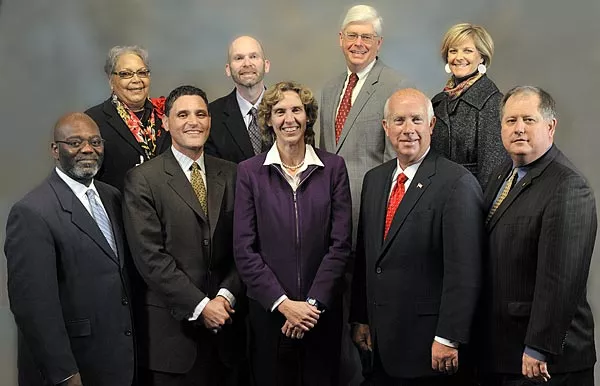 Courtesy of the Mecklenburg County Board of Commissioners' website
The Mecklenburg County Board of Commissioners