If your comfort zone lies securely within the confines of traditional Broadway book musicals, or if your standards of choreographic plenitude are shaped by the programs and exploits of North Carolina Dance Theatre, three words of advice about Come Fly Away, currently at Belk Theater: Do stay away. On the other hand, if you're absolutely besotted by Dancing With the Stars - or mildly curious about what all this Broadway hoo-ha is all about - Come Fly Away might be the perfect vehicle for incrementally moving up to better things.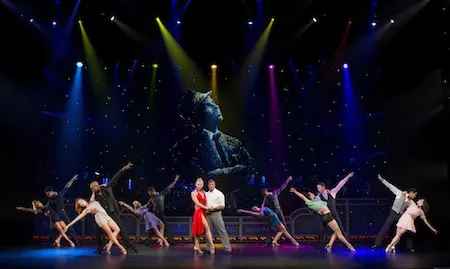 Just one further caveat, and it's a huge one. Between the fixing and the cutting, the touring version is hardly the same as the production that ran on Broadway for just over five months in 2010. No fewer than 11 of the dance numbers have been deleted from the original songlist of 34, trimming the running time by a third to a scant 69 minutes. Compounding the makeover, director/choreographer Twyla Tharp has eliminated the live female vocalist who occasionally sang along with the pre-recorded Frank Sinatra soundtrack - while adding five new numbers!
As a result, the show is about something else. Five of the first six Broadway tracks have been axed. Most significantly, the first establishing ensemble, where we discover the full cast on an art deco nightclub set in front of a 19-piece big band, has been changed from "Come Fly With Me" (the source of the show's title, for Frank's sake!) to "Luck Be a Lady." In other words, the mood has been changed from escape, sung by a man and a woman, to getting lucky, exclusively espoused by Ol' Blue Eyes.
Ability is not a question: all of the dancers onstage sport topflight pedigrees. I was especially impressed by Ramona Kelley as the kookie soubrette and Christopher Vo as the nightclub waiter who is hooked on her, mainly because they attract Tharp's most comical choreo. The other three couples are marvelous, but they must contend with the repetitive crush of Tharp's romantic work. Because she isn't confined by the discipline of a book musical, Tharp breaks free from the normal boy-meets-girl, boy-wins-girl, boy-loses-girl, boy-keeps-girl formula - with the occasional infidelity or misunderstanding tossed in for good measure - bridged across an entire evening.
For long, tedious stretches, every Tharp piece is a blizzard of come-ons, brush-offs, and betrayals, usually without any connection to the lyrics Sinatra is singing. We enjoy "That's Life" because the bravura belting is matched by the sensuous energies of Anthony Burrell and Ashley Blair Fitzgerald, despite the total disconnect between the significance of their actions and the message of the song. A turning point finally occurs after "Makin' Whoopee" is reprised as a paean to latenight weariness. Or I should say at the end of a deadly lull where this instrumental version is preceded by two other songs that should have been cut from the Broadway songlist, the lackluster "Lean Baby" and Paul Desmond's "Take Five," an instrumental that has no Sinatra relevance.
Wrangling over, the show builds nicely to its conclusion, peaceful concord settling at last upon the four couples as Tharp deftly sequences "One for My Baby," "The Way You Look Tonight," "My Way," and "New York, New York." Of course, there are times — when we arrive at "One for My Baby," for example - Come Fly Away echoes Tharp's Nine Sinatra Songs, performed by NC Dance Theatre as part of the kick-off to their 2007-08 season. But there were key differences: Nine was clearly a suite with no narrative pretensions, and NCDT supplemented their program with works by Dwight Rhoden and Alvin Ailey, offering a variety of choreographic and musical styles.
Part of that same "Manhattan Moves South" program that showcased Tharp's Nine Sinatra Songs was reprised last week by NCDT as Rhoden's Artifice was paired with Sasha Janes's Dangerous Liaisons. Boasting live original music from cellist Ben Sollee, the program still lacked the pop/jazz cache of Sinatra recordings vivified by a fine band replicating arrangements by heavyweights like Nelson Riddle, Johnny Mandel, and Quincy Jones. But in all other respects - choreographically, technically, and dramatically - NCDT eclipsed Tharp's travel-sized confection.