Just 100 days away from the moment when President Barack Obama accepts his party's nomination in Charlotte, congresswoman and Democratic National Committee chair Debbie Wasserman Schultz marked the occasion on a top floor at Bank of America Stadium against a backdrop of the city skyline.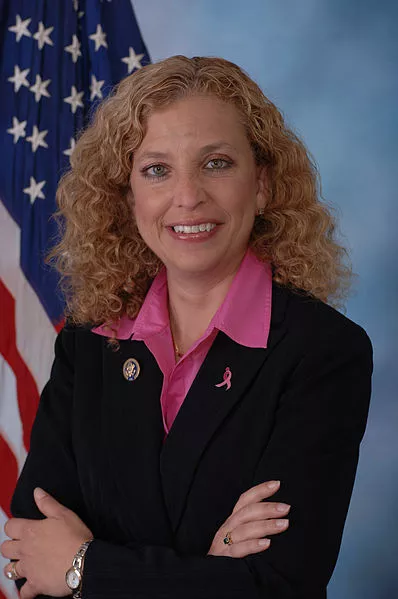 Congresswoman and Democratic National Committee chair Debbie Wasserman Schultz
Storm clouds briefly drifted over the bright sun during Tuesday's announcement, symbolic perhaps of tightening polls in the state the president narrowly won in 2008. Though it's going to be tough to repeat his win in 2012, Wasserman Schultz was optimistic and in a fighting mood.
"We've been organizing here since 2007, and we've never stopped," she said. "North Carolina became a battleground state because of that grass-roots organizing, and we believe that we have an even stronger opportunity and will win North Carolina in November as a result of that effort."
I asked if she thought the recent vote approving a constitutional amendment that bolsters the state's existing same-sex marriage ban put a dent in North Carolina's progressive image, as well as the president's chances here.
"Clearly the president came out against Amendment One," she said, expressing disappointment in the final result. Though it passed, she said the party is looking forward to "standing this convention up as an organizing tool." Democrats, she said, "were very clear and specific about how important it was for us to plant our flag in the South, and we weren't ceding any territory whatsoever in any region in the country, nor were we going to the throw in the towel on the ground we gained in the 2008 election."
Mecklenburg County and other more urban areas rejected the amendment, and Charlotte's Mayor Anthony Foxx on Tuesday seemed to be speaking of the direction he thinks North Carolina is headed when he described it as "a dynamic, diverse, vibrant state that has historically looked beyond the present to ensure that its people are stronger in the future." Foxx spoke of his own place in the state's progress, roots traced back five generations from a little girl in the 1860s, his great-great-grandmother, "sold on the auction block in Carthage N.C.," who "made sure her children got some education," to the mayor's office of the state's largest city.
In a conversation after the press conference, Foxx wasn't ceding a thing. "A swing state swings," he told me. "We always knew we'd have to fight for everything we get in this state."
Democrats will be counting on the hard work of people such as Karen Baldwin of Durham, part of Tuesday's tableau. Baldwin, an Organizing for America volunteer from Durham, brought her own legacy, a grandmother active in the civil-rights movement who did not have the opportunity to vote and a politically active mother, who "instilled the firm conviction that we have a voice." Baldwin said she feels as though she's a "civic Olympian," with a special passion for "registering people to vote in the Durham public housing community" and empowering others to be more involved in the political process.
The "I'm There" campaign, announced on Tuesday with a video full of city sights and an interactive website, invites members of the public taking part from home, online or in Charlotte to share photos of themselves holding the convention logo with the caption, "I'm There."
Baldwin's story of involving as many voters as possible is in contrast with GOP-backed efforts to pass voter ID bills in state legislatures around the country. Proponents say they are needed to prevent voter fraud; opponents say the laws are being used to limit poor, young and minority voters. (North Carolina's bill was vetoed by Democratic Gov. Bev Perdue.)
While she would not give details when asked to literally and visually set the stage for the president's convention speech - ticket details to be announced - Wasserman Schultz tried to separate the visions and optics for the two parties. (Republicans, of course, will be in her home state of Florida for their Tampa convention the week before Charlotte's turn in the spotlight.)
She said: "In the stands and on the field there, you will see an incredible amount of diversity, inclusiveness, participation and excitement, and that will be in dramatic contrast to the same old party elite wealthy upper-crust corporate special interest donors that will be reflective of what the Republican convention will look like."
I'd say the campaign is well under way.

Mary C. Curtis, an award-winning Charlotte-based journalist, is a contributor to The Washington Post's "She the People" blog, The Root, NPR and the Nieman Watchdog blog. Her "Keeping It Positive" segment airs Wednesdays at 7:10 a.m. on Fox News Rising Charlotte, and she was national correspondent for Politics Daily. Follow her on Twitter.