Conventions come and go, including the big blast that will be Charlotte's first. But what will be left for the communities that have struggled for jobs and adequate housing and education? What will they gain once the glitz, dollars and international spotlight have moved on?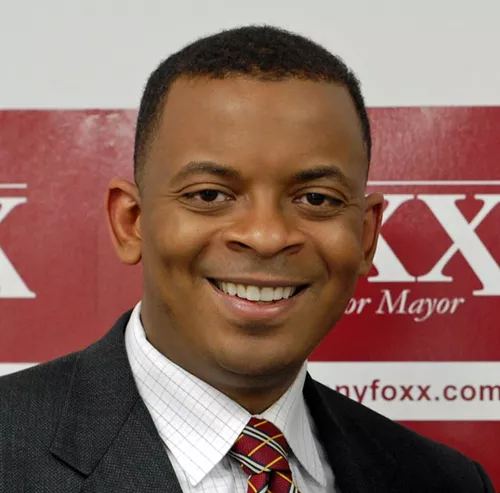 The first conversation in a series sponsored by the Charlotte in 2012 convention host committee explored those questions and more on Wednesday. The Access to America Dialogue series supports Mayor Anthony Foxx's convention legacy program to build a broader, more inclusive economy after the DNC, a challenging task in tough times. The three others fall into the categories of youth employment and civic education; healthy children and families, and energy, technology and sustainability. So far, there has been a youth fitness program at Piedmont Middle School, garden planting at the Charlotte Community Health Clinic, and the Kids Convention that the mayor attended with his family.
"The goal of our convention is to expose people to all parts of our city," Foxx told me, "and also to create economic opportunity for people who traditionally may not have been able to access something like this."
Harvard Law School professor Charles Ogletree led the discussion at the McGlohon Theatre at Spirit Square.
"I'm always involved with the DNC," said Ogletree, who was in Denver in 2008 in support of his former student, President Obama. He talked with Foxx about coming to Charlotte for a series of forums after the city "won the raffle" of hosting the convention.
"We're hoping to stimulate jobs, better education, better housing, to make Charlotte a city that represents not just the south but the entire country." He went on to say, "My whole goal in coming here time after time after time between now and September is to bring in everybody. This is not a black or white issue; this is not a rich or poor issue.
"I want to hear from businesses why they are struggling. I want to hear from kids who can't afford tuition to go to college."
Charlotte's economic development does not operate in a vacuum, removed from what's going on across the country and the globe. The city is already a draw for ideas and people, a point made clear when panelist Marc Morial, National Urban League president and former New Orleans mayor, asked how many in the crowd were not born in North Carolina, and nearly every hand shot up. That is the new reality, and there's no going back.
"Broadening the economy and including more businesses should not be seen as a burden, but instead the exploration of a new strength," Morial said. While Charlotte won praise for its diversified economy, educated work force and entrepreneurial innovation, there are challenges.
"What we're trying to do," said Foxx, "is build a context for the convention before the convention comes. I'm very focused on making sure that this city grows for the long term." To do that, he said, areas such as the Independence and Beatties Road corridors and West Boulevard, have to be supported, sometimes with public-private partnerships, sometimes by putting catalysts in that will attract more investment.
"Demographic shifts that are occurring in the country cannot be ignored; if they are ignored they are ignored to our peril."
The panel also included Leonard Greenhalgh, professor at the Tuck School of Business at Dartmouth; Andrea Harris, executive director of the North Carolina Institute of Minority Economic Development, and Sara Garces Rosélli, Red F Marketing & Packard Place.
Ogletree will be back June 27 for a session on strengthening neighborhoods and making affordable housing possible, at UNCC, featuring Shaun Donovan, the Secretary of Housing and Urban Development. (Register here.) A third conversation will focus on education, and on Sept. 5, during the convention, a group of mayors will talk about what's happening in cities across America - "the good, the bad and the ugly," said Ogletree.
"The whole idea is this is a major city doing major things that other cities can learn from."
The delegates, media and visitors are coming to Charlotte to see a president accept the nomination.
"We want them to see the city, see what it has done and what it's trying to do," Ogletree said.

Mary C. Curtis, an award-winning Charlotte-based journalist, is a contributor to The Washington Post's "She the People" blog, The Root, NPR and the Nieman Watchdog blog. Her "Keeping It Positive" segment airs Wednesdays at 7:10 a.m. on Fox News Rising Charlotte, and she was national correspondent for Politics Daily. Follow her on Twitter.