When delegates, celebrities, media and the just-plain-curious descend on Charlotte for the Democratic National Convention in September, scoping out local art and history might not be at the top of their to-do list. But maybe they should reconsider.
Two exhibits that just opened Uptown add resonance to the renomination of the first black president - a point not lost on the Gantt Center or the Mint Museum.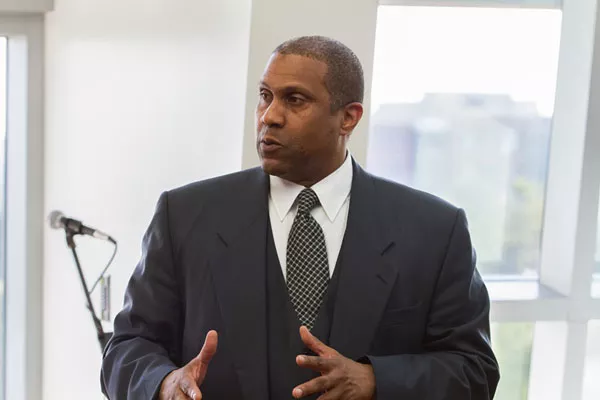 "America I Am: The African American Imprint" at the Harvey B. Gantt Center for African-American Arts + Culture brings items connected to names as varied as Dr. Martin Luther King Jr. and Prince. Then there are the artifacts that haunt me most - a bill of sale from Union County, pricing an 11-year-old boy at $700 and a perfect silver set for a proper woman of the house, complete with mirror, comb, brush and whip, sized for a lady's hand and suitable for disciplining house slaves. Prepare to be amazed at many of the rare, famous items - and stunned by the unexpected.
As exhibit organizer Tavis Smiley said when he came to Charlotte for opening events, "America: I Am" is a chance for visitors "to situate themselves in the narrative" of all the hopeful Americans who contributed and sacrificed when they had no reason to hold on to that hope. In my interview with him at TheRoot.com, he said: "It's important for Americans to understand that there is a 400- to 500-year backstory to Barack Obama; he didn't just fall out of the heavens."
Be sure to check out CL's July 12 cover story on the exhibit, including an interview with Smiley.
"Hard Truths: The Art of Thornton Dial" at the Mint takes a chance by presenting the art of a working-class man, a self-taught artist, raised in the rural South. His work tackles a wide range of social and political subjects, from commentaries on the homeless and the abuse of the environment to the plight of women and the rural poor. He uses all sorts of found and salvaged materials to share the kind of perspective that is often overlooked.
I contemplated one of his pieces for quite a while with the artist, now in a wheelchair, and his son, Richard, when they visited Charlotte for the opening. Created after the start of the Iraq war, "Don't Matter How Raggly the Flag, It Still Got to Tie Us Together," from 2003, is made of mattress coils, chicken wire, clothing, salvaged metal, plastic twine and more. "It's just life, that's all," Thornton Dial said.
Richard Dial wondered why the country still can't seem to tie it together. He talked about the rigid opposition to every policy proposed by Obama, even those the president's opponents previously favored. The 2008 election, he said, was too big a change for some. "Maybe not this time, but next time" genuine acceptance will be there, he said.
Mint Museum president Kathleen Jameson told me she sees the show as representing the "struggles that people endured to make President Obama possible." Amid the parties and the pomp, let's hope visitors, as well as Charlotte's own, make time for tough shows that are worth it.
On July 17, I will be moderating a panel "Hard Truths: African American Art in the Mainstream Art World" at the Mint Museum Uptown, featuring Mint curator of contemporary art Brad Thomas, and artists Nellie Ashford, Chris Watts and Juan Logan. It's at 6:30 p.m. and it's free to attend.

Mary C. Curtis, an award-winning Charlotte-based journalist, is a contributor to The Washington Post's "She the People" blog, The Root and theGrio. Her "Keeping It Positive" segment airs Wednesdays at 7:10 a.m. on Fox News Rising Charlotte, and she was national correspondent for Politics Daily. Follow her on Twitter.