Charlotte expressionist artist Jerry Lee Kirk paints whimsical scenes of both familiar and lesser happening spots in the Q.C. His latest collection is filled with street views, so depending on what routes you frequent, you may or may not feel a little lost. Kirk, who also has a fascination with trees, includes a vast assemblage of limbs, greenery and foliage.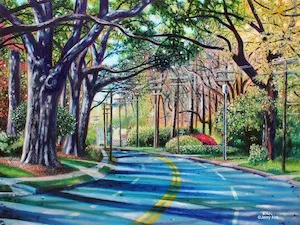 But skylines aren't exempt from his canvases. By combining some of his colorful natural elements with urban scrapers, Kirk distinguishes himself from David French — another notable artist who frequently paints local settings.
Opening reception on July 13, from 6 p.m.-9 p.m. Exhibit continues through July 31. Shain Gallery, 2823 Selwyn Ave. 704-334-7744. www.shaingallery.com
.