While most of the Best Picture Oscar winners from the Academy's first decade are clunky vehicles that haven't held up particularly well, one of the exceptions is Mutiny on the Bound, a splendid dramatization of the infamous 18th-century mutiny in which first officer Fletcher Christian (Clark Gable) led a revolt against the tyrannical Captain Bligh (Charles Laughton) on the high seas.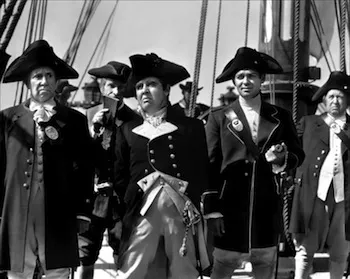 While movies like
Titanic
,
Waterworld
and
The Abyss
resulted in countless articles relating the difficulties of filming on water, this is hardly a modern phenomenon, as witnessed by the legendary stories surrounding this 1935 film's numerous mishaps: on-set skirmishes between actors, an overextended budget (easily recouped upon its successful release), destroyed film stock and sets, and countless injuries (and even one death) among crew members. None of this chaos turns up on screen, though: This is an exciting, perfectly executed production that features Gable at his most magnetic and Laughton at his most commanding. This will be shown as the final entry in the Main Library series Ships Ahoy!!: 8 Classic Seafaring Films.
Free admission. Aug. 4, 2 p.m. Wells Fargo Playhouse, 300 E. 7th St
.