While the Republicans are hoping a hurricane doesn't spoil their Tampa party, Democrats are "putting the finishing touches" on Time Warner Cable Arena, an excited Steve Kerrigan told the press on Wednesday. On Aug. 31, it will be first come, first served as the arena will open to the public. (Sign up for a free pass here.)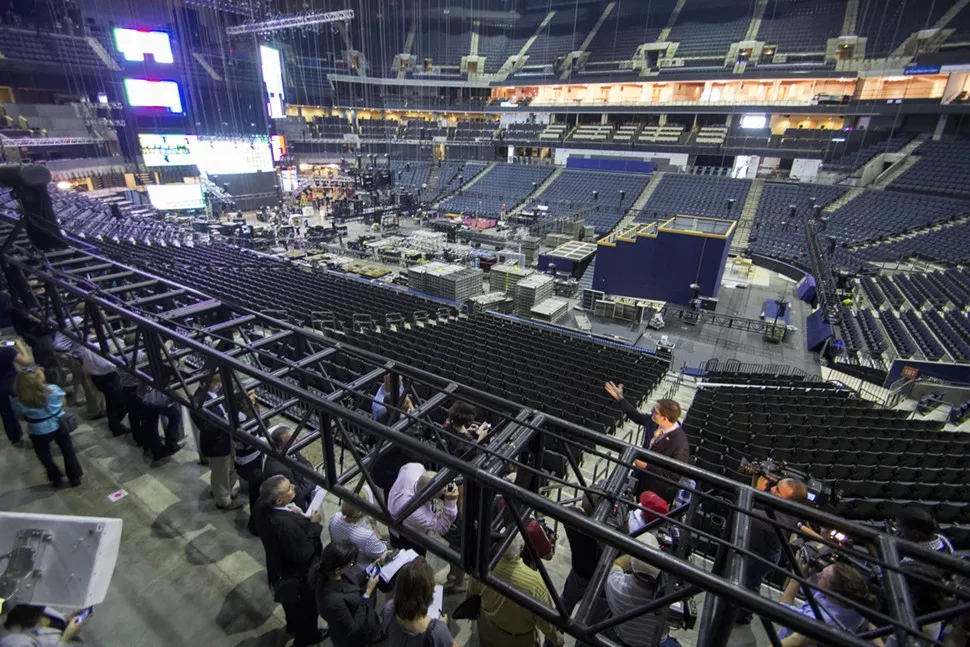 Time Warner Cable Arena gets a facelift.
With 13 days to go, the arena has the look of a move-in that's taking shape but has lots of work ahead. DNCC Chief Operating Officer Theo LeCompte assured a trail of journalists that construction is "on schedule." I trust that on Aug. 31, visitors won't be wearing the fashionable hard hats we donned to inspect media suites. The moving, flashing screens behind the speakers' stage looked pretty impressive. When asked, Kerrigan and LeCompte would promise only a "dynamic" and "electric" experience, with more details to come. "The speakers are really going to shine" was all LeCompte would say.
Kerrigan emphasized the community engagement of the DNC convention, which begins and ends with public events — the Sept. 3 Labor Day CarolinaFest and President Obama's Sept. 6 speech in Bank of America Stadium. Though holding the convention in a swing state — like North Carolina - doesn't automatically mean the campaign gets a boost that translates into votes, engaging the community helps, Kerrigan said. "That's how you can help move the needle in politics."
As for contingency plans for Charlotte's unpredictable September weather, Kerrigan said the convention is "prepared for all eventualities." We'll hear about them, he said, if and when the DNC needs to use them.
In a timely contrast to the mutterings of Missouri's Todd Akin, some of those speakers, it was announced in a release on Wednesday, will include Sandra Fluke, the Georgetown University student famously insulted by Rush Limbaugh; Nancy Keenan, president of NARAL Pro-Choice America; Caroline Kennedy; Lilly Ledbetter; U.S. Sen. Barbara Mikulski of Maryland, and Cecile Richards, president of Planned Parenthood Action Fund.
Education and the DNC
The third of three pre-convention dialogues in the Access to America series, sponsored by the convention host committee, focused on education this week at Central Piedmont Community College. That's appropriate timing, considering the start of school in Charlotte-Mecklenburg next week. Harvard Law School professor Charles Ogletree returned to moderate (he will be back convention week), with Mayor Anthony Foxx, CMS board of education chairwoman Ericka Ellis-Stewart, new superintendent Dr. Heath Morrison, former North Carolina governor Jim Hunt and Johns Hopkins University professor Robert Balfanz joining in. They took questions from the several hundred who showed up to hear about an award-winning school system still plagued by a dropout rate that's too high and a persistent achievement gap.
Foxx announced the Mayor's Youth Press Corps, which hopes to have more than 100 students attend lectures, use social media and write articles and blog posts for their school publications during the DNC. It's part of the mayor's legacy program of youth employment and civic engagement, an attempt to leave lasting benefits once the convention leaves town.
A Community Credential

There's still time to sign up for a community credential to attend the final night of convention proceedings, Obama's Sept. 6 speech. This week, the campaign released an image of what it says is "a keepsake for years to come."
Mary C. Curtis, an award-winning Charlotte-based journalist, is a contributor to The Washington Post's "She the People" blog, The Root and theGrio. Her "Keeping It Positive" segment airs Wednesdays at 7:10 a.m. on Fox News Rising Charlotte, and she was national correspondent for Politics Daily. Follow her on Twitter.