With the Democratic National Convention officially at half-time, most of us journalists are running on fumes. I have been eating my weight in free fried-chicken fingers at Blackfinn and passing out on a hard couch at 2 a.m, too wired from catching actress Patricia Arquette chain smoking in the Epicenter before going on Hardball with Chris Matthews. I'm in a torrid love affair with the bottomless popcorn bucket at Time Warner Cable Arena.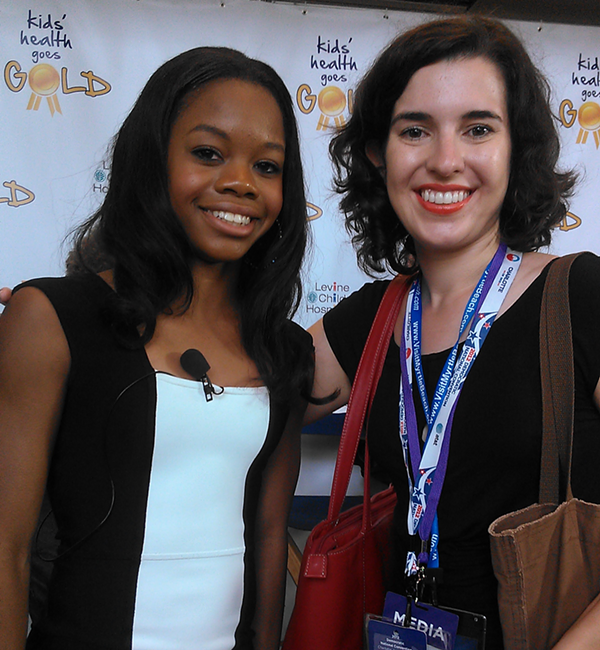 Gabrielle Douglas and me at the Kids' Health Goes Gold
So I scheduled an intervention this morning. I joined a bunch of elementary school kids for Kids' Health Goes Gold at the Foundation for the Carolinas on South Tryon Street. It took some Olympians — including four of the Fierce Five from the U.S. gymnastics team in the 2012 London Games — to pry the free chocolate chip cookies from my hand.
Olympian Gabrielle Douglas, the first black woman to win gold for the individual and team all-around competitions for the U.S. Women's Gymnastics team, quickly offered some advice to get me through the rest of this thing, shaming me out of my addiction to junk food this week. She didn't offer much, but just being around her tiny frame was enough motivation to kick me into high gear.
Q. We're not getting a lot of sleep. What should we do? Definitely get sleep when you can. I know two hours doesn't seem like it does anything, but it does. Anything your body can get then it won't hurt it.
Q. What should we eat? Definitely eat well, have a salad here and there, have some vegetables and protein. Ask if there is some fruit and get a lot of Vitamin D. Definitely stay active, dancing, anything, walking in heels is definitely a work out.