The Southeastern Film Critics Association (SEFCA) yesterday named Argo the Best Picture of 2012 in its 21st annual voting. A dramatization of a real-life incident in which six Americans were rescued behind the scenes of the 1979-1980 Iran hostage crisis, the film earned a total of three awards, with its other victories coming in the categories of Best Director (Ben Affleck) and Best Adapted Screenplay (Chris Terrio, primarily working from a Wired article by Joshuah Bearman).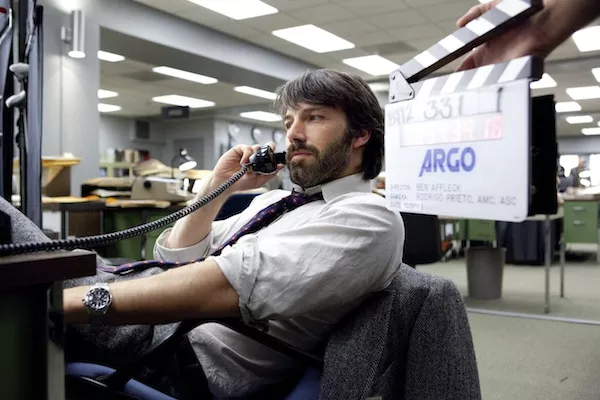 Actor-director Ben Affleck on the set of Argo
Besides Argo, the only other film to win more than one award was Steven Spielberg's Lincoln, which earned Daniel Day-Lewis the Best Actor prize and also took the award for Best Ensemble.
Along with Day-Lewis, the other victorious performers were Best Actress Jennifer Lawrence as a woman still coming to terms with her husband's death in Silver Linings Playbook, Best Supporting Actor Philip Seymour Hoffman as the charismatic leader of a possible cult in The Master and Best Supporting Actress Anne Hathaway as the long-suffering Fantine in Les Miserables.
The Wyatt Award, given annually to the "film that best evokes the spirit of the South" (past winners have included The Help, Winter's Bone and Waitress), this year went to Beasts of the Southern Wild, writer-director Benh Zeitlin's magical tale about a little girl living in the Louisiana bayou.
The remaining awards went to Moonrise Kingdom for Best Original Screenplay, The Queen of Versailles for Best Documentary, France's The Intouchables for Best Foreign Language Film, ParaNorman for Best Animated Film and Life of Pi for Best Cinematography.
The Southeastern Film Critics Association is comprised of film journalists from nine states representing the Southeastern section of the United States. This year, 48 members participated in the voting, including Charlotte reviewers Matt Brunson of Creative Loafing, Sean O'Connell, Lawrence Toppman and Harvey Burgess.
In addition to naming its Best Picture, SEFCA also releases its Top 10 for the year. The complete list of winners and runners-up in all categories is below.
BEST PICTURE
1. Argo
2. Zero Dark Thirty
3. Lincoln
4. Moonrise Kingdom
5. Silver Linings Playbook
6. Beasts of the Southern Wild
7. The Master
8. Les Miserables
9. Life of Pi
10. The Dark Knight Rises
Daniel Day-Lewis in Lincoln
BEST ACTOR
Winner - Daniel Day-Lewis, Lincoln
* Runner-up - Joaquin Phoenix, The Master
BEST ACTRESS
Winner - Jennifer Lawrence, Silver Linings Playbook
* Runner-up - Jessica Chastain, Zero Dark Thirty
BEST SUPPORTING ACTOR
Winner - Philip Seymour Hoffman, The Master
* Runner-up - Tommy Lee Jones, Lincoln
BEST SUPPORTING ACTRESS
Winner - Anne Hathaway, Les Miserables
* Runner-up - Sally Field, Lincoln
BEST DIRECTOR
Winner - Ben Affleck, Argo
* Runner-up - Kathryn Bigelow, Zero Dark Thirty
BEST ORIGINAL SCREENPLAY
Winner - Moonrise Kingdom, Wes Anderson & Roman Coppola
* Runner-up - Zero Dark Thirty, Mark Boal
BEST ADAPTED SCREENPLAY
Winner - Argo, Chris Terrio
* Runner-up - Lincoln, Tony Kushner
BEST ENSEMBLE
Winner - Lincoln
* Runner-up - Moonrise Kingdom
BEST DOCUMENTARY
Winner - The Queen of Versailles
* Runner-up - Bully
BEST FOREIGN LANGUAGE FILM
Winner - The Intouchables (France)
* Runner-up - Amour (Austria)
BEST ANIMATED FILM
Winner - ParaNorman
* Runner-up - Frankenweenie
BEST CINEMATOGRAPHY
Winner - Life of Pi, Claudio Miranda
* Runner-up - Skyfall, Roger Deakins
GENE WYATT AWARD for FILM THAT BEST EVOKES THE SPIRIT OF THE SOUTH
Winner - Beasts of the Southern Wild
* Runner-up - Bernie