The light rail has been the subject of some pretty interesting events and projects lately. Last weekend, folks dropped their trousers for No Pants Day (read an account from CL reporter Joanne Spataro here). This week, UNC Charlotte's Storrs Gallery unveils an exhibit of proposed artwork, specifically created for the Charlotte Area Transit System LYNX Blue Line extension.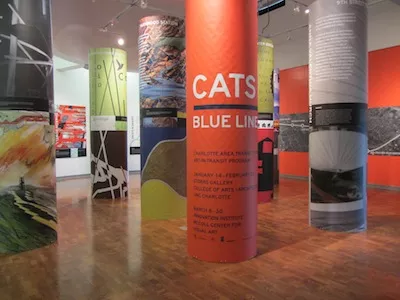 In 2009, 16 artists were picked to cultivate art for the light rail extension, which includes 11 stations along a nine-mile long stretch.
Slated for construction in late 2013 and predicted to begin operating in 2017, the extension will start Uptown at Ninth Street and run through NoDa before reaching UNC Charlotte's main campus in North Charlotte.
This week's exhibit will showcase a vibrant array of work by local artists Susan Brenner, Chandra Cox, Sharon Dowell, Daren Goins, Ruth Ava Lyons and Paul Sires, Shaun Cassidy, Tom Stanley and others.
It opens with a reception tonight (Jan. 16), from 5:30 p.m. to 7:30 p.m. and continues through Feb. 28. After its close, the exhibit moves over to the McColl Center for Visual Art, where it will reside March 8-30.
Free admission. Exhibit runs Jan. 16-Feb. 28. UNC Charlotte, 9201 University City Blvd. 704-687-8622. http://coaa.uncc.edu.