Remember when teenage girls were sporting duct tape dresses at their proms just to stand out? Well, at least that was the case when I was in high school. Nowadays, a duct tape dress is hardly innovative. But a dress made out of bottle caps? Or bubble wrap? Or copper wire? Amazing.
On May 4, the Art Ecologie Group presents EcoFab Trash Couture, an event featuring live music, a meet-and-greet with local artists and a runway show highlighting recycled and repurposed fashion.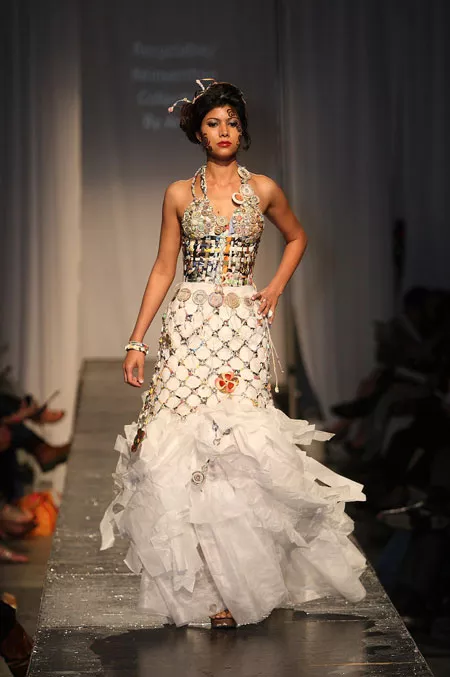 Courtesy Flavia Lovatelli
Flavia Lovatelli created this dress out of recycled magazines, tissue paper and hand-painted florentine paper for Passport for Fashion 2011.
"Our project is about elevating artists as well as bringing attention to sustainability and recycling repurposed materials," says Marcee Musgrove, one of the organizers and a mixed media artist. "Beautiful things are made from things that are thrown away every day."
Twenty-three artists will be featured in the show. One artist, Peter Bentley, said he didn't even know how to sew before becoming involved in this project.
"I learned everything on YouTube," Bentley says.
For his dress, he used some of his old paintings, softening the canvas in the washing machine, as well as egg cartons, and he has found a way to wire the whole thing with LED lights, powered by a battery pack.
"I've got a painting and sculpture background, so this is completely out of the box for me," Bentley says.
$35-$49. May 4, 7 p.m.-10 p.m. Crowne Plaza, 201 S. McDowell St. For more information, visit www.facebook.com/ArtEcologieFashion.