When you don't have the playwright starring in the title role of Charles Busch's newest parody, The Divine Sister, you're bound to get a treatment of the script that is radically different from the original 2011 off-Broadway production. With Busch cross-dressing to portray the Mother Superior at St. Veronica's Convent - who was ace reporter Susan Appleyard before she took the veil - each performance at the SoHo Playhouse attracted devoted worshipers who loudly delighted in all the familiar tics and shtick of their venerated drag queen. Two catty words from Busch in his sparingly applied nasal intonation, and the place dissolved into bedlam.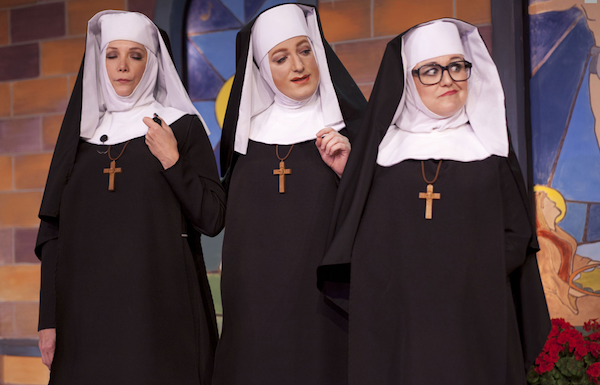 ATC
Catherine Smith, Ashby Blakeley and Barbi VanSchaick
In the current Actor's Theatre of Charlotte version, director Matt Cosper casts longtime Tarradiddle stalwart Ashby Blakely as Mother Superior and dispenses entirely with the drag diva antics. Whether bicycling across the stage or wistfully picking up a guitar to sing us a song, Blakely delivers a healthy share of the stage and screen nun allusions that Busch has sprinkled everywhere. But instead of being conspiratorial with the audience, as Busch was when striking one of these campy chords, Blakely seems serenely oblivious to the comical IEDs he's detonating along his path.
Along this wickedly subversive path, you'll likely catch fleeting allusions to The Sound of Music, The Bells of St. Mary's and Doubt. Deeper than these is the conflation of Rosalind Russell films His Girl Friday and The Trouble With Angels, that the original New York Times review sleuthed out. The Mother Superior, now as a nun but many years earlier as a fast-talking journalist, embodies both Russells. Equally deep perhaps is Busch's mockery of Hollywood's habit of bringing two franchises together after each has played out. If Frankenstein can meet The Wolf Man, why shouldn't The Singing Nun meet Agnes of God?
Caroline Bower is already installed as the novice Agnes at St. Veronica's as our action begins, already reputed for her visions, voices and stigmata. She makes a pretty hearty meal of all of these pious afflictions, able to perceive divine emanations in a boy's soiled underwear, before her abrupt and dramatic loss of faith. Her notoriety draws the attention of Jeremy from the local Pittsburgh newspaper, who provides the amorous link between the maternal Mother Superior and her more glamorous past as ace reporter Susan Appleyard. Played by a delightfully unctuous Robert Simmons, Jeremy is also a useful link with Mrs. Levinson, a Jewish atheist, who may hold the keys to St. Veronica's floundering finances as well as the orphaned origins of both Susan and Agnes.
Though the running time of The Divine Sister isn't at all burdensome, this isn't nearly enough plot for Busch. Between Mother Superior and her romantic past, Agnes and her religious afflictions, and the teetering future of St. Veronica's Convent, Busch manages to wedge in a satisfying takedown of The Da Vinci Code. Here we find Catherine Smith in top form as Sister Walburga, wielding a mean Nazi accent with a Teutonic squint and delving into the bowels of the convent, where Simmons is moonlighting, doubling as the mysterious Brother Venerius.
Amid all this convent craziness, Barbi VanSchaick nearly manages to steal this production as Sister Acacius, the repellent wrestling coach at St. Veronica's with a thick Brooklyn accent and omnivorous sexual longings. Her swoonings verge near apoplexy as Jeremy expounds upon his 11-inch dong, and she threatens to drench Sister Walburga with importunate drool whenever they're together. On the other hand, testifying to the excellence of the Actor's Theatre production is the fact that Nicia Carla's excellence as Mrs. Levinson hardly makes an impact. You do want to savor Carla as little Timothy, the boy who is firmly dissuaded from pursuing his gay proclivities.
Cosper occasionally slides into realism where outright burlesque is demanded. Mother Superior's reactionary politics never get the emphasis they require, and Acacia's reaction to the Mother's "What is it you can't face?" never matures into a wondrous side-splitting shtick - or a running joke - as it should. But you'll find compensatory comedy undreamed of off-Broadway, chiefly the original artwork by Stan Peal incorporated into Chip Decker's compact set design. You've probably never seen a Facebook or Twitter insignia in stained glass, nor the Virgin Mary playing a keyboard guitar with a crucifix fretboard.
You'll see these and many more delightful lampoons and sacrileges in The Divine Sister. It would be a sin to miss it.