Editor's note: In this series, local author David Aaron Moore answers reader-submitted questions about unusual, noteworthy or historic people, places and things in Charlotte. Submit inquires to davidaaronmoore@gmail.com.
What can you tell me about a former Charlottean by the name of Harry Golden? I understand he had a significant impact on Charlotte during the mid-20th century and that he is buried in Charlotte's Hebrew Cemetery (I haven't been able to find his tombstone). - Jim Teat, Charlotte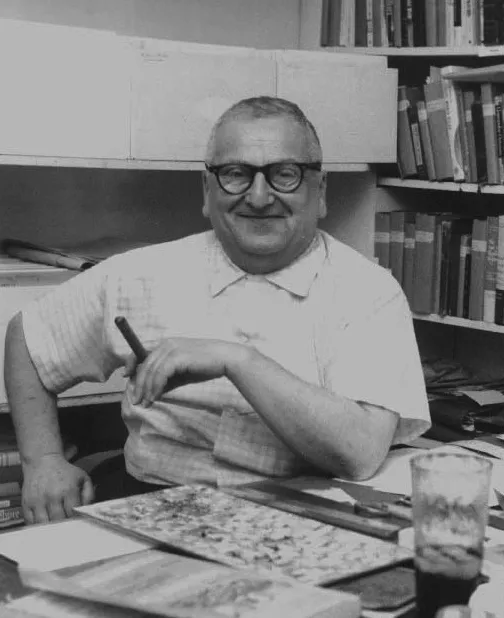 CMPL/Robinson-Spangler Carolina Room Collection
Golden
It's interesting how lives can intersect in unusual ways. I never knew Harry Golden, but I have a 1950s pole lamp that used to belong to him. I purchased it at an estate sale of the house he occupied in the Elizabeth neighborhood, near Hawthorne and Eighth avenues, until his death on Oct. 2, 1981. The estate sale wasn't held until 2006, and I did not realize at the time the impact Golden had on Charlotte's historical landscape.
The house in Elizabeth where Golden spent his final years.
He shared the house with his longtime partner Anita Brown. After her passing it remained empty for several years until it was finally purchased by Shawn Gaddy and his family, who reside there today. It is recognized by the Charlotte Mecklenburg Historic Landmarks Commission. A bronze placard on one of the house's front columns indicates Golden once called the place home.
"When we first had an opportunity to look at the house," said Gaddy, "there were still lots of Harry Golden's belongings and several old pictures hanging on the walls. It was fascinating. There were photos of him with John F. Kennedy, Martin Luther King and Carl Sandburg. It's kind of sad that he did so much and has seemingly been forgotten about."
Golden was born in 1902, though the exact location is somewhat unclear. Differing accounts point to the Ukraine, Poland, Austria, Hungary, Canada and New York City.
It is clear that his birth name was Herschel Goldhirsch and he grew up in New York City's predominantly Jewish Lower East Side.
As a child and young student he would excel in his studies. Following his graduation from City College of New York, he became a politically active liberal and eventually went to work in the stock market.
This would lead the young man down a path he hadn't expected: following the crash of the stock market in 1929, he declared bankruptcy. He was unable to return investors' cash and was later charged with and convicted of mail and wire fraud. Things get a little gray here again, but it appears he served three to five years in the Atlanta State Penitentiary.
Upon his release, he returned to New York City. Sometime between his release from prison and 1941, when he took up permanent residence in Charlotte, he changed his name to Harry Golden.
Over the next 40 years, he came to prominence in the city and the country for his work in the civil rights movement and for publishing the newspaper The Carolina Israelite. He was also known for his contributions to the Charlotte Observer and Life, among other publications.
He is perhaps best known for his many books. Among them, Only In America, Long Live America, For Two Cents Plain A Little Girl is Dead and Our Southern Landsman.
It was the success of Only In America that brought him national acclaim - and an anonymous letter to his publisher, informing him that Golden was a convicted felon. Fortunately for Golden, his background won him favor from fans of his works and others who had faced money problems. In 1974, despite his very liberal leanings, President Richard Nixon pardoned him for his earlier conviction.
Golden also taught at Central Piedmont Community College.
One of his former students, Rosie Shores, recalled her experiences with him as a teacher:
"It was 1971. I was 21. I had signed up for a creative writing class. At the time I didn't realize who the instructor was going to be, but I was delighted when I walked in and there was Harry Golden. I had read all of his books.
"He gave us an assignment to write our own autobiography. I wrote mine and submitted like everyone else, thinking nothing more about it. At our next class, however, Harry had other ideas for my small story. I can only paraphrase this many decades later, but in essence, Harry said 'Thank you, class. These are all wonderful, but there is one that stands out and I would like this person to read us their story.'
"He stopped in front of me, and in his thick Jewish voice said, 'Rosie, would you read us your life?'
"'Me?' I replied. 'I have barely lived yet!'
"'Believe me, my dahling, you've lived! Now read.'"
Shores indicates the experience with Golden was life-changing.
After his death, Golden was indeed buried in Hebrew Cemetery, with a marker, in plot C/102/01.
Many of his books are for sale on Amazon, and his personal papers are available online through the Charlotte Mecklenburg Library's Carolina Room.
Moore is the author of Charlotte: Murder, Mystery and Mayhem. His writings have appeared in numerous publications throughout the U.S. and Canada.