John Mayer
Verizon Wireless Amphitheatre
Sept. 4, 2013
Dear John,
It started off so well. Set against the backdrop of a star-filled Montana sky, you opened your Charlotte concert with the acoustic, country-tinged "Queen of California." The music was lush and you appeared to be relaxed as you let the song jam on for a few minutes. Considering what you've been through, your voice sounded strong. I thought to myself, "Maybe things will be different tonight." Oh John, I had so much hope, but it just wasn't meant to be this time around. I wrote a letter to 311 earlier this summer, but I felt a "Dear John" letter was appropriate in this case, too.
Look, things are getting better, but you continue to disappoint me. Last night, you had plenty of chances to shine, but for every stunning solo - moments when you let your Stratocaster do the talking without veering into guitar-sturbation - there again was "Your Body is a Wonderland."
You turned the Grateful Dead's "Friend of the Devil" into a slow-rolling, country-infused gem of your own, but just had to follow it up with that annoying falsetto-infused "Vultures."
There are people rooting for you, John. People who want you to stop selling out with all the pop-driven, sap-soaked crap tunes and focus on the blues-infused roots-rock that you do so well. Yeah, it doesn't sell, but you know what you can't buy with the money you've earned from those radio hits? Respect. That's right, John, people don't respect you because you've sold out far too many times.
Your new album,
Paradise Valley
, is a good effort. You've even said in interviews that you're not worried about sales anymore and last night's concert was a great step toward that, but I need to see more, John. You've had far too many chances already, but much like Dante you can't live in
Paradise
without getting through hell and purgatory first.
Face it, John. No one is going to shed that "Body is a Wonderland" image of you if you don't stop playing it at every. fucking. show. Don't worry, the ladies who sang along last night will get over it. And, in the end, they'll respect you more, too.
Your new album has some of your best songwriting, but you should have left out any attempts at dissing Taylor Swift - "Paper Doll." Stop bringing up the celebrity focus of your past. Keep it simple, stupid. For all of your "racist dick" comments and celebrity paparazzi-swarming dates, you do have talent but it's hard to see beyond all of the bullshit if you keep bringing it up. It's time to let it go, John.
Last night, you had true moments of glory. There were times when you let your Strat soar - you closed your eyes and got lost in the moment. You let yourself sink deep into the pocket and travel wherever the song took you. Holy shit, John, it was brilliant. Absolutely brilliant. Then you played the mellow cheese of "Slow Dancing in a Burning Room" and I forgot all about those earlier shining strums. You baffled me with your bullshit.
You have a great chance to rebuild your image if you work hard at it. You can become the guitar player and musician so many people have hoped for, but it's going to take a big effort on your part to get people to forget about all the junk you've thrown into the musical atmosphere or the times you've just been an asshole. There are too many people who won't even set foot at one of your concerts because of the low-level expectations. They don't know anything about the shining moments because they can't see beyond the cloud of crap you've put in front of them for so long.
Look, even Clapton has some regrettable tunes. We know that. But there's far too many of your songs that belong in the adult contemporary category sitting alongside Michael Bolton and Kenny G. No one wants to hear that shit. It's better for everyone if you leave that stuff in the past and move on entirely.
Plenty of the tunes on your new album could win over a broader audience. It's fine if you're "waiting on the world to change," but there are people who know your full potential who are still waiting for you to change. When you let yourself go and sink in with abandon, you earn so much more respect and show the kind of artist you could have always been.
You have the talent to make people forget about just how cheesy you have been, but you have to take the first step and abandon the crap, John. From now on, no more "Body is a Wonderland." None. Just let it go, John. Let it go.
Thanks -
P.S. If you see Philip Phillips, tell him it's enough already with the Dave Matthews impersonation.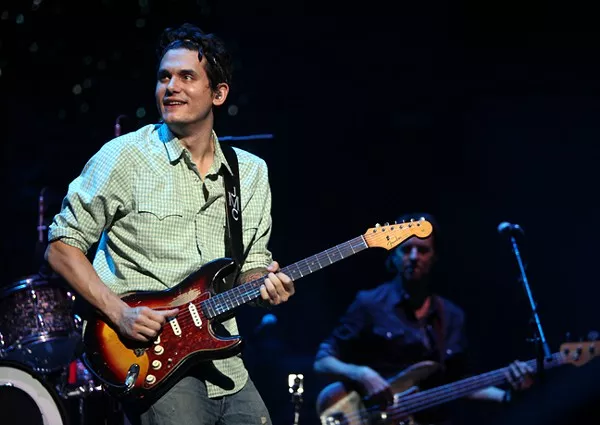 Setlist
Queen of California
Wildfire
Paper Doll
Something Like Olivia
Waiting on the Day
Who Says
Friend of the Devil
Vultures
Back to You (acoustic)
Victoria (acoustic)
My Stupid Mouth (acoustic)
Your Body is a Wonderland (acoustic)
On the Way Home
Slow Dancing in a Burning Room
Half of My Heart
I Don't Trust Myself
If I Ever Get Around to Living
Age of Worry
Waiting on the World to Change
Lost at Sea
Gravity