If you wish to keep a job - or sustain a marriage - you will often need to make some adjustments, concessions, or even sacrifices. At some point, it's quite possible to stray too far, where adjustments begin to alter your personality, concessions undermine your integrity, and sacrifices deprive you of a life of your own. Or the life you should be living. In Elemeno Pea, now at Carolina Actors Studio Theatre in its regional premiere, playwright Molly Smith Metzler considers two women who reach that danger zone without being aware of it.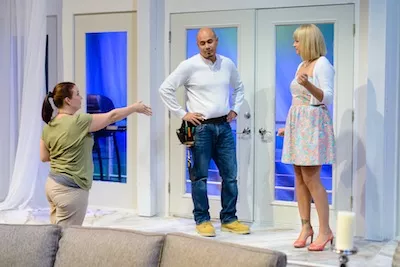 Photo credit: Shannon J Hager/XMLPhoto.com
Our sympathies are consistently invested in young Simone, who seems to have a dream job in Martha's Vineyard, drawing a six-figure salary as Michaela's personal assistant and chief-of-staff, with lavish perks, including the run of Michaela's super-posh guest villa. Can't blame Simone for inviting her big sister Devon down from Buffalo, where she's living with Mom and supervising kitchen staff at the local Olive Garden. Devon's life choices haven't panned out so well, her wardrobe isn't in the same lofty league as her little sister's, so a little class envy and sibling jealousy seep in when Simone begins showing off some of the living room's deluxe features.
We get a conflicting view of Michaela from Jos-B (so-called because there's a second José on staff): a negative handyman's view that strikes a working-class chord with Devon. Neither Simone's employer nor her boyfriend Ethan is much of a prize, according to Jos-B. The question of what will happen if Devon and Michaela collide, snotty meeting snooty, is deflected by the impending arrival of Ethan for dinner and an all-out shouting match that erupts between the sisters.
What better time for Michaela to arrive unexpectedly? Super-rich hubby has boarded his private plane and left her standing in the lurch. So she's fairly peeved for starters. She also comes across as spoiled, sophisticated, snobbish, and massively overbearing, all accentuated by Jos-B's effusive, two-faced fawning and Simone's reflexive accommodation. But beneath that brittle predatory surface, we will discover a soul in torment, and it's telling that, after numerous further upheavals, Michaela and Devon are the last people we see connecting.
While her design is admirable, Metzler tears the envelope while pushing it in her concept of Michaela. Coupled with her puffed-up vanity, Michaela is capable of titanic meltdowns, and Metzler proves quite adroit in mixing hysteria with hilarity. But all her regal bitchiness is supposed to melt away in the space of a single monologue after a multitude of Olympic demonstrations that it wasn't merely a pose.
More persuasive is the gradual realization that, for Simone, Michaela is more than a glamorous, super-rich employer. She's a role model, and Simone is blithely pursuing the same disastrous path that Michaela and Devon have travelled, self-respect and integrity be damned. The title of the show is an important signpost as we comprehend the folly Simone has become capable of: she is ready to give up a secret she has shared for a lifetime with her sister, because her boss demands it and she is a slave to this goddess of Mammon.

Dee Blackburn's sedate and ritzy set design uses every inch of available width at CAST's thrust space, with an ample upstage deck looking out on a seascape. A phalanx of "soundproof" glass doors separates the cozy interior from the deck, so that Michaela's most bodacious meltdown appears to us with a mute button applied as she visibly rages outside. In an impressive Charlotte debut, Devon Chandler manages to fuse the two faces of Michaela so they credibly appear as one - even after her full-out hell-hath-no-fury episodes.
As our attitude changes toward Simone, she herself is rapidly evolving, bursting out of the egg of adulation, emulation, and servitude to emerge as a younger replica of her mentor. Chesson Kusterer maintains a serenity throughout this startling process - at first sunny and naïve, but ultimately chilling and pragmatic. Or should we say quixotic? Hers is an eternal soul almost always eclipsed and enthralled by worldliness.
We must emerge from our own infatuation with Martha's Vineyard luxury to begin to like the bitter naysaying Devon, and it's to Laurie Poole's credit - not to mention director Michaels Simmons' - that our recognition isn't rushed. Eventually, it probably isn't going too far to say that, after numerous misjudgments, Devon actually becomes the playwright's raissoneur, a fairly slick operator in her own right.
Flipping her script with women's magazine facility, Metzler isn't exactly generous toward her men. Victor A. Cordova makes Jos-B delightfully cunning and chameleonic, having more than enough fun with him to make him likeable. Jeff Madar is far more enigmatic as Ethan. Looking soberly at the evidence, Simone's boyfriend isn't the moron that Devon makes him out to be.
But what is he? That question will likely be among the most salient that lingers with you after the final bows. For what it's worth, I think Metzler regards Ethan as the person who can navigate this moneyed, manipulative snakepit of riches and temptations better than anyone else onstage.