Dark Horse Comics debuts a new Shaolin Cowboy series today, continuing the irregularly produced series about a former monk with a bounty on his head. Geof Darrow, writer and artist for the series, returns as well, rendering a perfect point for new readers to get onboard. As a reader of the former series, I can confirm many laughs, action and bloodshed.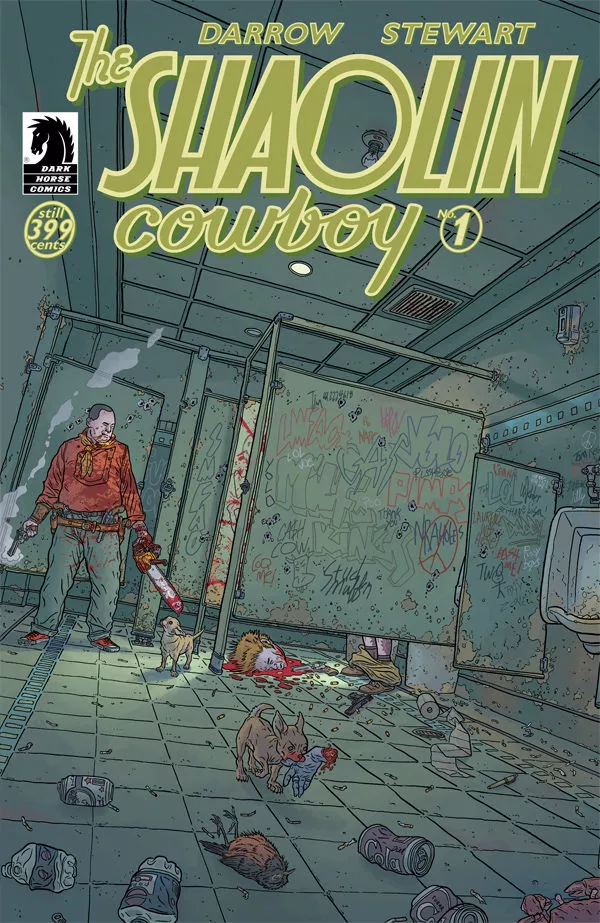 The series, with its particular brand of crazed action and fantasy, puts the chainsaw back in the hands our hero with brand-new tales. When it debuted from Burlyman Entertainment, the imprint owned by Andy and Lana Wachowski (whose Matrix series featured Darrow as a collaborator), the series garnered much attention and even a few Eisner Award nominations. The quality of that series makes this new offering a Title You Can't Miss.
Otherwise, check out everything else this week has to offer. And remember to comment on the series you think can't be missed in the comment section below.



DC Comics
ASTRO CITY #5
BATGIRL #24
BATMAN ARKHAM UNHINGED #19
BATMAN LIL GOTHAM #7
BATMAN TP VOL 02 THE CITY OF OWLS
CATWOMAN #23 2ND PTG
COFFIN HILL #1
CONSTANTINE #7
FBP FEDERAL BUREAU OF PHYSICS #4
FOREVER EVIL ARKHAM WAR #1
GREEN LANTERN CORPS #24
I VAMPIRE TP VOL 03 WAVE OF MUTILATION (N52)
INTENSELY DUMB MAD TP
LUCIFER TP VOL 02
NIGHTWING #24
SMALLVILLE SEASON 11 #18
STORMWATCH #24
SUICIDE SQUAD #24 (EVIL)
SUPERBOY #24
SUPERMAN WONDER WOMAN #1
SUPERMAN WONDER WOMAN #1 COMBO PACK
TRILLIUM #1 2ND PTG
WORLDS FINEST #16
Marvel Comics
ASTONISHING X-MEN #68
AVENGERS AI #4
AVENGERS ARENA #16
AVENGERS TP KREE SKRULL WAR ALL NEW ED
CAPTAIN AMERICA #12
CAPTAIN AMERICA LIVING LEGEND BY GRANOV POSTER
CATACLYSM BY CLASSIFIED POSTER
DARK TOWER GUNSLINGER TP MAN IN BLACK
DEADPOOL #18
DEXTER #4
FEARLESS DEFENDERS #10
INFINITY #4
IRON MAN TP ARMORED VENGEANCE
MARVEL UNIVERSE HULK AGENTS OF SMASH #1
SUPERIOR SPIDER-MAN TEAM UP #4
THANOS RISING TP
THOR GOD OF THUNDER #14
THOR GOD OF THUNDER PREM HC VOL 02 GODBOMB
ULTIMATE COMICS X-MEN #32
UNCANNY X-FORCE #12
WOLVERINE #10
X-MEN #6
X-MEN STORM BY WARREN ELLIS AND TERRY DODSON TP
Dark Horse Comics
ABE SAPIEN #6
BTVS SEASON 9 TP VOL 04 WELCOME TO TEAM
CHRONICLES OF KING CONAN TP VOL 06 DEATH IN STYGIA
COLDER TP
CREEPY ARCHIVES HC VOL 17
CREEPY COMICS #14
ELFQUEST SPECIAL FINAL QUEST ONE SHOT
HALO INITIATION #3 MAIN CVR
LOVE IS THE LAW SC NOVEL
MIND MGMT HC VOL 02 FUTURIST
RESIDENT ALIEN SUICIDE BLONDE #2
SHAOLIN COWBOY #1
STAR WARS #10 2013 ONGOING
STAR WARS EWOKS SHADOWS ENDOR GN
STAR WARS OMNIBUS WILD SPACE TP VOL 02
TRIGUN OMNIBUS TP
UXB HC
X #6
IDW Publishing
COLONIZED TP
DANGER GIRL TRINITY TP
GHOSTBUSTERS #8
GI JOE SPECIAL MISSIONS #8
GI JOE SPECIAL MISSIONS TP VOL 01
JINNRISE TP VOL 01
JUDGE DREDD #11
KILL SHAKESPEARE TP VOL 03 TIDE OF BLOOD
MAGIC THE GATHERING THEROS #1
MARS ATTACKS JUDGE DREDD #2
MEMORY COLLECTORS #1
MY LITTLE PONY TP VOL 01 THE MAGIC BEGINS
POPEYE CLASSICS ONGOING #15
TALES O/T TMNT TP VOL 03
TRANSFORMERS CLASSICS TP VOL 06
TRANSFORMERS REGENERATION ONE #0 2ND PTG
TRANSFORMERS ROBOTS IN DISGUISE #21
TRIPLE HELIX #1
Image Comics
AMERICAS GOT POWERS #7
BUSHIDO #2
CHEW #37
GHOSTED #4
GOD HATES ASTRONAUTS TP VOL 01
HOAX HUNTERS #11
LAZARUS TP VOL 01
MANHATTAN PROJECTS #15
MINIATURE JESUS #5
MULTIPLE WARHEADS DOWN FALL ONE SHOT
PETER PANZERFAUST #15
ROCKET GIRL #1
SIDEKICK #3
THINK TANK #10
THREE #1
WALKING DEAD #1 10TH ANNIVERSARY ED
WALKING DEAD #115 CVR