It couldn't have been very surprising that North Carolina Dance Theatre gave a rousing account of George Balanchine's Western Symphony last week at Knight Theater. They had the measure of the piece the last time they staged the high-energy staple from New York City Ballet's repertoire in 2001, flooding the Belk Theater stage with sharply tailored cowpokes and leggy Miss Kittys, and dazzling the house with joy, energy, and bravura.
Back then, Western upstaged the other two choreographies on the program with its American sunniness and sass. This time, you might call it anticlimactic in the wake of the world premiere of NCDT associate artistic director Sasha Janes' Carmen. Janes didn't merely take Bizet's catchy orchestral suites of Carmen hits and create new moves for a fatal love triangle.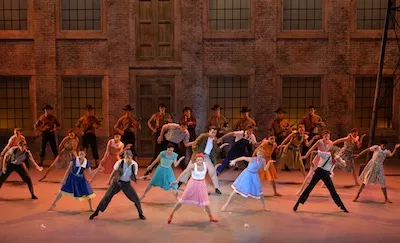 No, he moved the story a century forward, transplanting the action from a Seville cigarette factory to a Charlotte textile mill during the millworkers' labor strike of 1934. He exited the comfort zone of the Bizet orchestrations at key moments and used newer, more percussive ones by 80-year-old Russian composer Rodion Shchedrin. For a little extra zest, he added some bluegrass songs by Dorsey Dixon, strummed and picked live by Josh Haddix and David Long.
Better than that, Janes attended to business, keeping Carmen flirty, dangerously sensuous, and proudly defiant as he transformed her from a cigarette slut to an agitating millworker. Perhaps best of all, he made the charismatic Miller's entrance absolutely spectacular, aptly updating the bullfighter Escamillo into a baseball all-star in the textile mill league. Melissa Anduiza smoldered and sizzled as the spitfire Carmen, repulsing Joe after seducing him, and attracting Miller's eye soon after he burst on the scene. Pete Leo Walker was sensationally athletic as Miller, flaring his white sport jacket as he flew through the air, leaving no doubt why Carmen would toss Joe aside for him.
Janes may actually have enhanced the differentiation between Don Jose and Escamillo that Prosper Mérimée embedded into the short novel that Bizet turned into his opera. Or he at least made it more contemporary and relevant. It's questionable that toreador Escamillo's valor or manhood were greatly superior to the soldier Don Jose's, but the sparkle of his uniform and the acclaim of the masses, based on valor and grace, gave him the edge - a pathway to reading Mérimée's message. With Miller now a ballplayer and Joe a National Guardsman, the macho balance shifts towards Joe, and Miller's true edge emerges more clearly: pure celebrity.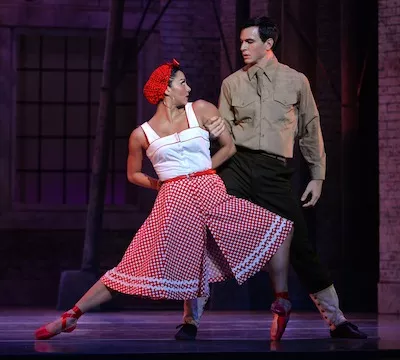 Melissa Anduiza and Naseeb Culpepper in Carmen.
As danced by the wholesome Naseeb Culpepper, Joe pales next to Miller, but he is far from humdrum. Voltage definitely amps up in the "Habeñera" as Anduiza twines herself around Culpepper - unleashing a seductive range that eclipses even the physicality of mezzo-soprano Grace Bumbry. We remembered more vividly that Joe is part of a second love triangle when Anna Gerberich, dressed chastely in yellow, glided in and tried to bend Joe homewards, a moment of wistful innocence amid the glamor, the conflicts, and the tempestuous passions.
More than 30 dancers were needed to people this colorful, resounding piece - recruited from NCDT's two professional companies, its school, plus Mark Diamond as the mean textile mill owner. Nearly all of them were furiously burning calories when Janes' Carmen reached peak intensity in the torrid "Danse bohème." Even allowing for the difference in costumes, which seemed to melt away as the tempo reached full throttle, I could imagine the brain trust from Opera Carolina - or the Metropolitan Opera - watching this ensemble and exclaiming, "Wow, this is the kind of electricity we need on our stage!"
As for Western Symphony, staged authoritatively by the legendary Patricia McBride, the excellence hasn't changed since 2001, but the names have. Gerberich partnered with Gregory Taylor in leading the first influx of cowboys and Kittys, Jamie Dee and Josh Hall had the spotlight as the cowtown's population thinned out for the slowed-down Second Movement. There were still only three couples onstage for the Scherzo, where Emily Ramirez and Jordan Leeper came to the fore. Interestingly enough, when a doubled brigade of backup dancers flooded the stage for the dare-to-be-square Rondo finale, behind the flamboyant Walker and the pathologically perfect Sarah Hayes Watson, none of them had appeared earlier in the piece.
In fact, nobody drew a double shift in the four movements of the Balanchine, so there were 36 dancers in all, eight leads and 28 backups keeping up with the effervescent choreography. It's a telling testimonial to the enduring strength - and depth - of the company. NCDT literally dared to be square near the end, getting in formation for an uptempo square dance. But there was no slowing down or posing as the final curtain fell on an ensemble that was still joyous and still spinning, an ending that I found as exhilarating as ever.