In her notes for the current American premiere of Love the Doctor, adaptor/translator Sarah Brew blithely proclaims that she has taken numerous liberties with the Spanish text of Tirso de Molina (1580?-1648). Two characters have been merged, hundreds of lines excised and inserted, 400-year-old words modernized for contemporary ears, and Brew has changed the ending. Imagine the consternation, stupefaction, and outrage if such indignities had been heaped upon a Shakespearean text!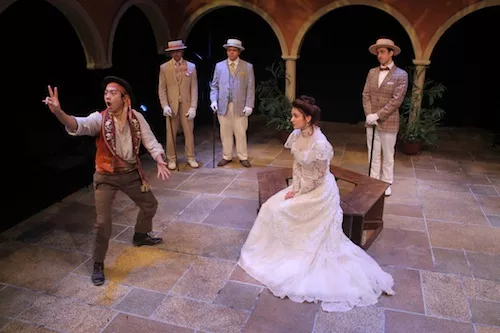 Former Charlotte Shakespeare artistic director Lon Bumgarner directs this first English version of Tirso's comedy without apology, at UNC Charlotte's Robinson Hall through November 10. Although El amor medico was first performed in 1621, his design team gives the production a distinctively Elizabethan look inside the snug Lab Theater. Scenic design by Anita Tripathi Easterling has a dignified two-story structure reminiscent of London's Globe Theatre, and the sides of the thrust layout are decked with arches that simulate a courtyard, with a distinctively stuccoed Iberian tang.
Plotting by Tirso may remind some of Shakespeare's Twelfth Night, which also sports a heroine who disguises herself as a man and, while hoping to win the affections of a nobleman, finds herself on the receiving end of amorous advances from the woman whom the nobleman has chosen to marry. Yet there are notable differences between the Bard's Viola and Tirso's heroine, Doña Jerónima.
Viola shifts to men's clothing as a survival tool because she's a solitary shipwrecked woman in a strange land. She does not fall in love until she enlists in the service of Duke Orsino, whom she finds devastating. Jerónima specifically dons menswear as a stratagem to follow Don Gaspar to Portugal and win his love. There she poses as a doctor as a route to intimacy with both Don Gaspar and his fiancée, Doña Estefanía, winning enough favor to be lauded by the Queen of Portugal.
Tirso's comedy is more exclusively about Jerónima, and her disguising is double-barreled, for she also masquerades as the fictitious doctor's sister in order to get some quality flirting/wooing time with Gaspar. Of course, we need to tidy up the matter of Estafanía's jilting - and her embarrassing miscalculation about the suitability of her doctor - so Jerónima comes equipped with a real brother, Don Gonzalo, who just happens to be Gaspar's best bud.
Bumgarner finds strong student actors for all these characters and more, reliably indicating that you too might be pleasantly surprised by this latest UNC Charlotte effort. Costumes by Steven Stine are regally resplendent for the nobles and the Queen, decorously rustic for the two servants and the accessory troubadour that Bumgarner adds to the company to serenade us at key interludes - and help the servants during scene changes. Only when Jerónima resorts to masks does the costuming become skimpy, presumably for comic effect.

Unlike Viola, who changes genders once, Jerónima changes costumes so often that Gaspar's servant Tello catches her once in heels when she shouldn't be! Olivia Radley not only negotiates all of the leading lady's changes, she finds a satisfying arc for Jerónima's development - somewhat grating, needy, and pouty at the outset, more serene, confident, and mature when she finally wins Gaspar over. Steven Sherwood wisely refrains from making Gaspar a pure dreamboat, showing us his patrician obtuseness and self-absorption deep into the comedy.
Emma Curtis and Hoke Pittman are effectively paired as the pitifully bewildered Estefanía and her clueless, possessive father Ignacio. Brandon Hendricks provides Estefanía with her ultimate refuge as Gonzalo, managing not to recognize his own sister multiple times along the way. Celeste McCants and Timothy Vang provide earthy contrast with their dizzy patrician surroundings as Quinteria, Jerónima's maid, and Tello. Their romance begins early in Spain so we have to willingly suspend some disbelief when the same flame is still burning in Portugal and Tello hasn't given his master the slightest hint of what's going on. How much can it matter when Vang is hamming it up and repeatedly stealing scenes?
Auburn Hicks completes the dramatis personae as Maria of Aragon, adopting a rather surprising - and dashing - costume change in Act 2. Bumgarner sends Hicks out onstage before the lights go down, in her full Queen of Portugal regalia, to do the curtain speech and decree the turning off of cell phones. Nice to have this extra dose of Hicks's commanding royal presence, but I would have liked to see even more.