Janelle Monae
The Fillmore
Nov. 20, 2013
Toward the end of Janelle Monae's first encore, deep in the heart of "Come Alive," she tried her best to get the crowd to crouch down. She motioned with her arms twice, but the crowd got right back up. She asked everyone, "Do you trust me? Then get down..." But, again, the crowd got right back up. She shouted, "Get down!" but it failed, too. Finally, she gave up and let everyone stay where they were as she jumped, danced, twirled and sang.
I'm not sure if the crowd was lazy, tired or too busy taking video on their phones to participate, but throughout Monae's hour-and-45-minute set, her infectious energy just wasn't hitting people in full force. That's to `no fault of the 27-year-old R&B singer. Monae puts on a show in every sense of the word.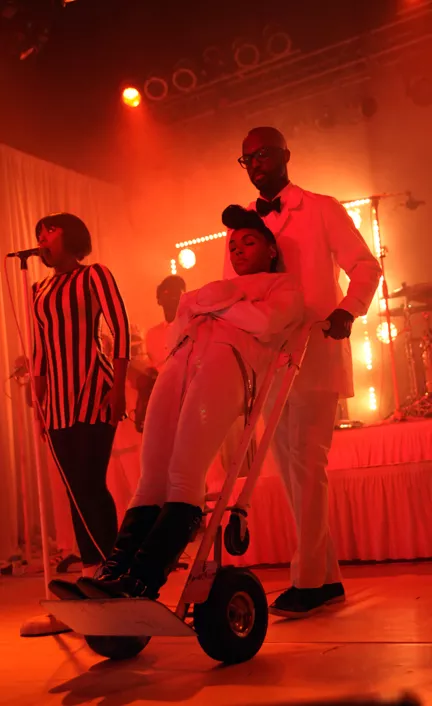 Based on a loose storyline of Monae as a psych-ward patient being let out to exercise, the night got started with her, in a straightjacket, being wheeled out by two men in white coats. After a lengthy intro, Monae, on a stark white stage flanked by white curtains, started slow with "Givin' Em What they Love" before kicking into high-gear with the dance-groove infused "Dance Apocalyptic."
From that point on, Monae rarely stood still. She shook, shimmied and spun her way around the stage showing clear inspiration from artists including James Brown, Outkast and Prince. She didn't worry about addressing the crowd, only briefing incorporating some lyrics for people to join her at Cook-Out after the show for a hamburger and strawberry shake. She was just too busy performing and showing fantastic range - no wonder she recently needed vocal rest.
While half of the set was made up from her recent album, The Electric Lady, Monae also found time for a cover of the Jackson 5's "I Want You Back" before launching into a double dance set-closer of "Cold War" and "Tightrope."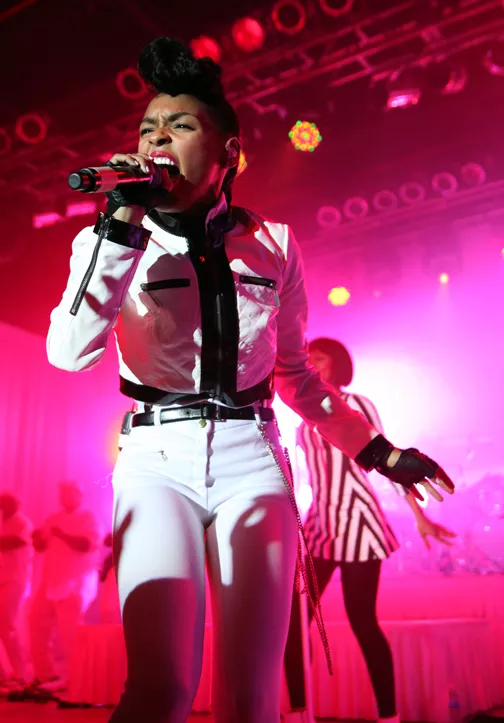 After a short break, Monae hit the stage for a three-song encore including a cover of Prince's "Let's Go Crazy." I was sure it would get the crowd moving and, duh, going crazy, but a majority of the crowd simply stood and watched. I only hope they were soaking it all in and enjoying it either way.
After the first encore ended with an extended version of "Come Alive," she left for another short break. While nearly half of the venue filed out assuming the show was over, it wasn't. Monae returned to thank everyone for their support of her art, and brought a few people up on stage as she ended the night with the apropos "What an Experience."
Yes, Janelle. What an experience, what a performer, what a show.
Setlist
2.0 Introduction to Palace of the Dogs
Suite IV Overture
Givin Em What They Love
Dance Apocalyptic
Sincerely Jane
Q.U.E.E.N.
Electric Lady
Victory
Ghetto Woman
I Want You Back
Cold War
Tightrope
Encore
Primetime
Let's Go Crazy
Come Alive
Encore II
What an Experience