Dave Rawlings Machine
Neighborhood Theatre
Nov. 25, 2013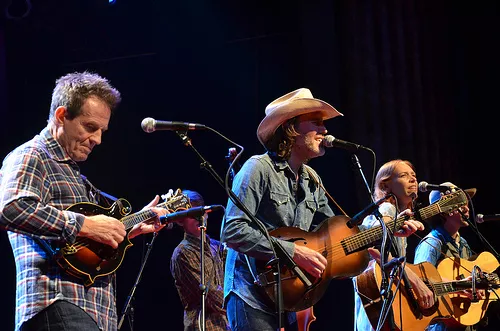 DaveRawlingsMachine.com
Dave Rawlings Machine in Knoxville, Tenn.
"John Paul Jones!" Dave Rawlings grinned as he pointed across the stage to the mandolin virtuoso and legendary Led Zeppelin member. "He's right there!"
It was a typical display of Rawlings' warm and quirky humor before a packed house at the Neighborhood Theatre, but it was also window on Rawlings' open heart and infectious enthusiasm. An inspired, incendiary guitarist, Rawlings is no slouch in the hot-shit-instrumentalist category, yet he simply could not believe his good fortune to be sharing the stage with such deft and simpatico musicians.
Rawlings' good fortune also shined on the appreciative, sometimes raucous, crowd. They were treated to two full sets Monday night. Highlights included Jones' lyrical, bluesy chops on the Charley Jordan cover "Keep It Clean," where the former Zep man's mandolin runs intertwined with Rawlings' nimble flat picking. Their muscular interplay and delicate filigree echoed "Bron y Aur Stomp" amid the old-timey tune.
Yet Jones was not the only shiny cog in Rawlings' string-driven machine. With earthy and witty good cheer, long-time musical partner Gillian Welch greeted the audience. "I gotta make an apology," she confided, "This band is having the worst bad hair day ever." Welch blamed the band's previous stop on their tour. "It must be that Chapel Hill water." Yet Welch's bad hair didn't hamper her dusky luxurious voice which turned clear and powerful on the Dylanesque "Wayside," and high-spirited and harmonious on the down-home rave-up "To Be Young (Is to Be Sad, Is to Be High)."
Throughout the evening, Welch and Rawlings dueted as one. It seemed that these two singers could feel each other, adjusting telepathically on their harmonies.
On any other team, Welch would be MVP, yet the ace combo was rounded out by bassist Paul Kowert and guitar and fiddle maestro Willie Watson. Heeding Rawlings' exhortation to "make this one burn," Kowert stepped up to the mic. His low, sub-woofer voice propelled the band's' off-the-rails take on Bill Monroe's rollicking mountain hymn, "He Will Set Your Fields on Fire." Watson also grabbed the vocal spotlight, encouraging the crowd to sing along to "Screwball." His powerhouse belting pumped the quirky traditional with demented corkscrew humor.
Despite the loose-limbed, hand-crafted charm of the acoustic Machine's presentation, this was a crack crew, imbuing their mix of covers, trad tunes and Welch's back-catalog with the slipknot precision of the best jazz combos.
Despite the simple hoe-down origins of some of their material, Rawlings' band stretched out on otherworldly improvisations before snapping back like a rubber band to bring it all back home. As a front man, Rawlings was a sunny-natured ball of energy. Live, his vocals were full and rounded, and less reedy than they sound on record.
On the Dylan cover "Queen Jane Approximately," Rawlings channeled ornery old Bob's cadence, but was a much better singer. It was on the covers that these ace players truly shined. Conor Oberst's "Method Acting" became a soul-baring ballad before free-falling into a fiery rendition of Neil Young's "Cortez the Killer" which left the Neighborhood audience temporarily stunned.
An impassioned medley joined Rawlings' and Old Crow Medicine Show's "I Hear Them All" to Woody Guthrie's "This Land is Your Land." In the hands of Rawlings' crew, the Guthrie chestnut transformed into a dramatic barn-burner, truly earning its unofficial status as the alt National Anthem. Rawlings' inclusion of the tune's usually excised left-leaning verses could make property rights obsessed Libertarians a touch uneasy.
As the band returned for an encore, Welch assured the crowd that they would approve of their song choice. She was right. The crowd went wild for their rendition of Led Zeppelin's "Going to California" which leapt from delicate madrigal to hypnotic acoustic psychedelia. Rawlings hit the tune's challenging high notes, and the mics switched to echo effect as all hands jumped in on the vertiginous bridge.
It was entirely fitting that this evening of perfect yet quirky and thought-provoking Americana was capped with a rambunctious take on The Band's "The Weight." As Rawlings, Welch, Kowert and Watson traded off the rolling, rough-hewn verses, it felt - for this evening at least - that Rawlings' well-oiled machine had taken the load off our shoulders by lightening our hearts.