If your idea of great experiential theatre is experiencing a chant-a-thon at an ashram, run and don't walk to the next performance of O Guru Guru Guru, or Why I Don't Want to Go to Yoga Class with You at Carolina Actors Studio Theatre. For at least a decade, CAST has been touting experiential theatre as its mantra, and it certainly reaches a kind of apotheosis here - but with Mallery Avidon's disjointed script, is that a good thing?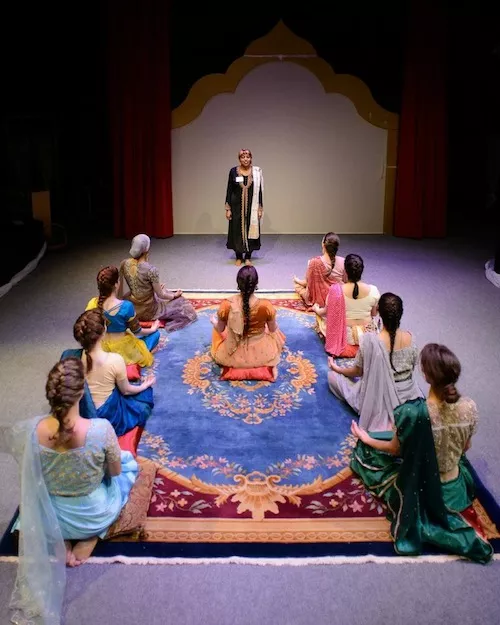 As is their custom, immersing their customers in the milieu of their productions, the folks at CAST have decked out the lobby and entranceway with all the requisite iconography of the Indian subcontinent. As I ambled down to CAST's second stage, what looked like a yoga class was actually in progress next door, a mere foretaste of the siddha yoga session to come.
Echoing its title, O Guru Guru Guru is broken into three sections. We are welcomed by Lila, who identifies herself as the spawn of a hippie couple who grew up - like the playwright - in an ashram. She identifies herself clearly as an ashram escapee, but Lila really can't tell us what she's escaped to because she's still searching. Nor can she clearly articulate the why proclaimed in the play's title, which accounts for the major relapses Lila suffers in the second and third sections.
The middle section, where Lila nearly disappears, is a siddha yoga session that we are invited to participate in onstage. Whether we elect to sit on the cushions laid out onstage or remain in our seats, we get texts that we chant together. Three of the yoga acolytes offer us personal testimonies before Savita, the siddha yogi, narrates a shadow puppet show that recounts the origins of Ganesh, the Hindu deity with the elephant's head.
All of this dissolves and everyone is back in his or her original seat as we reconvene during the shooting of Eat Pray Love, which was partly filmed at the ashram where Lila grew up. Lila resurfaces as an extra on the film set, which makes it a perfect crossroads for her: she has come home to her childhood temple of order, discipline, serenity, and stasis, where she will meet Julia Roberts, an icon of worldly success, self-actualization, and achievement. This may be the calmest denouement you'll ever see, for the conflict between inner peace and worldly triumph isn't settled with poisons, poniards, or pratfalls.
Largely off my radar since her appearance in CAST's Killer Joe in 2009, Cody Harding returns to the local scene as Lila. Harding has always been an impressive performer, even when I first encountered her in a 2001 UNC Charlotte production of Beyond the Horizon, where she substituted at the eleventh hour for the female lead with the O'Neill script in hand. The sleepy eyes that mesmerized me back then have matured and saddened, lending a patina of gravitas to Lila's mock lecture and slideshow in an astonishingly straightforward and spontaneous performance. Harding actually had to bobble a few lines to convince me that she was reciting any, and when we reached the Julia Roberts encounter, it looked like Lila's inner turmoil was on the verge of gushing forth in a torrent of tears.
After reading CAST's pre-publicity for this show, I forgot to wear my loafers, so I remained in my seat during the ashram episode instead of checking my shoes. From a reviewer's perspective, this was serendipitous, for I was able to fully savor Lillie Oden's performance as Savita without any physical strain. On one of those cushions, I would have had to turn around nearly 180° to see Savita narrating the puppet show, somewhat counteracting the cheery peace and tranquility Oden was spreading and missing chunks of the engaging puppet action. Nearly all the cushion-dwellers were quite content just hearing her.
Our third guru, Rachel Stroud, brings a remarkable resemblance to Julia Roberts to her role - and a remarkable ability, like Harding's, to remain audible without declaiming or sounding theatrical. I'd say that Stroud is at least a decade younger than Roberts was when Eat Pray Love was released, but the illusion that we're in the star's presence remains strong.
CAST artistic director Michael Simmons certainly lucked out in finding Stroud for his Roberts, but his attention to detail doesn't end there. He has brought Kaylin Yvonne Peachey aboard as one of his assistant directors and deployed her further to direct the chanting, charge the scene changes, and design the inner lobby. Listed as the other assistant director and in charge of props, Joshua Lucero may deserve credit for the marvelous puppet cutouts that highlight the ashram episode, but Simmons also has Pamela Freedy on hand as his director of puppetry, surely responsible for some of the enchantment.
Robert Lee Simmons doesn't have that much to do as set designer in this thrust-stage configuration until we reach the upstage wall where the puppet stage theater lurks and Simmons' work as tech director comes into play. With the collaboration of lighting designer Maranda DeBusk, we do see the shadow puppetry without undue dimming of the ashram lights. Costume designer Alexis Doktor can also be commended for beautifully outfitting the whole damn ashram without dragging us into the pastel excesses of Bollywood.
Besides Peachey, lurking amid the 10-woman ashram ensemble are three who offer their testimonies, Leana Guzman as Rama, Amber Westbrook as Bowbay, and Michelle Kay Smith as Indu. Smith also wields a drum during the chanting while Katie Riley as Bhakti kneads a harmonium.
Little is conventional in O Guru Guru Guru, so seekers of the unusual or anti-theatrical experience should feel a special summons. But last Saturday night, in the thick of our ashram immersion, I couldn't help worrying about the Christians in the house who were planning to go to church on Sunday morning. Isn't too much peace, ceremony, and silent meditation injurious to your health? Check with your doctor and see whether you are sufficiently fit for an overdose of sanctity and serenity.