Marvel Knights has been a hit-and-miss imprint for the House of Ideas, having multiple purposes since its debut in 1998. It's contained both ongoing and limited series, and it's put a spotlight on both major and minor heroes. The highs are high, with The Inhumans being one of my all-timers. The lows, and there are a few of them, are pretty low.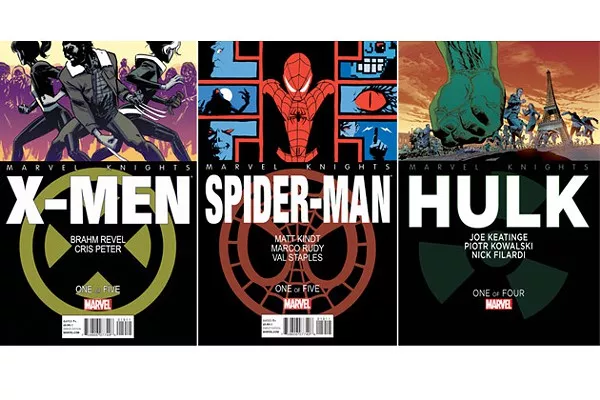 Now, with three new titles, Marvel Knights: X-Men, Marvel Knights: Hulk and Marvel Knights: Spider-Man, the imprint moves toward an indie influence. The X-Men and Spider-Man series have new issues this week, and both have shown promise since debuting in October and November.
Marvel Knights: Spider-Man was the first out of the gate. Written by Matt Kindt and drawn by Marco Rudy, this series takes us back to Peter Parker as Ol' Webhead. Rudy keeps our hero in the same threads, but classic villains get a makeover in near-Steampunk fashion. Marvel Knights: X-Men, with the creative team of Brahm Revel and Cris Peter, comes with a murder-mystery feel. Wolverine, Kitty Pryde and Rogue are the protagonists in this story that takes readers to a small, backwoods town.
So if you're looking for a break from the current goings-on in Marvel, check these two series out. They may not be truly indie, but the tone is certainly accomplished.
DC Comics
ACTION COMICS #26
BATMAN SUPERMAN #6
BATWING #26
DC COMICS ESSENTIALS WATCHMEN #1
DC VS MASTERS OF THE UNIVERSE #3
DETECTIVE COMICS #26
DETECTIVE COMICS #26 COMBO PACK
EARTH 2 #18
FAIREST #21
GEARS OF WAR TP BOOK 03
GREEN ARROW #26
GREEN LANTERN #26
GREEN LANTERN #26 COMBO PACK
GREEN LANTERN CORPS HC VOL 03 WILLPOWER (N52)
HINTERKIND #3
LOONEY TUNES #216
MOVEMENT #7
NIGHTWING TP VOL 03 DEATH OF THE FAMILY (N52)
SAGA OF THE SWAMP THING TP BOOK 05
SAVAGE HAWKMAN TP VOL 02 WANTED (N52)
STORMWATCH #26
SWAMP THING #26
TRILLIUM #5
TRINITY OF SIN THE PHANTOM STRANGER #14 (EVIL)
Marvel Comics
AMAZING SPIDER-MAN #700.1
AMAZING X-MEN #2
AVENGERS ANNUAL 2013 #1
AVENGERS ENEMY WITHIN TP
CATACLYSM ULTIMATES LAST STAND #2
DAREDEVIL DARK NIGHTS #7
DEADPOOL #20
DEADPOOL KILLS DEADPOOL TP
FANTASTIC FOUR BY JOHN BYRNE OMNIBUS HC VOL 02
FANTASTIC FOUR OMNIBUS HC VOL 02 NEW PTG
FANTOMEX MAX #3
FEARLESS DEFENDERS #12
GUARDIANS OF GALAXY #9 INF
INDESTRUCTIBLE HULK ANNUAL #1
INHUMANITY #1
IRON MAN #19
IRON MAN PREM HC VOL 03 SECRET ORIGIN OF STARK BOOK 2
LONGSHOT SAVES MARVEL UNIVERSE #3
MARVEL KNIGHTS SPIDER-MAN #3
MARVEL KNIGHTS X-MEN #2
MARVEL UNIVERSE HULK AGENTS OF SMASH #3
NOVA CLASSIC TP VOL 02
PAINKILLER JANE PRICE OF FREEDOM #2
SECRET AVENGERS #12 INF
STAR LORD WORLDS ON BRINK
SUPERIOR SPIDER-MAN #23
SUPERIOR SPIDER-MAN TEAM UP #7 NOW
THOR BY WALTER SIMONSON TP VOL 03
WOLVERINE BY AARON COMPLETE COLLECTION TP VOL 01
X-MEN LEGACY #21
YOUNG AVENGERS #13
Dark Horse Comics
CATALYST COMIX #6
CBLDF MANGA INTRODUCTION CHALLENGES & BEST PRACTICES TP
GRINDHOUSE DOORS OPEN AT MIDNIGHT #3
HELLBOY IN HELL #5
MICHAEL AVON OEMINGS VICTORIES #7
OCCULTIST #3
STAR WARS #4 LUCAS DRAFT
TERMINATOR SALVATION FINAL BATTLE #1
TO HELL YOU RIDE HC
TO HELL YOU RIDE LTD HC
IDW Publishing
DEADWORLD RESTORATION #1
DINOSAURS ATTACK #5
DOCTOR WHO VOL 3 #16
DUNGEONS & DRAGONS CUTTER HC
DUNGEONS & DRAGONS FORGOTTEN REALMS TP
FEVER RIDGE MACARTHUR JUNGLE WAR TP VOL 01
GI JOE A REAL AMERICAN HERO #197
GI JOE A REAL AMERICAN HERO TP VOL 08
JUDGE DREDD #14
JUDGE DREDD CLASSICS #6
OTHER DEAD #1 2ND PTG
STAR TREK KHAN #3
TMNT VILLAIN MICROSERIES #8 SHREDDER
TRANSFORMERS MORE THAN MEETS EYE #24 DARK CYBERTRON PART 4
TRANSFORMERS ROBOTS IN DISGUISE TP VOL 05
TRIPLE HELIX #3
Image Comics
BURN THE ORPHANAGE BORN TO LOSE #2 CVR A GRACE
BURN THE ORPHANAGE BORN TO LOSE #2 CVR B MOORE
CARBON GREY VOL 3 #1 CVR A NGUYEN & LOH
CARBON GREY VOL 3 #1 CVR B EVANS & LOH
CHEW SMORGASBORD S&N LTD ED HC VOL 01
ELEPHANTMEN #52
GHOSTED TP VOL 01
GREAT PACIFIC #12
INVINCIBLE UNIVERSE #8
JUPITERS LEGACY STUDIO ED #1
MINIATURE JESUS TP
PROPHET #41
REALITY CHECK #4
SPAWN #238
STORM DOGS TP VOL 01
THINK TANK #11
VELVET #2