Velvet, Ed Brubaker's spy-thriller that pushes a Moneypenny-esque character into the action, sees the release of its third issue this week. Beautifully rendered by Steve Epting, the book has shown an impressive opening. This latest chapter sees the titular hero retracing the steps of the doomed Agent X-14.
Also, Marvel debuts its remastered Miracleman series this week, taking the original Alan Moore series and giving it new colors, letters and, predictably, an omission of the famous scribe's name. For those who never got their hands on the tales, whether in the form of their original Warrior magazine publication or the Eclipse series, Marvel's restoration is an enticing offer.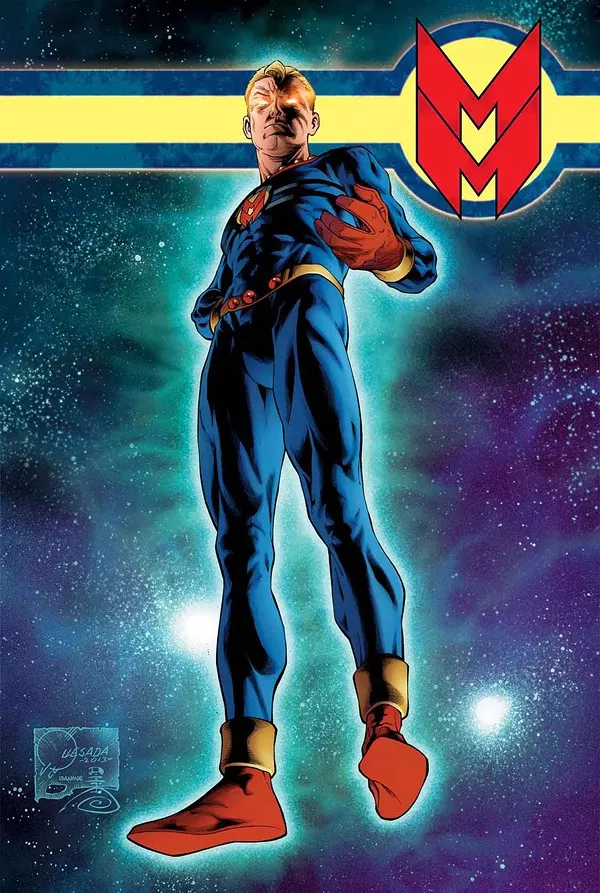 Night of the Living Deadpool may seem like a clever title that's only worthy of a tweet or quick barb, but Marvel saw it fit to release a title under that banner. With only black, white and red colors, the stark, Cullen Bunn-penned series is the perfect fit for fans of the character who aren't tired of zombies.
See what else is out below, and sound off in the comment section about your picks.
DC Comics
ASTRO CITY #8
BATGIRL #27 (GOTHTOPIA)
BATMAN DARK KNIGHT HC VOL 03 MAD (N52)
BATMAN LIL GOTHAM #10
COFFIN HILL #4
CONSTANTINE #10 (EVIL)
CREATURE COMMANDOS TP
DC VS MASTERS OF THE UNIVERSE #4
FOREVER EVIL ROGUES REBELLION #4
GREEN LANTERN CORPS #27
INJUSTICE YEAR TWO #1
JUSTICE LEAGUE 3000 #2
JUSTICE LEAGUE OF AMERICA #11 (EVIL)
JUSTICE LEAGUE OF AMERICA #11 COMBO PACK (EVIL)
NIGHTWING #27
SCOOBY DOO WHERE ARE YOU #41
SUICIDE SQUAD #27 (EVIL)
SUPERBOY #27
SUPERMAN WONDER WOMAN #4
SUPERMAN WONDER WOMAN #4 COMBO PACK
WORLDS FINEST #19
Marvel Comics
ALL NEW X-MEN #21
AMAZING X-MEN #3
AVENGERS ARENA TP VOL 03 BOSS LEVEL
AVENGERS PREM HC VOL 04 INFINITY
CATACLYSM ULTIMATES #3
DAREDEVIL #35
DEXTER PREM HC
DISNEY KINGDOMS SEEKERS OF WEIRD #1
DISNEY KINGDOMS SEEKERS OF WEIRD #1 CROSBY IMAGINEER
FANTASTIC FOUR #16
FANTASTIC FOUR EPIC COLLECTION TP ALL IN FAMILY
INHUMANITY SPIDER-MAN #1
MARVEL KNIGHTS HULK #2
MIRACLEMAN #1
MMW SUB MARINER HC VOL 05
NIGHT OF LIVING DEADPOOL #1
NOVA #12
REVOLUTIONARY WAR DARK ANGEL #1
SECRET AVENGERS #14
SUPERIOR SPIDER-MAN #25
SUPERIOR SPIDER-MAN TP VOL 04 NECESSARY EVIL
THOR GOD OF THUNDER #17
THOR GOD OF THUNDER TP VOL 01 GOD BUTCHER
THUNDERBOLTS #20.NOW ANMN
UNCANNY AVENGERS #14 2ND PTG MCNIVEN VAR
UNCANNY X-FORCE #16 XFV
UNCANNY X-MEN #16
WOLVERINE MAX #15
X-MEN LEGACY #22
Dark Horse Comics
BPRD HELL ON EARTH #115
CLOWN FATALE #3
GAME OF THRONES DAENERYS FIGURE
GAME OF THRONES JON SNOW FIGURE
GRIMM 2.75 IN KEY REPLICA PIN
GRIMM COIN REPLICA PIN
GRIMM PINT GLASS
KISS ME SATAN #5
MONSTERS AND OTHER STORIES TP
SHOOT FIRST #4
SKYMAN #1
STAR WARS DARTH VADER & CRY OF SHADOWS #2
STAR WARS DAWN O/T JEDI FORCE WAR #3
STRAIN THE FALL #7
X #9
X TP VOL 01 BIG BAD
IDW Publishing
BEN 10 #3
BLACK DYNAMITE #1
GATE WAY #1 (FORMERLY PURGATORY)
GI JOE A REAL AMERICAN HERO #198
GI JOE SPECIAL MISSIONS #11
GI JOE SPECIAL MISSIONS TP VOL 02
ILLEGITIMATES #2
INDESTRUCTIBLE #2
KISS KIDS TP
MAGIC THE GATHERING THEROS #3
MAXX MAXXIMIZED #3
MY LITTLE PONY FRIENDSHIP IS MAGIC #15
POPEYE CLASSICS ONGOING #18
POWERPUFF GIRLS #5
RIO COMPLETE COLLECTION TP
TIM BRADSTREET SKETCHBOOK TP VOL 01
TMNT ANNUAL DLX HC
TMNT NEW ANIMATED ADVENTURES #7
TORPEDO TP VOL 05
TRANSFORMERS MORE THAN MEETS EYE #25 DARK CYBERTRON PART 6
TRIPLE HELIX #4
WRAITH WELCOME TO CHRISTMASLAND #3
X-FILES CONSPIRACY #1
X-FILES SEASON 10 #1 DIRECTORS CUT
Image Comics
A VOICE IN THE DARK #3
ALEX + ADA #3
CARBON GREY VOL 3 #2 CVR A NGUYEN & LOH
CARBON GREY VOL 3 #2 CVR B NGUYEN & LOH
EGOS #1
GHOSTED #6
I LOVE TROUBLE TP
PETER PANZERFAUST #16
PROPHET #42
PROTECTORS INC #3 CVR A PURCELL & ATIYEH
PROTECTORS INC #3 CVR B ANDRASOFZKY
RAT QUEENS #4 CVR A
RAT QUEENS #4 CVR B
SAVAGE DRAGON ARCHIVES TP VOL 03
TEN GRAND TP VOL 01
VELVET #3