Here are updates on city and county services as of 2 p.m. Wednesday, Jan. 29. Bear in mind this could all change in 10 minutes - we Charlotteans are just getting used to these icy conditions, after all.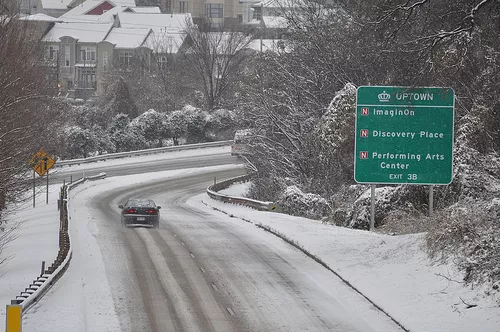 M Fletcher (flickr Creative Commons)
We got this, y'all.
Roads
Crews have salted major thoroughfares and connector streets. Charlotte Department of Transportation is treating residential streets today. Residents are encouraged to help clean and salt sidewalks.

CATS
Bus service is operating on detours due to icy side streets. Check here for updates. Rail service is running a regular schedule. Special transportation services will transport paratransit customers needing service.
Solid Waste Services
Trash, recycling and bulky item pickup is suspended for today. Customers should leave their bins curbside for pickup. Yard waste pickup is suspended for the rest of the week. Multifamily collection services, street sweeping, litter collection and dead animal collection services are canceled for today and will resume Thursday.

Charlotte-Douglas International Airport
The airport is open and operational. No major delays in arrivals and departures today. There are some cancellations in departures. Roadways to the airport are in good condition. All runways and taxiways are clear and free of ice and snow. De-icing continues. The airport's irregular operation plan was activated last night to assist stranded passengers. Extra staff was on hand, cots were distributed to passengers and some concessions extended operating hours. Passengers should check their flight status with the airline before leaving to come to the airport.

Warming station
A warming station at the Hal Marshall Center Annex, 618 N. College St., will stay open until noon Thursday. Overnight accommodations are not available; however, staff will direct residents in need of shelter.

Charlotte Fire Department
CFD added fire companies last night and have worked with volunteer fire departments for additional support. CFD reminds residents never to use any heating device indoors that uses gasoline, propane, natural gas or charcoal. Make sure space heaters have at least three feet of room around them. Avoid using candles for emergency lighting. Use flashlights instead.

CMPD
CMPD has responded to nearly 500 calls for vehicle wrecks between 4 p.m. Tuesday and 10 a.m. today. 78 injuries have been reported. The department also assisted more than 170 drivers with blocked or disabled vehicles and opened at 6 a.m. today to monitor the morning rush hour. CMPD reminds drivers to keep a safe following distance and use extra caution on side roads.

Courts
Mecklenburg County is issuing an advisory that all court sessions are cancelled for today.
Libraries
Closed today and will try to reopen at 10 a.m. Thursday.

Charlotte-Mecklenburg Schools
CMS transportation and maintenance teams will evaluate roads for bus travel at 3 p.m. today. Principals will provide feedback on the condition of school parking lots. CMS will make a decision about tomorrow's schedule some time after 4 p.m. today.
For the most up to date information during inclement weather visit the CharMeck Alert Center at http://emergency.charmeck.org, follow the City of Charlotte's Twitter feed, or call 311 for non-emergency information.