Nikki Hill
Snug Harbor
Jan. 31, 2014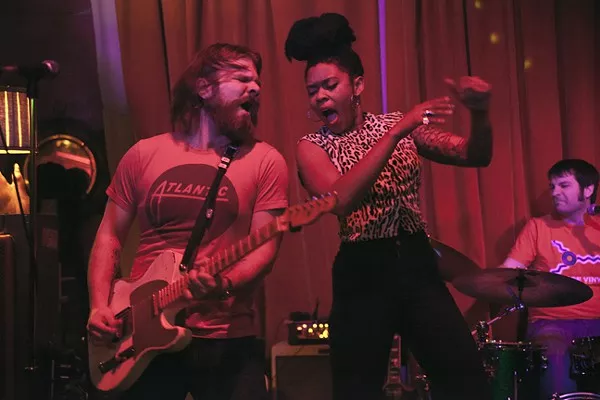 Nikki Hill and guitarist Matt Hill.
"I hope y'all are feeling as good as we do." Nikki Hill, all tatted-arms, stacked-heels and bee-hived hair, smiled sweetly and slyly at the sardine-packed Snug Harbor crowd. "'Cause if you do, you're ready to dance."
With that, Nikki and her crack crew, led by husband-and-blistering-blues guitarist Matt Hill, ripped into a jump-and-jive, stompin'-soul-shouting take on the Billie Holiday chestnut "My Man." As Ed Strohsahl burned through the fretboard of his upright bass and guitar man Matt peeled off hyperactive Eddie Cochran licks, the audience complied with Nikki's sassy invitation, swing dancing, swaying and shouting with joy.
Earlier, the band had opened, sans Nikki, with a strutting, swampy "Green River"-meets-Booker T. instrumental groove. An enthusiastic intro from Matt brought Nikki out, steppin', shimmying and (wo)man-handling the mic stand. Riding Joe Meyer's machine-gun kick drum and Matt's Chet Atkins overdrive on guitar, the combo segued into a floorboard rattling cover of Tarheel Slim's "Number 9 Train." Nikki cooed, testified and wild-cat growled, as smooth as pop R&B chanteuse Ruth Brown, as triumphant as Tina Turner.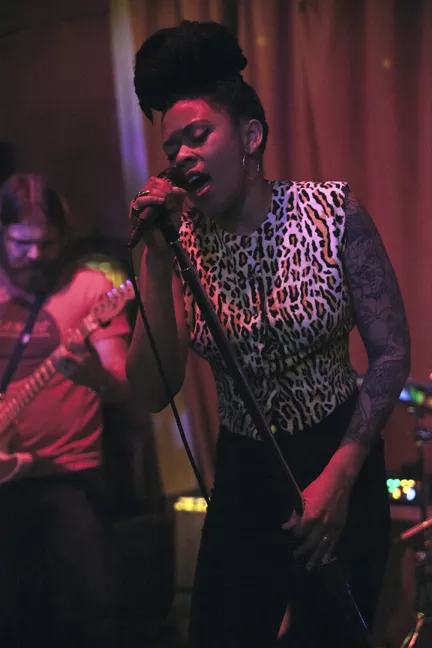 With a mix of unjustly neglected soul and R&B gems and authentic-feeling originals, Nikki and the ace band evoked the era when the propulsive jump and blues of Ike Turner's "Rocket 88" morphed into the reverb-drenched Sun Studios rock 'n roll of Presley, Perkins and Cash - when the cultural doors of perception were blown off their hinges by Little Richard's " A-wop-bom-a-loo-mop-a-lomp-bam-boom!"
No one knew this better than Nikki. "We heard that Charlotte is chock-full of Little Richard fans," she declared as the band charged into a revved-up T.A.M.I. show take on the maestro's "The Girl Can't Help It." That blistering rocker was book-ended later in the set with a cover of Richard's "Slippin' and Slidin'," propelled by Nikki's careening, runaway train vocal and Matt's coiling, rubber-band fretwork.
Yet the band's originals were even sharper. "Her Destination" capitalized on Nikki's bluesy, coaxing, sinister croon, and she brought spiky, punk-rock urgency to the jazzy, corkscrewing "I've Got a Man." Indeed, Hill-and-cohorts' scorching set merged contemporary grit to the galloping pulse of 1950s rebel rock, respecting the intent of the oldies without being hogtied to traditional arrangements or instrumental attack.
Despite the irresistible allure of the band's hard-charging rockers, like their crackling rip-it-up of Chuck Berry's "Sweet Little Rock 'n Roller", Nikki truly shined on the slower numbers. Her roller-coaster croon sailed smoothly over the swaying groove of Bobby Blue Bland's "Poverty," channeling the rangy contralto and sliding soul-jazz phrasing of Etta James.
Smooth, dreamy and transported, Nikki brought a country gospel cadence to the hypnotic soul slow-dance "Hands Off My Man." Here, Hill seemed to be drawing on her days as a gospel choir schoolgirl in Durham, N.C.
The North Carolina-native said she was thrilled to be back in her home state, and to drive the point home, the band brought Carolina guitarist Robert Nesbit on stage for three numbers.
A hip-swaying take on Barbara Redd's "Dancing Teardrops" was a stand-out of the band's temporary twin-guitar assault. Here, Matt Hill's spidery riffs entwined with the leathery Link Wray rattlesnake coil of Nesbit's guitar as Nikki's torchy vocal sailed high, evoking Little Eva of "Locomotion" fame.
With the encore one-two punch of AC/DC covers "Rocker" and "Whole Lotta Rosie," the band switched into overdrive. Situating the swing at the heart of "Rocker," Hill's cascading vocal was a ferocious rant, backed by the floor-buckling intensity of the combo's playing. The capstone of the evening was even heavier, with "Whole Lotta Rosie" channeling the slippery, vertiginous surge of Led Zeppelin's "Whole Lotta Love."
Tracing the evolution of country blues 'n gospel from rockabilly to hard rock, Nikki Hill swung for the fences and connected with the crowd. The band brought a crackling contemporary immediacy to roots rock 'n soul.