Walk Off the Earth
Amos' Southend
Feb. 4, 2014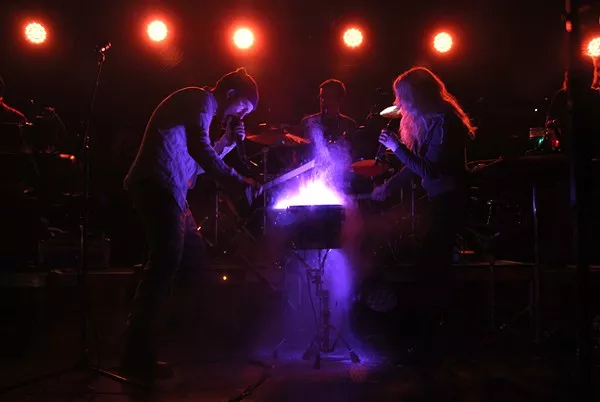 Confetti, smoke and glitter can all be used as a distraction, but when done right, as in the case of Walk Off the Earth's Feb. 4 concert at Amos' Southend, it makes for one hell of a party.
The Canadian rock band, whose cover of Gotye's "Somebody that I Used to Know" has garnered more than 156 million YouTube views, impressed a sold-out crowd with its varied instrumentation, harmonies and energy - all that other stuff was just icing on the cake.
The band members take a "why play just one instrument when you can play all of them" approach to its performances. While most efforts to do that end up in delays or a sonic trainwreck, WOTE does it with skill and excitement.
Done with the ukulele? Just throw it in the air to the guitar tech. Finished with your guitar? Pass it off to your bandmate who needs it for the next song. Need more than one instrument? Strap them both around your neck so you can switch. While all of this could sound like a gimmick, given their prolific YouTube lives, they wouldn't have half of the fanbase they do if there wasn't talent to back it all up.
Gianni Luminati, Sarah Blackwood, Ryan Marshall, Mike Taylor and Joel Cassady worked their asses off in a grassroots style to establish a worldwide fanbase before signing to Columbia Records in 2012. Playing for 90 minutes in front of a packed venue, the group easily displayed why they've won over so many fans.
With an array of instruments in addition to the typical guitar, bass and drums - ukulele, banjo, mandolin, keyboard, trumpet, melodica and even an electric toothbrush - WOTE ran through plenty of original songs with a few covers mixed in. It was the perfect formula for a crowd who knew all of the words to all of the songs and couldn't get enough of the pop-rock outfit's music.
From the opening notes of pop-rock song "Speeches" to the built-for-a-singalong "Red Hands," it was hard to take your eyes and ears off the band as you wondered what they'd do next visually and sonically. Cover songs seamlessly blended into the rest of the set, thanks to putting their own stamp on Jane's Addiction's "Stop," Rihanna's "Man Down" and B.o.B.'s "Magic."
The night ended with a three-song encore including "Somebody That I Used to Know" flawlessly played on one guitar, as expected, before the group pulled a dozen or so fans on stage to help them dance and sing "Summer Vibe."
The night ended in a sea of smiles and plenty of fans hoping they won't have to wait long for Walk Off the Earth to return to the Queen City.
Setlist
Speeches
REVO
Magic (B.o.B. cover)
Corner of Queen
Natalie
Sing It All Away
Money Tree
Red Hands
No Ulterior Motives
Sometimes
Stop (Jane's Addiction cover)
Shake
Man Down (Rihanna cover)
Gang of Rhythm
Encore
Little Boxes
Somebody That I Used to Know
Summer Vibe