Sure, it's only February. But in the comic world, that means a couple hundred new books have been released into the fanboy wild. And in that time, we've seen plenty of comics stamped "#1" hit the stands. That's why Comic Afterthoughts is providing a survey of 15 significant first issues that have been released since the turn of the year. You may be surprised at what you've missed. Don't mind the majority being Marvel titles; that's just how they roll these days.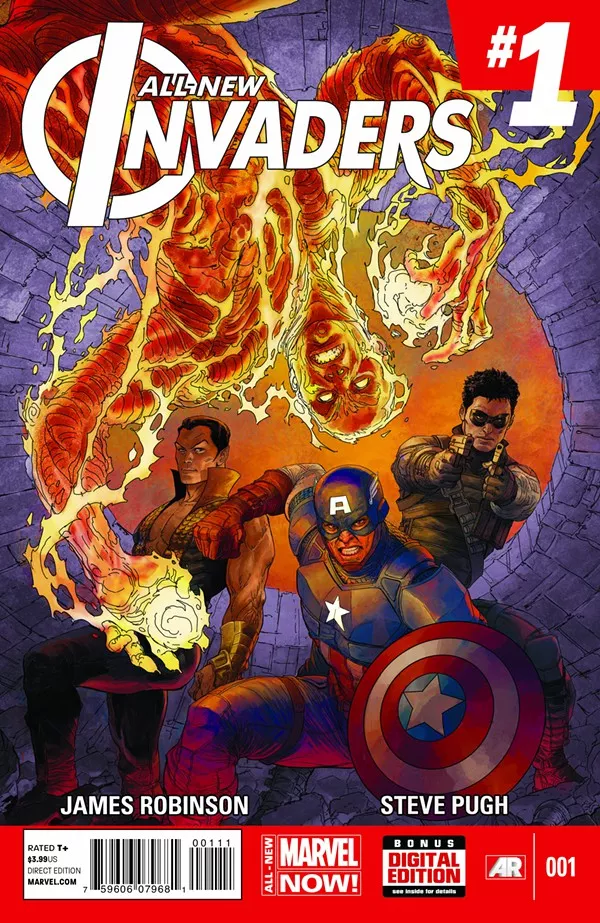 All New Invaders #1
James Robinson returns to Marvel with this "All New" take on the classic superhero team. Captain America, Winter Soldier, the original Human Torch and Namor round out this impressive nod to Marvel's Golden Age.
All New X-Factor #1
Scribe Peter David is a Marvel institution mainly for his work with two books: The Incredible Hulk and X-Factor. He rejoins the latter with this new line-up - and new backers for the fictional team, in the form of Serval Industries.
Avengers World #1
Every so often, we need a new, epic-scale Avengers story. What do you mean it's only been a month since the last one? This one has Jonathan Hickman at the helm. That one did, too? Oh.
Batman: Joker's Daughter #1
This one's more of a one-shot, but it's still a vital issue on the list, considering it provides more context for one of DC's newest (and most exciting) villains. The Joker's Daughter takes her obsession with the main Bat-baddie with a visit to the Dollmaker.
Black Dynamite #1
IDW has adapted the beloved, blaxploitation character from the 2009 film. Don't worry: The comic maintains as much humor and self-awareness as you'd want as a fan of the Scott Sanders-directed effort.
Black Widow #1
Centering a narrative on a female protagonist is a welcome trend in comics these days. By diving deeper into Natasha's dark and sordid roots, writer Nathan Edmondson and artist Phil Noto are fleshing out a character usually reserved for small moments and only-occasional bouts of extreme heroism.
Deadly Class #1
This one was sold to me as "Fight Club meets The Breakfast Club," and I think the description holds up. This Rick Remender-penned tale features King's Dominion High School for the Deadly Arts, a school intended for future world assassins.
Egos #1
Former Vertigo editor Stuart Moore and artist Gus Storms offer this story of a disbanded superhero team with the moniker EGOs (Earth/Galactic Operatives). The return of their greatest villain, Masse, the Living Galaxy, forces the group's leader out of retirement - and back to the recruitment game.
Furious #1
The titular character in this Dark Horse series is the world's first superhero, and she's desperately trying to control her public image as TV crews capture her recklessness. Bryan J. L. Glass and Victor Santos are behind this one.
Injustice: Year Two #1
Injustice: Gods Among Us was a prime example of a surprise hit. The series was a prequel to the Injustice video game, which is a relationship that rarely works out. Now, we're getting a sequel to that prequel, diving deeper into the game's universe.
Lobster Johnson: Get Lobster #1
This new five-parter sees the Mike Mignola creation solving a new mystery, involving the public death of a wrestling ref. The period piece (set in 1934) brings back the hero's desire to right wrongs, by any means needed.
Ms. Marvel #1
This book has made a tremendous impact on the medium already, as its 16-year-old, Muslim female protagonist was revealed weeks before the comic. The result? A balanced, relatable story of a girl forging her own path.
Night of the Living Deadpool #1
This zombie genre is so tired. How about we add Deadpool in to make fun of it? Writer Cullen Brown has the right idea in this four-issue series that has the Merc' With a Mouth waking up from a food coma to find the world gone to Hell.
Punisher #1
I, for one, really enjoyed Greg Rucka's 2011 Punisher reboot, but you can never get too comfortable as a comic fanboy. Frank Castle follows a Cartel trail to Los Angeles. How will the Punisher fare outside of his hometown of New York City?
Skyman #1
First: This is the Dark Horse Skyman, not one of those DC Comics ones. The miniseries finds an African-American Air Force sergeant take the Skyman mantle from the older, racist one. The sequence of events follows the last Captain Midnight series.