Bryan Hitch has built a massive fanbase for himself, after building steam over the years with titles like The Authority and The Ultimates (as in the first two volumes, not the dreaded third). He's the prototypical "widescreen" penciler. For the first time, the artist has taken it upon himself to write a comic, and the premise is already promising.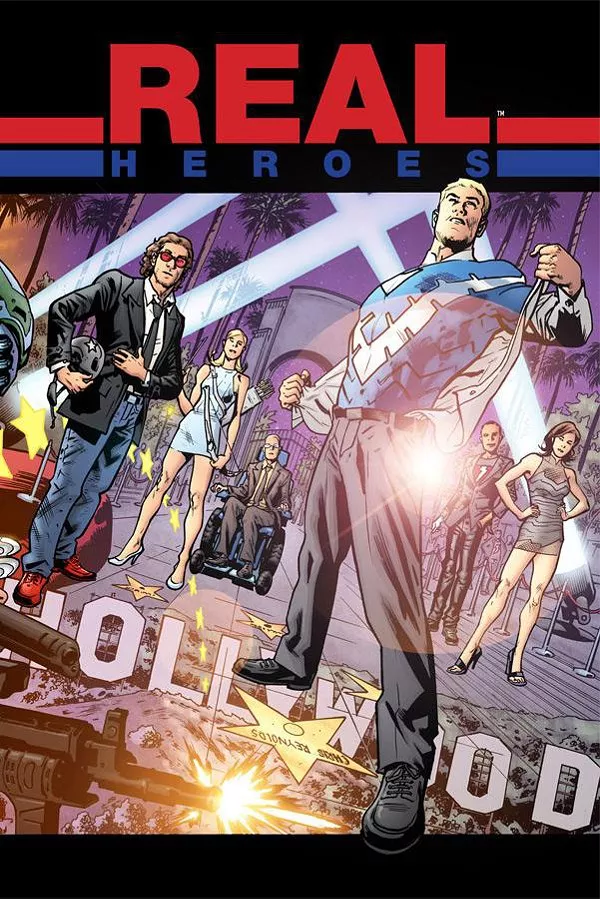 A group of actors who are playing film superheroes are forced to don their characters' tights and play the parts in real life. It's a neat idea, one that seems like something Mark Millar would think up. With an artist like Hitch taking the helm, you can be sure that at least the action scenes will be worth admission.
This story has been previewed for some time now, and it looks like Hitch was able to increase the hype even more with some guest covers. We're particularly excited to see what Travis Charest came up with for the issue. Be sure to check it out this week. See what else is cookin' below.
DC Comics
ADVENTURES OF SUPERMAN #11
ALL STAR WESTERN #29
AMERICAN VAMPIRE HC VOL 06
AQUAMAN #29
BATMAN THE DARK KNIGHT #29
BEWARE THE BATMAN #6
CATWOMAN #29
DC UNIVERSE VS MASTERS OF THE UNIVERSE #6
DEAD BOY DETECTIVES #4
FABLES #139
FLASH #29
FOREVER EVIL ARGUS #6
FOREVER EVIL ROGUES REBELLION #6
HARLEY QUINN #0 2ND PTG
HE MAN AND THE MASTERS OF THE UNIVERSE #11
INJUSTICE YEAR TWO #3
JUSTICE LEAGUE DARK #29 (EVIL)
LARFLEEZE #9
RED LANTERNS #29
SANDMAN OVERTURE #2 COMBO PACK
SANDMAN OVERTURE #2 CVR A
SANDMAN OVERTURE #2 CVR B
SUICIDE SQUAD AMANDA WALLER #1
SUPERMAN #29
TALON #17
TEEN TITANS #29
WAKE #7
WORLDS FINEST #21
Marvel Comics
A PLUS X #18
ALL NEW X-FACTOR #5
AMAZING X-MEN #5
AVENGERS #27
AVENGERS ASSEMBLE #25
BRILLIANT #5
CABLE AND X-FORCE TP VOL 04 VENDETTAS
CAPTAIN AMERICA HOMECOMING #1
DAREDEVIL TP END OF DAYS
DEADPOOL #26 ANMN
FANTOMEX MAX TP
GEORGE ROMEROS EMPIRE OF DEAD ACT ONE #3
GUARDIANS OF GALAXY #13 ANMN
HAWKEYE #18
INDESTRUCTIBLE HULK #20
IRON PATRIOT #1 ANMN
MARVEL KNIGHTS X-MEN #5
MARVEL UNIVERSE ULTIMATE SPIDER-MAN #24 SYU
MIRACLEMAN #4
MMW RAWHIDE KID TP VOL 01
NEW AVENGERS #16.NOW ANMN
ORIGIN II #4
REVOLUTIONARY WAR OMEGA #1
SAVAGE WOLVERINE #16 ANMN
SILVER SURFER #1 ANMN
SUPERIOR SPIDER-MAN #27.NOW 2ND PTG CAMUNCOLI VAR ANMN
SUPERIOR SPIDER-MAN #30 ANMN
SUPERIOR SPIDER-MAN TEAM UP #11
SURVIVE
UNCANNY AVENGERS #18.NOW ANMN
UNCANNY AVENGERS PREM HC VOL 03 RAGNAROK NOW
UNCANNY X-FORCE TP VOL 03 GREAT CORRUPTION
WINTER SOLDIER BITTER MARCH #1 2ND PTG VAR ANMN
WOLVERINE BY AARON COMPLETE COLLECTION TP VOL 02
Dark Horse Comics
1 FOR $1 BPRD HELL ON EARTH
BLACKOUT #1
BLOODHOUND CROWBAR MEDICINE #5
CAPTAIN MIDNIGHT #9
ELFQUEST FINAL QUEST #2
EMPOWERED SPECIAL #6 INTERNAL MEDICINE
FURIOUS #3
HALO ESCALATION #4
KING CONAN CONQUEROR #2
MASS EFFECT FOUNDATION #9
MASSIVE #21
MIND MGMT #20
PARIAH #2
SERENITY LEAVES ON THE WIND #3
STAR WARS LEGACY II #13
TOMB RAIDER #2
VANDROID #2
IDW Publishing
BATMAN SILVER AGE NEWSPAPER COMICS HC VOL 01 1966-1967
CALICO HORSES AND PATCHWORK TRAIL PROSE SC
COMPLETE CHESTER GOULD DICK TRACY HC VOL 16
DEVICE TP VOL 03 TRAVELING DEVICE
GHOSTBUSTERS #14
GHOSTBUSTERS TOTAL CONTAINMENT HC
GI JOE A REAL AMERICAN HERO #200
GODZILLA RULERS OF THE EARTH #10
LEGENDS OF OZ TP DOROTHYS RETURN
POPEYE CLASSICS NEWSPAPER COMICS HC VOL 01 1986-1989
ROCKY & BULLWINKLE #1
STAR SLAMMERS REMASTERED #1
TMNT NEW ANIMATED ADVENTURES #9
TRANSFORMERS DARK CYBERTRON FINALE #1 PART 12
WRAITH WELCOME TO CHRISTMASLAND #5
X-FILES CONSPIRACY #2
Image Comics
ALEX + ADA #5
BLACK SCIENCE #1 3RD PTG
BLACK SCIENCE #2 3RD PTG
BOUNCE #11
CHEW TP VOL 08 FAMILY RECIPES
DEAD BODY ROAD #4
DEADLY CLASS #1 3RD PTG
DEADLY CLASS #3
FATALE #21
JANS ATOMIC HEART AND OTHER STORIES TP
KRAMPUS #4
MANHATTAN PROJECTS #19
ONE HIT WONDER #2
PAUL POPE MONSTERS & TITANS BATTLING BOY ART ON TOUR SC
PROTECTORS INC #5 CVR A PURCELL & ATIYEH
PROTECTORS INC #5 CVR B URUSOV
RAT QUEENS TP VOL 01 SASS & SORCERY
REAL HEROES #1 CVR A HITCH
REAL HEROES #1 CVR B CHO
REAL HEROES #1 CVR C FINCH
REAL HEROES #1 CVR D CHAREST
REVENGE #1 2ND PTG
REVENGE #2
SATELLITE SAM #7
SEX #12
SEX CRIMINALS #1 6TH PTG
SKULLKICKERS #25
THINK TANK TP VOL 03
UMBRAL #5
WALKING DEAD #124
WALKING DEAD SPANISH LANGUAGE ED TP VOL 03