On a suspense-free Monday night, City Council voted 10-1 to appoint state Sen. Dan Clodfelter to fill Patrick Cannon's remaining term as mayor.
Clodfelter will represent the 37th District until today, when he will resign, and will be officially sworn in as mayor on Wednesday. He will serve through December 2015 and isn't expected to run in next year's regularly scheduled election.
Cannon stepped down after being arrested on corruption charges, including accepting $48,000 in cash bribes in his official capacity. Council took nearly two weeks to select his replacement.
Introducing the agenda, Councilman Michael Barnes said members had narrowed down options to two candidates, Clodfelter and former councilmember James Mitchell. Mitchell was the only one in attendance, smiling wide in the front row and surrounded by a dozen supporters wearing blue and white "Mitchell for Mayor" T-shirts leftover from the fall mayoral campaign. (Mitchell lost to Cannon.)
After 15 minutes of public comment, during which six audience spoke, mostly in favor of a special election, Barnes got to business. He put a motion on the floor to nominate Clodfelter. It was seconded.
Councilman David Howard entered a substitute motion, nominating Mitchell.
Howard knew Mitchell didn't have the six votes but proceeded. He wanted to recognize Mitchell's service and his willingness to enter the primary against Cannon when no one else would.
He asked Mitchell to stand up, and applause ensued. The council voted on the substitute motion in favor of Mitchell, which failed by a 10-4 vote, with Democrats Howard, Al Autry, Lawana Mayfield and Al Austin supporting Mitchell.
They were overpowered by a long-suspected coalition of Barnes, Claire Fallon and the two Republicans Ed Driggs and Kenny Smith, plus Greg Phipps, Patsy Kinsey and Vi Lyles.
The Republicans want a weak mayor who won't run next year. Ambitious Democrats, such as Lyles, want to keep their options open and probably preferred a placeholder who would step aside.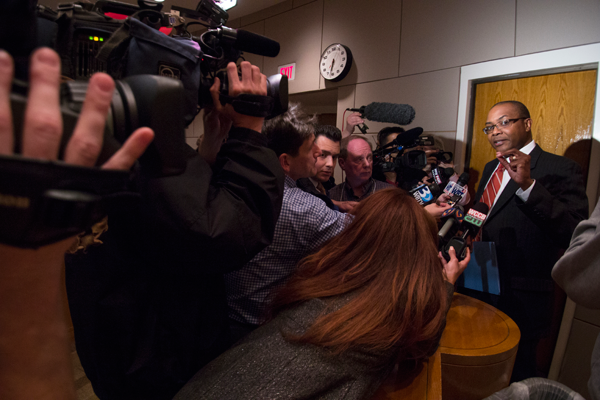 Barnes speaks to reporters.
Picking Mitchell would have created a power base for the relatively young politician, who is also running for Congress.
Clodfelter, on the other hand, is an eight-term state legislator who previously served on City Council and the planning commission. He was a Rhodes Scholar at Davidson College and attended Yale Law School. He is calm, smart, known as a problem solver, experienced in government and done with politics. Charlotte needs him right now.
This is likely his swan song.
He unofficially made a deal with certain council members who voted for him not to run next year. "If I can be useful over the next 18 months that will be satisfying to me," said Clodfelter when he arrived at the Government Center after the meeting.
The next year and a half will hardly be a cake walk. He must bring together a divided Democratic majority on Council and a city rocked by scandal. He must earn the trust of skeptics who wanted a say in his appointment. "We're going to move on from this," Clodfelter said. "I think it's a good thing this hurts so bad and that people were shocked by it. If people acted like this was business as usual, I'd be worried for the community."
Clodfelter was the rumored favorite throughout the weekend. "I had been looking at both seriously," said Lyles of Mitchell and Clodfelter. "Aside from Facebook posts for Jennifer Roberts, people were beginning to talk about two candidates. Constituents were sending materials on each and not similar statements, or automatic copies, but genuine thoughts."
Lyles said the long list when the process started was Clodfelter, Mitchell, Roberts, Howard, Barnes and Kinsey. She spoke with Clodfelter for a total of four hours over the past week. "I asked if he really believed this was something he wanted to focus on and if he knew the issues, from transit to financing the budget."
Barnes met with Clodfelter and Mitchell in Chick-Fil-a and a McDonald's. "I had a good feeling early on when we talked about how to strategize big issues," Barnes said.
A committee of the Mecklenburg County Democratic party will likely pick Clodfelter's successor in the senate. Roberts lives in that district. "This is a great community, and I would be honored to serve it again," she said Monday night.