Usually, creators will start a new series after a cliffhanger is resolved, but Marvel has its own way of doing things. That's why Hulk #1 starts off with Bruce Banner on the edge of death. We don't know who shot him, so there's already a burning question within the opening page of the series.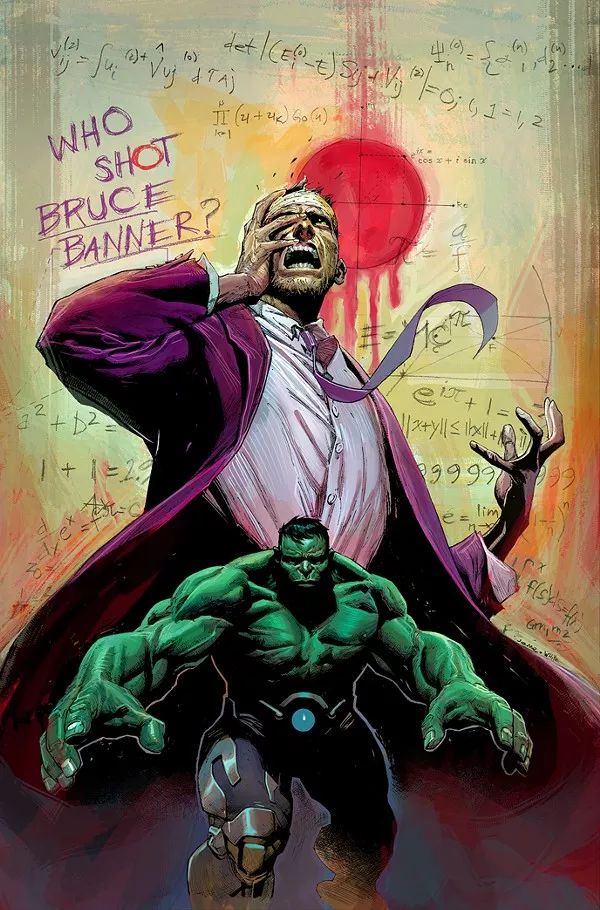 Thankfully, we have Mark Waid and Mark Bagley at the helm. The Marks are powerhouses for Marvel, the former providing one of the imprint's best current series in Daredevil. Since the '90s, the latter has informed how most of us look at Ol' Webhead himself, the amazing Spider-Man.
For many, "Peter David" is the name synonymous with the Jade Giant, but Waid's hands are more than able. So even if you'd rather ease into your comic arcs, Comic Afterthoughts suggests taking a leap of faith with Hulk #1.
DC Comics
ADVENTURES OF SUPERMAN TP VOL 01
AMERICAN VAMPIRE SECOND CYCLE #2
BATMAN #30
BATMAN AND WONDER WOMAN #30
BATMAN ETERNAL #2
BATWOMAN #30
BIRDS OF PREY #30
DAYTRIPPER DELUXE ED HC
FINAL CRISIS TP NEW EDITION
GREEN LANTERN NEW GUARDIANS #30
HARLEY QUINN #5
JOKER DEATH OF THE FAMILY TP (N52)
JUSTICE LEAGUE #29 (EVIL)
JUSTICE LEAGUE OF AMERICA OMNIBUS HC VOL 01
RED HOOD AND THE OUTLAWS #30
SINESTRO #1
SMALLVILLE SEASON 11 LANTERN #1
SUPERGIRL #30
TRINITY OF SIN PANDORA #10
UNWRITTEN VOL 2 APOCALYPSE #4
WONDER WOMAN #30
Marvel Comics
AMAZING X-MEN #6
DAREDEVIL BY MARK WAID PREM HC VOL 07
DEADPOOL VS CARNAGE #2
HULK #1
MAGNETO #1 2ND PTG RIVERA VAR
MOON KNIGHT #1 2ND PTG SHALVEY VAR
MS MARVEL #3
NEW WARRIORS #1 2ND PTG TO VAR
NOVA #16
PUNISHER #3 2ND PTG GERADS VAR
SHE-HULK #2 2ND PTG WADA VAR
SPIDER-MAN NEWSPAPER STRIPS TP VOL 01
SUPERIOR SPIDER-MAN #31
SUPERIOR SPIDER-MAN TP VOL 05 SUPERIOR VENOM
THOR EPIC COLLECTION TP KINGDOM LOST
THOR GOD OF THUNDER #21
ULTIMATE FF #1
UNCANNY X-MEN #20
UNCANNY X-MEN OMNIBUS HC VOL 02
WHAT IF AGE OF ULTRON #3
WINTER SOLDIER BITTER MARCH #3
WOLVERINE #4
WOLVERINE AND X-MEN #3
X-FORCE #3
X-MEN #13
Dark Horse Comics
1 FOR $1 EMILY AND STRANGERS #1
BPRD HELL ON EARTH #118
BPRD HELL ON EARTH TP VOL 08
BRAIN BOY TP VOL 01 PSY VS PSY
CHRONICLES OF CONAN TP VOL 26 LEGION O/T DEAD
CRIME DOES NOT PAY ARCHIVES HC VOL 07
DARK HORSE PRESENTS #35
GAME OF THRONES WEIRWOOD SNOW GLOBE
GHOST #3
GHOST OMNIBUS TP VOL 05
ITTY BITTY ABE SAPIEN PLUSH
ITTY BITTY HELLBOY PLUSH
ITTY BITTY HELLBOY TP
SKYMAN #4
STAR WARS #7 LUCAS DRAFT
STAR WARS DARTH VADER & CRY OF SHADOWS #5
STAR WARS ONGOING TP VOL 02 FROM RUINS OF ALDERAAN
TREKKER TRAIN TO AVALON BAY TP
WHITE SUITS #3
IDW Publishing
24 OMNIBUS TP
CROW PESTILENCE #2
FRANKENSTEIN ALIVE ALIVE #3
FRANKENSTEIN ALIVE ALIVE REANIMATED ED
GHOSTBUSTERS ONGOING TP VOL 07 HAPPY HORROR DAYS
GODZILLA HISTORYS GREATEST MONSTER TP
GODZILLA RULERS OF EARTH TP VOL 02
HAUNTED HORROR #10
POWERPUFF GIRLS TP VOL 01
STAR MAGE #1
STAR SLAMMERS REMASTERED #2
SUPERMAN SILVER AGE NEWSPAPER DAILIES HC VOL 02 1961-1963
THUNDER AGENTS #7
TRANSFORMERS DARK CYBERTRON TP VOL 01
TRANSFORMERS WINDBLADE #1 DAWN O/T AUTOBOTS
X-FILES ANNUAL 2014
Image Comics
A VOICE IN THE DARK #6
ART OF MILLARWORLD HC
ART OF MILLARWORLD LTD SIGNED & NUMBERED ED HC
FIVE WEAPONS #8
GENESIS GN
MERCENARY SEA #3
MINIMUM WAGE #4
MORNING GLORIES #38
SEX CRIMINALS TP VOL 01
SHOTGUN WEDDING #3
STRAY BULLETS THE KILLERS #2
TALES OF HONOR #1 2ND PTG
WITCHBLADE #174 CVR A CHRISTOPHER
WITCHBLADE #174 CVR B BRAGA