I'm a Cyclops apologist.
Since I first discovered Scott Summers, the visored X-Man, I've defended him against allegations of cruelty, cowardice and general lameness. Even with the recent hardships the writers at the House of Ideas have put him through, I've been able to somehow justify his occasionally cold and off-putting tactics. Now he has his own series. But wait, it's not that Cyclops. It's the one from the original team, which was recently plucked out of their time period by scribe Brian Michael Bendis.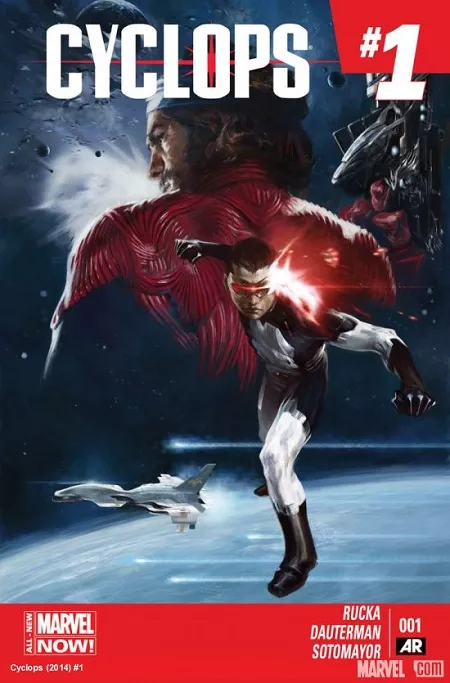 If you need a story that challenges negative perceptions of the character, check out Joss Whedon's Astonishing X-Men run. It's one thing I always point to when facing off with the anti-Cyclops, pro-Wolvie contingent. Before that, Claremont's years at the helm of the core X-Men series.
Like solo series before it (mini or not), this one will likely fade away into obscurity. But with the talents of writer Greg Rucka, it has a shot at some justice for Cyke. And even though Wolverine is the only X-Man to maintain a solo series through decades of mainstream continuity, they are a few of us that will go straight to the Cs this week.
DC Comics
ALL STAR WESTERN TP VOL 04 GOLD STANDARD (N52)
AQUAMAN AND THE OTHERS #2
ASTRO CITY #12
BATMAN ETERNAL #5
BATMAN HC VOL 04 ZERO YEAR SECRET CITY (N52)
BATMAN SUPERMAN #10
BATMAN SUPERMAN #10 COMBO PACK
BATMAN TP VOL 03 DEATH OF THE FAMILY (N52)
BATWING #31
DETECTIVE COMICS #31
DETECTIVE COMICS #31 COMBO PACK
EARTH 2 #23
FAIREST #26
GODZILLA HC
GREEN ARROW #31
GREEN LANTERN #31 (UPRISING)
GREEN LANTERN #31 COMBO PACK (UPRISING)
HINTERKIND #7
JUSTICE LEAGUE 3000 #6
MOVEMENT #12
NEW 52 FUTURES END #1
SAGA OF THE SWAMP THING TP BOOK 06
SCOOBY DOO TEAM UP #4
SWAMP THING #31
TEEN TITANS ANNUAL #3
TRINITY OF SIN THE PHANTOM STRANGER #19
VAMPIRE DIARIES #5
WAKE #8
WATCHMEN TP INTERNATIONAL EDITION NEW ED
WATCHMEN TP NEW ED
WORLD OF WARCRAFT DARK RIDERS TP
Marvel Comics
AGE OF ULTRON TP
ALL NEW GHOST RIDER #1 2ND PTG MOORE VAR
ALL NEW X-FACTOR #7
AMAZING SPIDER-MAN #1.1
ANNIHILATION OMNIBUS HC
BLACK WIDOW #6
CASTLE UNHOLY STORM PREM HC
CYCLOPS #1
DAREDEVIL #1 2ND PTG SAMNEE VAR
DEADPOOL VS CARNAGE #3
FIRE GN HC
INDESTRUCTIBLE HULK TP VOL 02 GODS AND MONSTER
IRON FIST LIVING WEAPON #2
IRON MAN FATAL FRONTIER HC
LOKI AGENT OF ASGARD #2 2ND PTG FRISON VAR
LOKI AGENT OF ASGARD #4
MAGNETO #3
MILES MORALES ULTIMATE SPIDER-MAN #1
MIRACLEMAN #5
MOON KNIGHT #3
NEW WARRIORS #4
ORIGINAL SIN #1
PUNISHER #5
SAVAGE WOLVERINE #18
SHE-HULK #4
SILVER SURFER #1 2ND PTG ALLRED VAR
UNCANNY X-MEN PREM HC VOL 03 GOOD BAD AND INHUMAN
X-MEN ADAMANTIUM COLLECTION HC
X-MEN DAYS OF FUTURE PAST PROSE NOVEL HC
X-MEN NO MORE HUMANS OGN HC
X-MEN VS HULK TP
Dark Horse Comics
ALLEY OOP COMPLETE SUNDAYS HC VOL 01 1934-1936
ANGEL AND FAITH SEASON 10 #2 MAIN CVR
BAD BLOOD #5
CONAN AND PEOPLE OF BLACK CIRCLE HC
EMILY AND THE STRANGERS HC VOL 01
FEAR AGENT TP VOL 02 MY WAR (2ND ED)
GRINDHOUSE DOORS OPEN AT MIDNIGHT #8
MAGNUS ARCHIVES TP VOL 03
MICHAEL AVON OEMINGS VICTORIES #11
MURDER MYSTERIES HC 2ND ED
SHOOT FIRST TP
STAR WARS OMNIBUS DARK TIMES TP VOL 02
TERMINATOR SALVATION FINAL BATTLE #6
TRIGUN MAXIMUM OMNIBUS TP VOL 03
TRUE LIVES OF FABULOUS KILLJOYS LTD ED HC
TRUE LIVES OF FABULOUS KILLJOYS TP
VEIL #3
IDW Publishing
AMELIA COLE AND THE HIDDEN WAR GN
BLACK DYNAMITE #2
CROW PESTILENCE #3
GABRIEL RODRIGUEZ LOCKE & KEY ARTIST ED PORTFOLIO
GI JOE A REAL AMERICAN HERO TP VOL 09
ILLEGITIMATES #5
IN THE DARK HORROR ANTHOLOGY HC
JINNRISE #10
MAXX MAXXIMIZED #7
MY LITTLE PONY FRIENDSHIP IS MAGIC TP VOL 04
OTHER DEAD HC
POWERPUFF GIRLS #9
ROCKY & BULLWINKLE #3
SINISTER DEXTER #6
TALES O/T TMNT TP VOL 04
TMNT COLOR CLASSICS SERIES 2 #7
TMNT NEW ANIMATED ADVENTURES TP VOL 02
Image Comics
68 RULE OF WAR #2 CVR A JONES & FOTOS
68 RULE OF WAR #2 CVR B ZORNOW & FOTOS
ALEX + ADA #6
APHRODITE IX #10 CVR A SEJIC
APHRODITE IX #10 CVR B SEJIC
APOCALYPSE AL #4 CVR A KOTIAN & FARMER
BURN THE ORPHANAGE REIGN OF TERROR #1 CVR A GRACE & S
BURN THE ORPHANAGE REIGN OF TERROR #1 CVR B BELANGER
BURN THE ORPHANAGE TP VOL 01 BORN TO LOSE
CLONE #16
CYBER FORCE #9
FATALE #22
I KILL GIANTS FIFTH ANNV ED TP
INVINCIBLE UNIVERSE TP VOL 02
MADAME FRANKENSTEIN #1 CVR A JONES & FILARDI
MADAME FRANKENSTEIN #1 CVR B MITTEN
NAILBITER #1
RAT QUEENS #6
REAL HEROES #2 CVR A HITCH
REAL HEROES #2 CVR B GIBBONS
REAL HEROES #2 CVR C JOCK
REVENGE #3
REVIVAL #20
SATELLITE SAM #8
SPAWN #243
TODD THE UGLIEST KID ON EARTH TP VOL 02