The merry mutants are back in X-Men: Days of Future Past, and as usual, they bring new characters to behold.
The X-Men are unique among many of the superhero team franchises, as the definitive line-up for any given fanboy will differ. Most agree on the classic Avengers roster, give or take a couple members. The Justice League needs a Superman, a Batman, a Wonder Women, one of the Green Lanterns, and so on. But since its 1963 debut, Professor Xavier's mutant collective continues to redefine itself.
Purists insist on the originals: Cyclops, Marvel Girl, Beast, Iceman and Angel. Children of the '90s would cite the group of the animated series, Storm and Wolverine included. Fans of the '80s incarnation demand that Storm is included, and she must possess a mohawk. And for some reason, every non-reader seems to know who Gambit is, and he or she worships him.
So the folks behind the film franchise have been given a certain opportunity with each movie, bringing in characters from the massive lore in spurts. But with every hand trying to get their favorite muties in the mix, a bit of chaos has ensued. The continuity has suffered from introductions and re-introductions of certain characters, aging up and aging down mutants with different comic book origins.
Hank McCoy (or Beast, for the uninitiated) was an Easter Egg in the second X-Men film, portrayed by an unknown actor without blue fur. In X-Men: The Last Stand, Kelsey Grammer took the role to headliner status, fully donned in make-up. With X-Men: First Class, the prequel to all of that, a younger man makes his transition from human to cat-like creature. And Beast has one of the least confusing stories in the films.
Director Bryan Singer acknowledges the continuity issues, but if you can get over the fact that siblings Cyclops and Havok were placed into decades 40 years apart, you'll be able to enjoy this newest film in the series. With this post, we'll take a look at which beloved comic book mutants will make their debut with this film. Here are some tidbits about each of them. But hey, don't expect filmmakers to follow their origins with care.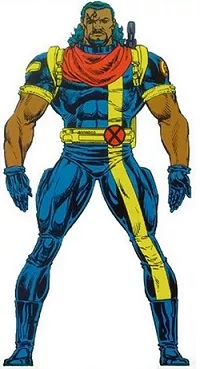 Bishop
Any fan of the 1990s X-Men comics and cartoon cheers for the inclusion of the futuristic hero, Bishop. His powers are to absorb and redirect energy. Plus, he usually has a big gun. This character, along with Cable, is synonymous with dystopian mutant futures. And good on the designers for maintaining that signature "M" on his left eye.
Quicksilver
Quicksilver, who makes an unrelated appearance in the next Avengers film with a different actor, is the son of Magneto and brother of the Scarlet Witch. He's a speedster, but with the film's trailer, we see that Singers slows things down to show him in action. The character is divisive for fans, but many can at least agree that he's an occasionally a jerk.
Blink
Fan Bingbing brings this teleporter to life. The character died only a month after her comic debut, but fan interest ensured that, like every comic book hero, death doesn't really mean all that much for her. With the absence of Nightcrawler, you need someone who can teleport. Luckily, this '90s treasure was available.
Sunspot
Sunspot is mostly known as a New Mutant or member of the X-Force, and he's known primarily to readers of the '80s books. As his name implies, his powers involve the sun. Specifically, he can channel it. And he can fly. Because why not.
Warpath
This Native American mutant towers over his teammates. His powers take the "we ran out of ideas" approach, with heightened strength, speed, agility, hearing and everything else you could name. The Chris Claremont and Sal Buscema creation is another product of the '80s, a time in which a new X-Man was popping up every week.
Maybe your favorite mutant didn't make the cut this time around. (After all, where's Longshot? We need his blonde mullet on the silver screen.) But the movies have surprised us with cameos before. And if you didn't see them this time, took solace in the fact that X-Men: Apocalypse will be hitting theaters in 2016.