I'll usually pick up any new comic from writer Warren Ellis, even when the preview blurbs are vague. Case in point: Trees, a series that debuts today. No promotional art or preview pages have provided clarity to exactly what we can expect from the book, but as usual, just a broad stroke of a concept puts an Ellis book at the top of anticipated releases. Here's what Image is offering us:
"Ten years after they landed. All over the world. And they did nothing, standing on the surface of the Earth like trees, exerting their silent pressure on the world, as if there were no-one here and nothing under foot. Ten years since we learned that there is intelligent life in the universe, but that they did not recognize us as intelligent or alive."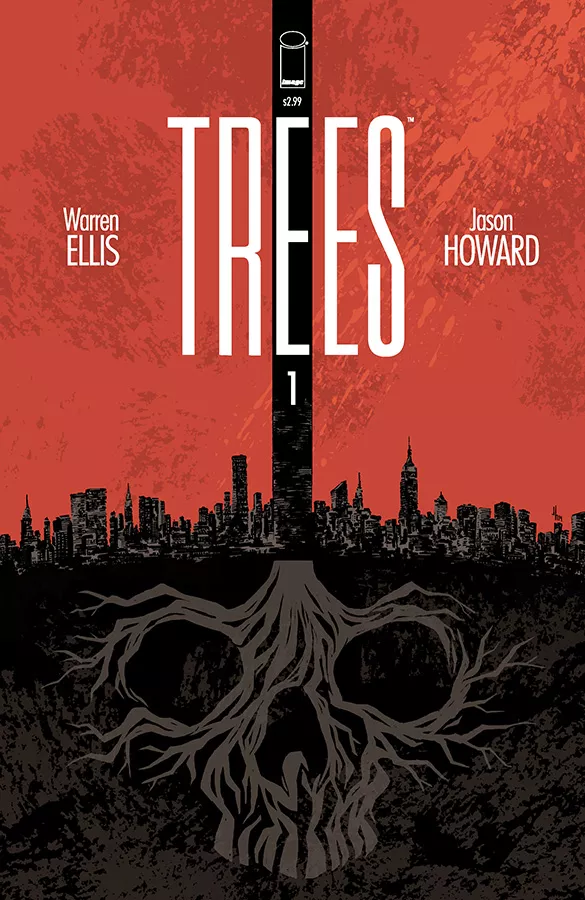 Good enough for me. Also: Look out for the second issue of Southern Bastards, which features the art of Charlottean Jason Latour. Latour was recently featured in an issue of Creative Loafing. You can find that cover story here.
Now, onward to the other new books...
DC Comics
ADVENTURES OF SUPERMAN #13
ALL STAR WESTERN #31
AQUAMAN #31
BATMAN #31 (ZERO YEAR)
BATMAN #31 COMBO PACK (ZERO YEAR)
BATMAN ETERNAL #8
CATWOMAN #31
CATWOMAN TP VOL 04 GOTHAM UNDERGROUND
DEAD BOY DETECTIVES #6
FAIREST TP VOL 03 RETURN OF THE MAHARAJA
FLASH #31
GIRL WHO PLAYED WITH FIRE HC
HE MAN AND THE MASTERS OF THE UNIVERSE #13
INJUSTICE GODS AMONG US YEAR TWO #5
JUSTICE LEAGUE DARK #31
LARFLEEZE #11
NEW 52 FUTURES END #4 (WEEKLY)
NIGHTWING #30 (EVIL) (NOTE PRICE)
RED LANTERNS #31
RED LANTERNS TP VOL 04 BLOOD BROTHERS
SANDMAN OVERTURE #2 SPECIAL EDITION
SECRET ORIGINS #2
SHAZAM TP
SUICIDE SQUAD #30 (EVIL)
SUPERMAN #31 (DOOMED)
TALES OF THE BATMAN CARMINE INFANTINO HC
Marvel Comics
ALL NEW INVADERS #5
AVENGERS #30
AVENGERS ASSEMBLE TP FORGERIES OF JEALOUSY
CAPTAIN MARVEL #2 2ND PTG LOPEZ VAR
CATACLYSM HC ULTIMATES LAST STAND
DEADPOOL #29
DEADPOOL VS CARNAGE #2 2ND PTG FABRY VAR
DEVIL DINOSAUR BY JACK KIRBY TP COMPLETE COLLECTION
DEXTER DOWN UNDER #4
DISNEY KINGDOMS SEEKERS OF WEIRD #5
DISNEY KINGDOMS SEEKERS OF WEIRD #5 CROSBY IMAGINEER
FANTASTIC FOUR #5
GIANT SIZE SPIDER-MAN #1
GOTG ALL NEW X-MEN TRIAL OF JEAN GREY PREM HC
GUARDIANS OF GALAXY #15
INHUMAN #2
IRON FIST LIVING WEAPON #1 2ND PTG ANDREWS VAR
IRON MAN #26
IRON PATRIOT #3
MARVEL BOY TP NEW PTG
MARVEL FIRSTS TP VOL 02 1980S
MARVEL UNIVERSE ULT SPIDER-MAN DIGEST TP VOL 06
MARVEL UNIVERSE ULTIMATE SPIDER-MAN #26 SYU
MARVELS GUARDIANS OF GALAXY PRELUDE #2
MIGHTY AVENGERS #10
MIRACLEMAN PREM HC BOOK 01 DREAM OF FLYING DAVIS CVR
MMW INVINCIBLE IRON MAN TP VOL 03
MS MARVEL #4
OZ OZMA OF OZ TP
REVOLUTIONARY WAR TP
SHE-HULK #3 2ND PTG WADA VAR
THANOS ANNUAL #1
THUNDERBOLTS #26
UNCANNY AVENGERS #20
WINTER SOLDIER BITTER MARCH #4
WOLVERINE #7
Dark Horse Comics
CAPTAIN MIDNIGHT #11
CAPTAIN MIDNIGHT TP VOL 02 BRAVE OLD WORLD
CONAN THE AVENGER #2
EERIE ARCHIVES HC VOL 16
ELFQUEST FINAL QUEST #3
FURIOUS #5
HALO ESCALATION #6
KING CONAN CONQUEROR #4
MASS EFFECT FOUNDATION #11
MASSIVE #23
MIND MGMT #22
PARIAH #4
RESIDENT ALIEN TP VOL 02 SUCIDE BLONDE
SERENITY LEAVES ON THE WIND #5
SLEDGEHAMMER 44 TP VOL 01
STAR WARS #8 LUCAS DRAFT
STAR WARS LEGACY II #15
STAR WARS REBEL HEIST #2 HUGHES MAIN CVR
TOMB RAIDER #4
VANDROID #4
IDW Publishing
24 #2
CITY THE MIND IN THE MACHINE #4
COMPLETE LITTLE ORPHAN ANNIE HC VOL 10
GHOSTBUSTERS #16
GODZILLA RULERS OF THE EARTH #12
LOCKE & KEY HEAD GAMES DLX HC RED LABEL ED
MONSTER & MADMAN #1 2ND PTG
MY LITTLE PONY FRIENDSHIP IS MAGIC #19
SAMURAI JACK #8
STAR TREK ONGOING #33
STAR TREK ONGOING HC VOL 02 OPERATION ANNIHILATE RED LABEL
TRANSFORMERS ROBOTS IN DISGUISE #29 DAWN O/T AUTOBOTS
X-FILES SEASON 10 #12
Image Comics
ADVENTURES OF APOCALYPSE AL TP VOL 01
BLACK SCIENCE TP VOL 01 HOW TO FALL FOREVER
C.O.W.L. #1
CHEW / REVIVAL #1
CRAWL SPACE OVERSIZED OMNIBUS HC
DEAD BODY ROAD #6
DEADLY CLASS #3 3RD PTG
DEADLY CLASS #5
DRUMHELLAR TP VOL 01 BADLANDS AND BAD TRIPS
ELEPHANTMEN #57
FUSE #4
SEX #13
SHELTERED #9
SKULLKICKERS #27
SOUTHERN BASTARDS #1 2ND PTG
SOUTHERN BASTARDS #2
SOVEREIGN #3
THIEF OF THIEVES #21
TREES #1
UMBRAL TP VOL 01 OUT O/T SHADOWS