In recent years, the spy genre has returned to comics in a big way. Image has tackled it with books like Velvet, Ed Brubaker's twist on the classic espionage tales. Marvel's offered S.H.I.E.L.D. and Agents of Atlas. But if I had to guess which DC character would make a jump into the genre, I would never have said a former Boy Wonder.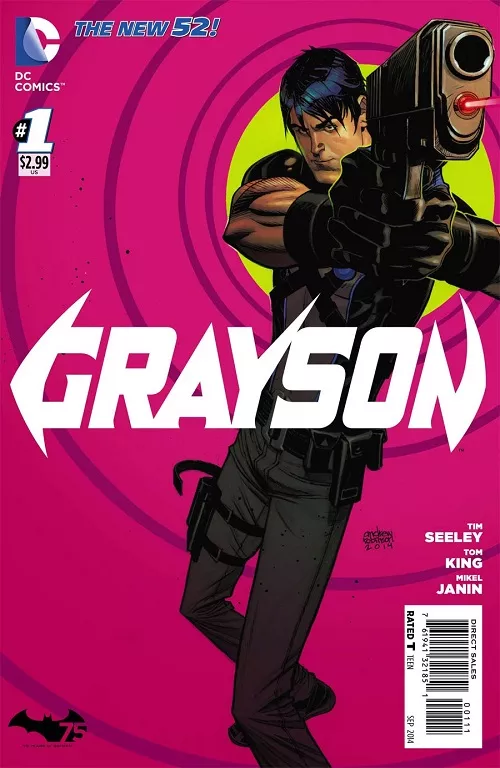 Grayson, which debuts today, follows former Robin Dick Grayson in his new gig as an agent for Spyral, the Grant Morrison-created agency that debuted in Batman Incorporated. The series is written by Tim Seeley and Tom King, with art from Mikel Janin. You may remember the Spanish artist from his duties on Justice League Dark.
DC provides this teaser: "It's a super-spy thriller that will shock you and prove one thing: You might think you know Nightwing — but you don't know Dick." Well, as surprising as it is for the company to put it so bluntly, that seems to say it all. Comic Afterthoughts will certainly give it a chance on that line and the above cover alone.
DC Comics
AMERICAN VAMPIRE SECOND CYCLE #4
ANIMAL MAN TP VOL 06 FLESH AND BLOOD
BATGIRL #33
BATMAN BRUCE WAYNE FUGITIVE TP NEW ED
BATMAN ETERNAL #14
BIRDS OF PREY #33
COFFIN HILL #9
CONSTANTINE #16
DETECTIVE COMICS #33
DETECTIVE COMICS #33 COMBO PACK
FBP FEDERAL BUREAU OF PHYSICS #12
GRAYSON #1
GREEN LANTERN CORPS #33 (UPRISING)
INFINITY MAN AND THE FOREVER PEOPLE #2
INJUSTICE GODS AMONG US YEAR TWO #7
JUSTICE LEAGUE OF AMERICA TP VOL 01 DANGEROUS (N52)
JUSTICE LEAGUE UNITED #3
JUSTICE LEAGUE UNITED #3 COMBO PACK
NEW 52 FUTURES END #10 (WEEKLY)
NEW SUICIDE SQUAD #1
NIGHTWING TP VOL 04 SECOND CITY (N52)
ROYALS MASTERS OF WAR #6
SCOOBY DOO WHERE ARE YOU #47
SMALLVILLE SEASON 11 LANTERN #4
SUPERBOY #33
SUPERMAN WONDER WOMAN #10
SUPERMAN WONDER WOMAN #10 COMBO PACK
TALON TP VOL 02 THE FALL OF THE OWLS (N52)
WORLDS FINEST #25
Marvel Comics
100TH ANNIVERSARY SPECIAL #1 SPIDER-MAN
ALL NEW INVADERS #7 SIN
ALL NEW X-MEN #29
AMAZING SPIDER-MAN #1.3
AMAZING X-MEN #9
AVENGERS #32 SIN
AVENGERS UNDERCOVER #7
CAPTAIN MARVEL #5
DAREDEVIL #5
DEADLY HANDS OF KUNG FU #3
DEADPOOL #31 SIN
DEADPOOL DRACULAS GAUNTLET #1
FANTASTIC FOUR #7 SIN
GUARDIANS OF GALAXY BY JIM VALENTINO TP VOL 02
MARVEL UNIVERSE AVENGERS ASSEMBLE #10 SYU
MARVELS AGENTS OF SHIELD DECLASSIFIED SLIPCASE HC
MU GUARDIANS OF GALAXY COSMIC TEAM UP DIGEST TP
NIGHTCRAWLER #4
ORIGINAL SIN #5.1
ORIGINAL SINS #3
SPIDER-MAN 2099 #1 ANMN
STAR LORD TP GUARDIANS OF GALAXY
SUPERIOR FOES OF SPIDER-MAN #13
UNITED STATES OF MURDER INC #3
WINTER SOLDIER BITTER MARCH #5
WOLVERINE #10
X-FORCE #7
X-MEN TP BATTLE OF ATOM
Dark Horse Comics
ABE SAPIEN #14
ABE SAPIEN TP VOL 04 SHAPE THINGS TO COME
CHRONICLES OF CONAN TP VOL 27 SANDS UPON EARTH
DOCTOR SOLAR ARCHIVES TP VOL 03
EERIE COMICS #5
STAR WARS #19 2013 ONGOING
STRAIN HC VOL 01
TERMINATOR ENEMY OF MY ENEMY #4
TERMINATOR SALVATION FINAL BATTLE #7
USAGI YOJIMBO COLOR SPECIAL ARTIST ONE-SHOT
X #15
IDW Publishing
ANGRY BIRDS COMICS #2
BLACK DYNAMITE #3
GI JOE A REAL AMERICAN HERO #204
JUDGE DREDD #20
KNUCKLEHEADS FIST CONTACT TP
MAXX MAXXIMIZED #9
STAR SLAMMERS REMASTERED #4
STAR TREK ONGOING #35
TMNT MICRO SERIES TP VOL 01 NEW PTG
TMNT ONGOING TP VOL 01 CHANGE IS CONSTANT NEW PTG
TRANSFORMERS MICRO COMIC FUN PACK DSP
TRANSFORMERS MORE THAN MEETS EYE #31 DAWN O/T AUTOBOTS
Image Comics
68 RULE OF WAR #4 CVR A JONES
68 RULE OF WAR #4 CVR B ROSSMO
DEATH VIGIL #1
GHOSTED #11
GREAT PACIFIC #16 CVR A MORAZZO
GREAT PACIFIC #16 CVR B WILSON III
RED CITY #2
RISE O/T MAGI #1 SILVESTRI SGN SET
RISE O/T MAGI #2 CVR A KESGIN
RISE O/T MAGI #2 CVR B SILVESTRI
ROCKET GIRL TP VOL 01 TIMES SQUARED
SHUTTER #4
SPAWN #245
SPREAD #1
WALKING DEAD #129