So much was made of the cuts inflicted upon the 2012 edition of The Gershwins' Porgy and Bess, to both the script and the score, that the only valid reason to even consider seeing it — according to a pair of negative Times reviews — was yet another Tony Award-winning performance by Audra McDonald as Bess. Well, not withstanding the brickbats of Ben Brantley and Charles Isherwood, the touring version of this maligned P&B has arrived at Belk Theater without McDonald, and those reasons have miraculously multiplied.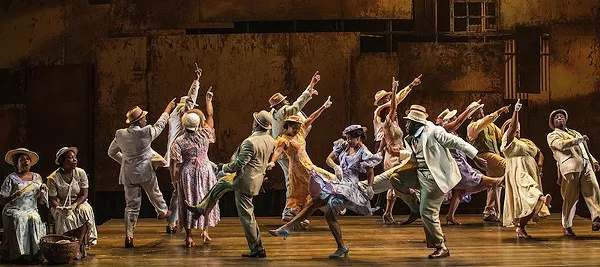 There have actually been two previous Porgys at the Belk in the current millennium, one by Opera Carolina in 2004 starring the estimable Alvy Powell and the epic touring disaster intended to celebrate the show's 75th anniversary in 2010 — with an inferior cast to Opera Carolina's. You'll need to read my original account of the fifth-string Porgy who sang for us to fully savor how inept this tour was. An excerpt of that review, praising Phillip Boykin as Crown, appears on Boykin's website, obviously the key reason why he landed the role on Broadway.
To put it simply, the book adaptation by Suzan-Lori Parks and the slimmed-down orchestrations by William David Brohn and Christopher Jahnke work beautifully together. The playing time at the Belk on Tuesday was just 48 seconds shorter than the Decca recording — including the dialogue — made by Powell and Marquita Lister in the title roles with the Nashville Symphony. And if Riccardo Hernandez's set had no visible connection to any part of Charleston that I've seen over the past 40 years, director Diane Paulus definitely has her finger on the heart and pulse of DuBose and Dorothy Heyward's original storyline.
With Ronald K. Brown's choreography, this Porgy has a fresh vitality that was missing in productions that fielded more townspeople onstage. But in their quest to modernize the Gershwins' opera, with touches that turn out to be less radical than advertised, what Paulus and Parks accomplish most triumphantly is turning a quaint and picturesque period piece into a throbbing three-dimensional melodrama. The drama of this version leaps straight at us.
Credit those slimmed-down orchestrations and outstanding performances by Nathaniel Stampley and Alicia Hall Moran, original cast members from the Broadway version stepping up into the headliner roles, for bringing a chemistry to Porgy and Bess that I've never seen before. Sure, the music of "Bess, You Is My Woman Now" and "I Loves You, Porgy" has always been splendiferous. But when Stampley and Moran sang them on Tuesday over the new quiescent orchestrations, I was awash in tears, far eclipsing any experience I've had with these celebrated duets before.
Porgy's goat cart may have been discarded for the 2012 update, but there is a goatish wiggle to Stampley's crippled walk that retains a sufficient chunk of his grotesquerie, and Moran looks so much like McDonald that there were times I could swear I was seeing her. The only significant difference I could see between Moran's performance and what Brantley praised so highly in McDonald is Moran's evident lack of serious ambivalence toward the brutal Crown.
Yet this seems like a quite natural consequence of the difference between Boykin and Alvin Crawford, who plays Crown here. Boykin's presence was fearsome and magnificent, and while Crawford sings magnificently — everyone in this cast does — he could hardly be more repellent, an almost cartoonish incarnation of devil, outsized and fantastical. So when Moran sings out her fear of Crown coming after her, now that she has escaped his clutches on Kittawah Island and returned to Porgy, it is only his unquestionable strength that is making her quake, not his attractiveness.
There's noticeably less jive to Knightley Leggs' saturnine portrayal of Sporting Life, that purveyor of the happy dust, but there's also more jazz as he brings down the house with "It Ain't Necessarily So." Denisha Ballew as Serena, the moralistic matron of Catfish Row, contrasts beautifully with Sporting Life's zoot-suited stylishness, while Sumayya Ali and David Hughey — more understudies from the original Broadway cast — are the essence of tragically doomed domestic bliss as Clara and Jake.
You've heard the best of this music before. Go to Belk Theater this week for the best introduction to the Porgy story we may ever have here.